Learn from iBwave how to minimize costs while delivering carrier-grade Wi-Fi
Whether in large corporate campuses or public venues like stadiums and transportation hubs, Wi-Fi connectivity is required by enterprise stakeholders and expected by consumers. Projects led by service providers, system integrators or enterprise users all share a common objective–provide the necessary Wi-Fi capacity and coverage with an eye on simplifying the deployment process and reducing future operational costs. At the core of addressing these parallel needs is sound network design.
Wi-Fi is the go-to source of connectivity in a wide range of indoor use cases given its use of unlicensed spectrum and ease of installation and operation. One of the drawbacks of Wi-Fi, however, is challenges to wave propagation based on physical impediments including metal objects, wall materials–and what's behind the walls, variables that can't be considered during design–windows and other potential causes of access point (AP) interference. As a result of interference mitigation, Wi-Fi networks don't always work as designed, which starts a potentially costly process of troubleshooting, fixing and deploying network upgrades.
iBwave is the industry standard software for planning and designing indoor wireless networks. With a range of professional software to design Wi-Fi, Small Cell and DAS networks, iBwave's software enables the enterprise to meet user's expectation for a great wireless experience.
In a recent white paper titled "7 key factors to consider when designing Wi-Fi networks," iBwave Director of Research Vladan Jevremovic lays out those driving forces:
AP placement

AP coverage control

Dominant use cases

Vertical markets

Interference

RF band steering

Capacity planning
Jevremovic makes the key point that different types of enterprise environments have different Wi-Fi needs. Consider a manufacturing facility–workers on a factory floor often use handheld devices like barcode scanners that keep track of inventory. These devices use a low data rate, "So this design is for coverage, not capacity," he notes.
Compare that to a hospital, where fast access to medical and patient data commands real-time location tag. Further, the presence of various hospital equipment using RF frequencies can interfere with Wi-Fi. Because of that, "It is important to bring a spectrum analyzer to a hospital site visit and survey both the 2.4 and 5 GHz bands in all areas where the network is to be installed."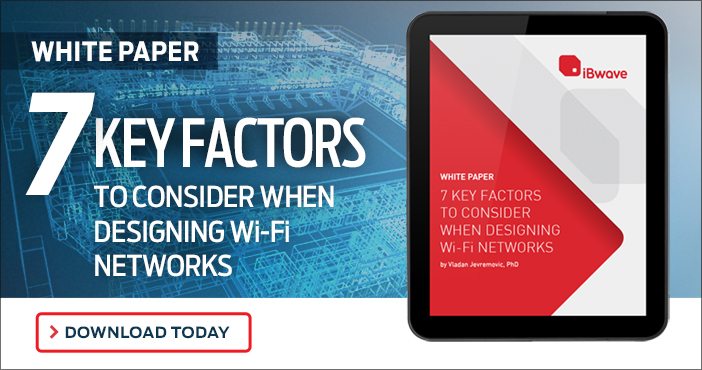 Given the varying nature of Wi-Fi data usage, capacity planning is another key aspect of a successful network deployment. Variables used to inform capacity planning include volume and peak times; percentage of active users; busy-hour airtime utilization percentage; specification of network overhead; and other factors.
In conclusion, Jevremovic finds that current and coming trends in Wi-Fi and unlicensed spectrum usage will continue to add complexity to Wi-Fi deployments. "Wi-Fi network densification, along with proliferation of non-802.11 devices operating in the ISM and U NII unlicensed bands, has made Wi-Fi network planning a much more complex task than it was just a few years ago. Planning of 802.11 networks will become even more complex with upcoming mass deployment of License Assisted Access LTE (LAA-LTE) small cells and LTE-enabled devices in the 5 GHz U NII band."