Verizon and partners form LTE-B Alliance in move to bolster device support for LTE Broadcast technology beginning in 2017
Verizon Communications and a trio of international carrier partners have thrown their considerable might behind the LTE Broadcast standard with the formation of an alliance focused on device support beginning in 2017.
In addition to Verizon, the LTE-Broadcast Alliance is being formed with Australia's Telstra, South Korea's KT and United Kingdom-based EE. The carriers claim they represent more than 200 million mobile subscribers, which they plan to use as leverage in getting LTE-B support in "every top- and mid-tier device launched in 2017."
The technology, which is also known as evolved multimedia broadcast multicast service, is designed to support a single stream of multimedia data that can be consumed by multiple devices instead of sending individual streams of content to each device. All four carriers have trialed the technology, which they also claim can be used for push notifications, connecting digital signage, become a service platform for "Internet of Things" connectivity and bolster the eventual migration to "5G" network technologies.
In the U.S., Verizon has been the most aggressive carrier in testing LTE-B technology, which it markets under the Multicast name. The carrier has used the technology to simulcast video coverage at large sporting events including the Indianapolis 500 and Super Bowl. The carrier claims it has rolled out full support for the technology across its network.
"Since 2012, Verizon has been dedicated to LTE-B and in 2015 achieved commercial availability across our entire LTE network," said Parissa Pandkhou, director of product development at Verizon. "The LTE-B Alliance will help establish and expand the benefits of the service to other technology segments, increase device penetration and unearth even more use cases for EMBMS."
Qualcomm, which has been one of Verizon's partners in its LTE-B testing, was an early pioneer in the one-way video streaming space with its ill-fated MediaFLO subsidiary that operated a broadcast service across a number of markets using 700 MHz spectrum holdings. While limited in the amount of content that could be delivered, as well as by limited device availability, prior to it being shuttered the service did show that it was possible.
AT&T, though not named as part of the LTE-B Alliance, has been experimenting with the technology, with the carrier recently noting the multicast technology would be a good solution for larger events where most consumers being served by a single site are more likely to be watching the same video stream. However, the carrier also noted a disadvantage in that it requires a dedicated chunk of spectrum, which if a site is only supporting a single user results in spectrum being wasted.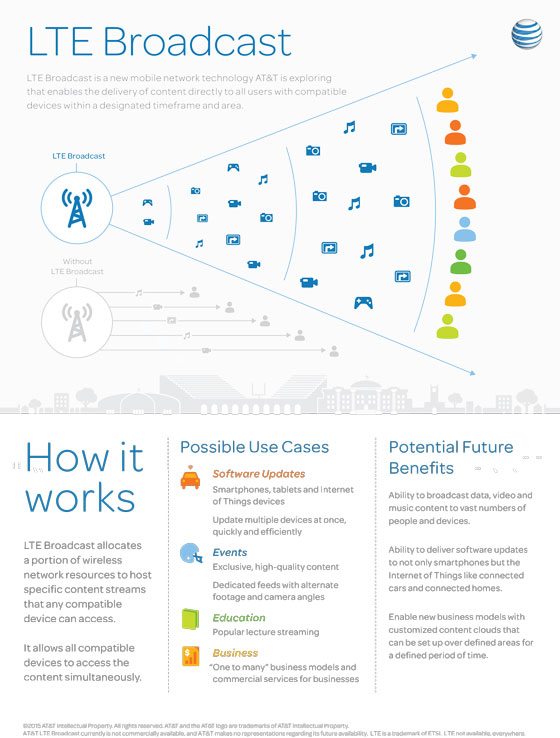 RCR Wireless News more than three years ago spoke with Lynette Luna, senior analyst at Current Analysis, on the topic of LTE Broadcast and as to whether there was a market for the technology.
The LTE-B Alliance said it was currently forming and plans to meet on a quarterly basis as it moves on development of the technology standards and implementation. The organization also said it was open to new members across the operator, device manufacturer and chipset space.
Bored? Why not follow me on Twitter