Trial is AT&T's first with LTE-based streaming video service
LTE Broadcast technology is set to receive a collegiate boost as AT&T announced plans to tap into the streaming technology during the upcoming College Football Playoff Championship scheduled for Jan. 12 at AT&T Stadium in Dallas.
AT&T said the trial will include "invited guests" and is the telecom operators "early stages" move into working with the LTE Broadcast standard. The technology uses LTE technology to stream video content to enabled mobile devices in a way that is more spectrally efficient than current mobile video technologies.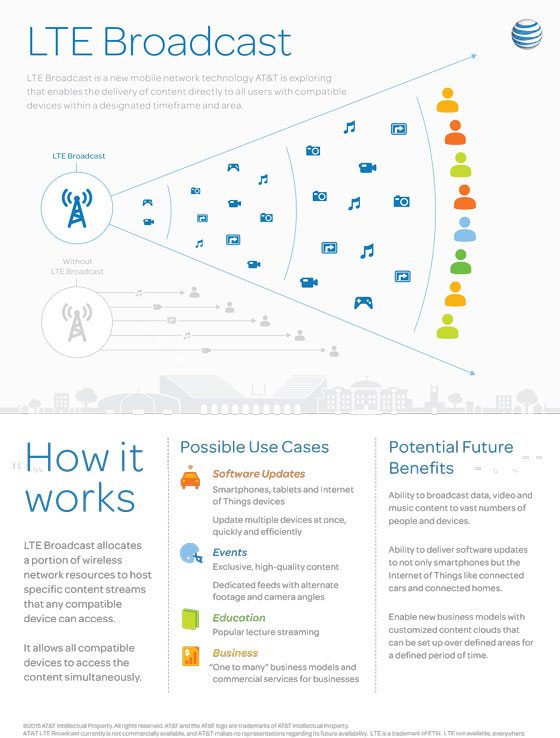 Qualcomm was an early pioneer in the one-way video streaming space with its ill-fated MediaFLO subsidiary that operated a broadcast service across a number of markets using 700 MHz spectrum holdings. While limited in the amount of content that could be delivered, as well as by limited device availability, prior to it being shuttered the service did show that it was possible.
More recently, Verizon Wireless has been trialing its LTE Multicast service, which is based on the LTE Broadcast standard, at a number of sporting events, including last year's Indianapolis 500 car race and at last year's Super Bowl.
AT&T did not provide details on technology partners, spectrum or devices it plans to use for the trial. Verizon Wireless partnered with Ericsson for network equipment; Samsung for its Galaxy Note 3 devices embedded with multicast chips, middleware and multimedia services from Qualcomm; additional tablets from Sequans; middleware from Expway; and application development and content management from MobiTV.
Mobile video has become a significant hurdle for mobile operators as consumers increasingly look to tap into carrier-offered and over-the-top video services like Netflix and YouTube. According to video optimization platform provider Skyfire, AT&T and T-Mobile US both claim that video is 40% of their network traffic, and many carriers report that video is 50 to 60% of traffic.
Bored? Why not follow me on Twitter