4K QAM boosts the peak rates to increase throughput and capacity compared to Wi-Fi systems using 1K QAM modulation
Beyond support for up to 30 Gbps throughput, 320-megahertz channels and multi-link capabilities, Wi-Fi 7, or 802.11be, will also have 4096-QAM (4K QAM), up from 1024-QAM (1K QAM) in Wi-Fi 6 and 256-QAM in Wi-Fi 5.
QAM, or Quadrature Amplitude Modulation, represent discrete phases of magnitude that can be transmitted to the carrier. QAM utilizes both amplitude and phase components to provide a form of modulation that can provide high levels of spectrum usage efficiency. 4K QAM boosts the peak rates to increase throughput and capacity compared to Wi-Fi systems using 1K QAM modulation.
More specifically, LitePoint claims that 4K QAM can increase the physical layer (PHY) data rate by 20% and improve modulation accuracy.
"The 802.11be standard increases the QAM modulation order to 4096 QAM to achieve the highest data rate. With a denser constellation, the transmitter modulation accuracy requirements are also increased," LitePoint stated on its website. "The IEEE standard sets a transmitter target Error Vector Magnitude (EVM) requirement at -38 dB for 4096 QAM, increasing the performance requirement by 3 dB compared to 802.11ax [Wi-Fi 6]."
Further, when combined with 320 MHz channels, Intel anticipates a theoretical data rate increase of 4.8x compared to Wi-Fi 6.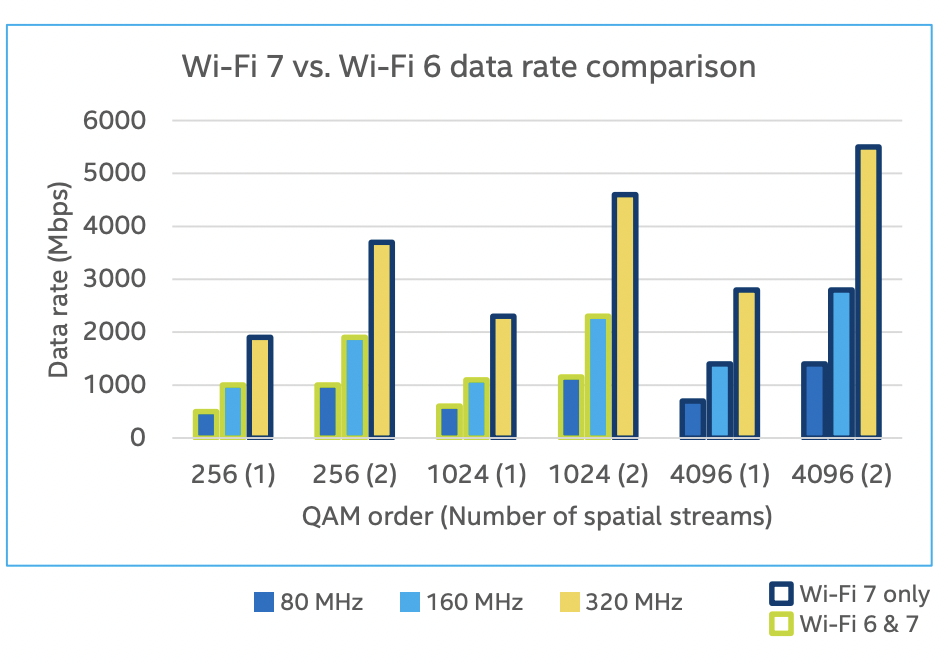 Testing challenges associated with 4K QAM
The benefits of 4K QAM come with a caveat, however. In a previous conversation with RCR Wireless News, NI's Head of Semiconductor Marketing David Hall, revealed that Wi-Fi 7's support for 4K QAM is one of the biggest reasons that Wi-Fi test and measurement equipment needs to be revamped.
Basic signals exhibit only two phases of magnitude, which allow the transfer of either a 0 or 1, and as Hall pointed out, this makes it pretty easy to tell which is which. But, as you get to higher order modulation formats, like in the case of Wi-Fi 6, which uses 1024-QAM or Wi-Fi 7, which uses 4096-QAM, it gets increasingly harder to transmit and receive data error-free.
"Higher-order modulation types generally require higher RF performance" said Hall, "and these products require higher linearity and noise performance."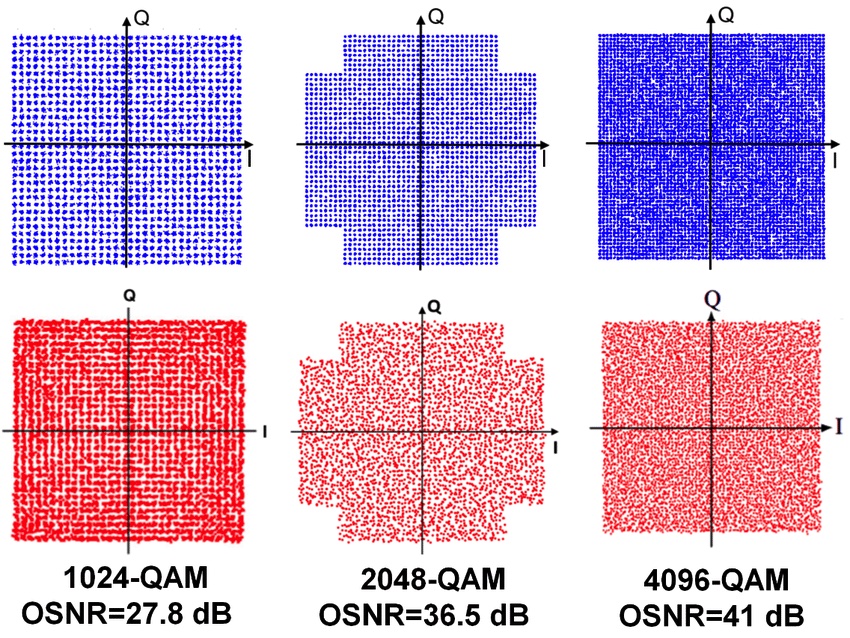 He added that Wi-Fi 7's higher modulation of 4096-QAM results in the need for more linear instrumentation when testing the functionality of the Wi-Fi chips.
In order to know if a Wi-Fi chip meets the requirements for transmitting and receiving the 4096 discrete phases of magnitude supported by Wi-Fi 7 standards, you need to have test equipment that can also meet these requirements, which is why test and measurement companies like LitePoint are already touting their new test systems designed specifically for the next-generation of Wi-Fi.
IEEE plans to publish the Wi-Fi 7 amendment sometime in 2024, with commercial deployment occurring around the same time.