Learn how Huawei is enabling digital transformation for network operators
The way enterprises and consumers use mobile data connectivity is evolving. Video has become a key mobile service, and the perpetuation of increasingly high-quality UHD or 4K video, as well as emerging tech like virtual reality (VR), presents both a challenge and an opportunity for network operators. Coupled with new growth engines like enterprise cloud and the internet of things (IoT), operators also need to evolve not only their networks, but their business approach, to maintain a competitive edge and ensure business success.
In order to compete with over the top and webscale players, telecom companies are shifting to a more flexible, software-centric approach to service delivery, trading hardware for virtual machines and relying on highly-scalable cloud computing power. This digital transformation enables operators to deliver what we at Huawei refer to as the ROADS experience: Real-time, On-demand, All online, DIY and Social.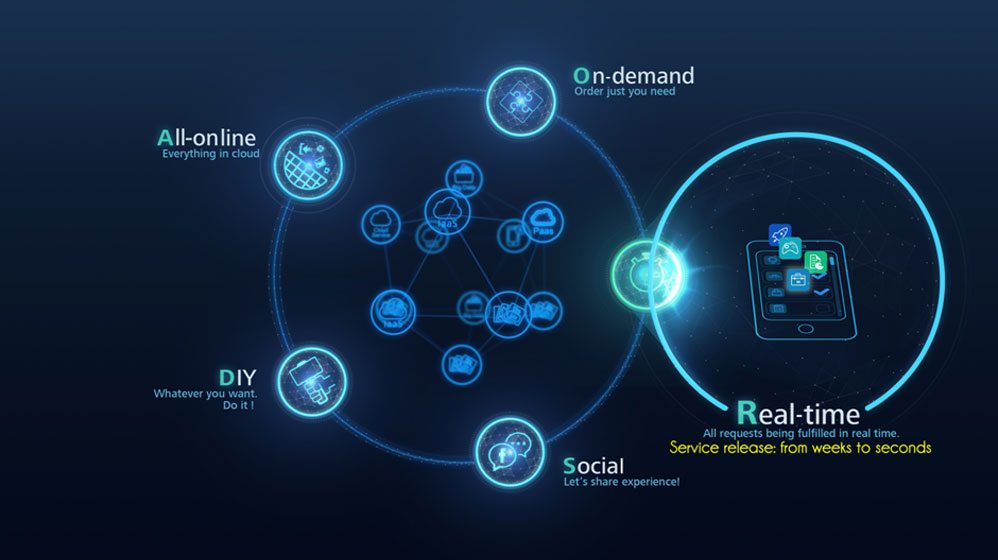 To deliver the ROADS experience, telecom networks need to shift from all IP to an all cloud architecture–service cloudification, network cloudification and operations cloudification. To better help operators navigate the challenges of digital transformation, Huawei, along with IDC, carried out a survey of more than 50 global operators at various phases of transformation. A number of key conclusions emerged from the survey:
Digital transformation is a competitive necessity–Most carriers saw it as a significant opportunity not only to increase efficiency and effectiveness, but also to provide innovative cloud and video products and extend services to vertical industries with IoT solutions.

Define an enterprise-wide strategy–Many carriers are still in the journey of digital transformation, and a strategy is needed to involve key representatives from all groups within the carrier, consider both people, process and technology, and build up core competencies progressively, over time, especially for large organizations.

Transform organization and leadership–Gain buy-in from senior management on strategy and execution plans, communicate the strategy across the organization with measurable KPIs, and reinvent business models to motivate forward momentum.

Optimize operations and processes–Empower employees through education and training to increase productivity and support transformation; streamline and standardize business processes to reduce operational costs and simplify workflows.

Renovate infrastructure–Consolidate and automate internal systems, leverage cloud for highly-scalable applications, and manage future network infrastructure through SDN and NFV to reduce overall workloads, increase agility and reduce the time to deliver products and services.
To help customers achieve these goals, Huawei Global services takes a three-pronged approach. Huawei builds experience-oriented network to optimize value, foster operational excellence to improve efficiency, and lead digital transformation that enables new growth. On the network side, precise planning helps shorten ROI, and assurance solutions, coupled with big data analytics, provide customer satisfaction and insight needed to deliver experiential services. Operationally, legacy systems are integrated with new technologies to leverage investments and create more reliable network services. The digital transformation piece is all about driving new growth open software and hardware shortens time to market and expands reach into new verticals and addressable markets.
Another element of Huawei's digital transformation efforts is Cloud Open Labs, four facilities designed to foster an innovative, collaborative environment for cross-discipline, multi-vendor solution integration and verification. Operators can simulate their entire network and see first-hand the pathway to delivering a ROADS experience.
And beyond enabling digital transformation for customers, Huawei is also working internally on the same process. Huawei has examined and refined internal processes related to IT, research and development, delivery and supply chain to name just a few. Huawei believes that its own digital transformation process will further help customers adopt strategies similar to its four-phase approach: standardization, centralization, platform-based and intelligence-based. Huawei is now between the phases of platform-based and intelligence-based, and will continue to increase investment in platforms and big data analysis to reach the final stage.
To further the important discussion around digital transformation, Huawei is hosting the Operations Transformation Forum 2017, on September 18 and 19 in Hong Kong. Focus areas include fostering business agility, disruptive trends that are improving efficiency, an outside-in approach to business ecosystems, and leveraging technology to drive business growth.
"While operators from around the world have made remarkable progress in achieving their transformation goals, most still have challenges to overcome, with many unanswered questions," Ryan Ding, president of Huawei's Carrier Business Group and executive director of the board, said. "To address these challenges and share experience, this year we will focus on three core areas: developing video services and expanding B2B business with cloud services for growth; realizing agile operations by cloudification to build a solid foundation for digital business; and building experience-oriented network to optimize network value. In addition, we will also discuss how to accelerate overall transformation through open ecosystem collaboration." For more information on Huawei's Operations Transformation Forum2017, click here.