Sprint touts LTE Plus expansion, Nielsen for proof of LTE superiority
Just ahead of its planned quarterly results announcement, Sprint touted expansion of its "LTE Plus" network as well as network tests showing its LTE network topped rivals Verizon Wireless, AT&T Mobility and T-Mobile in download speeds.
Sprint said its spectrum enriched LTE network was now available in more than 150 "markets," which is double the 77 markets available last November when Sprint first announced its LTE Plus handle. The network is designed to take advantage of Sprint's spectrum holdings in the 800 MHz, 1.9 GHz and 2.5 GHz bands using carrier aggregation and other LTE-Advanced enhancements.
The network is said to provide peak network speeds in excess of 100 megabits per second, "stronger service" due to the use of advanced antenna technology "that extends the 2.5 GHz cell signal further" and more reliable coverage due to the use of the 800 MHz band's propagation characteristics.
In backing its network claims, Sprint rolled out recent results from Nielsen Mobile Performance, which showed the carrier's network providing faster download speeds compared with Verizon Wireless, AT&T Mobility and T-Mobile US. The testing was conducted during the last three months of 2015, with a claimed 75 million download events from devices representing more than 270 million potential customers covered. Sprint claims its LTE network covers approximately 270 million pops, while its larger rivals all now claim more than 300 million pops covered by their respective LTE networks.
Sprint CTO John Saw argued that unlike network testing from other firms, which happen to claim superior network performance from Sprint rivals, the Nielsen testing "uses crowd-sourced data to measure actual network performance and the real customer experience."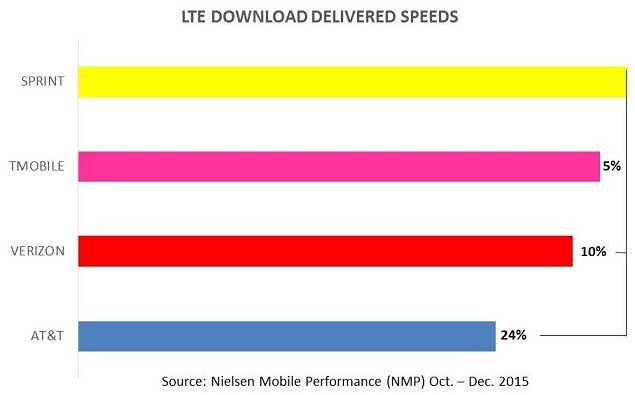 "This matters in a big way because Nielsen looks at how real customers are actually experiencing the network based on a panel of volunteers representing more than 270 million consumers," Saw stated in a blog post. "It does this with an app that continually monitors performance on their phones, measuring LTE download speeds for common applications such as Facebook, Netflix, YouTube, Snapchat etc. This crowd-sourced data is always working uninterrupted in the background to show us exactly what wireless customers are experiencing."
Sprint's latest announcement comes just ahead of what is expected to be an exciting week for the carrier. News recently surfaced that Sprint was looking to completely re-architect its network, reducing focus on traditional macro sites and instead pushing smaller cell deployments. The carrier is also said to be turning its attention away from fiber-based backhaul in favor of microwave backhaul solutions, which are considered to trade in higher upfront costs for a lower long-term expense.
The carrier is also in the midst of shedding thousands of jobs as it looks to cut $2.5 billion in annual operating expense.
Sprint is expected to provide details on its network plans during its quarterly conference call scheduled for Jan. 26.
Bored? Why not follow me on Twitter