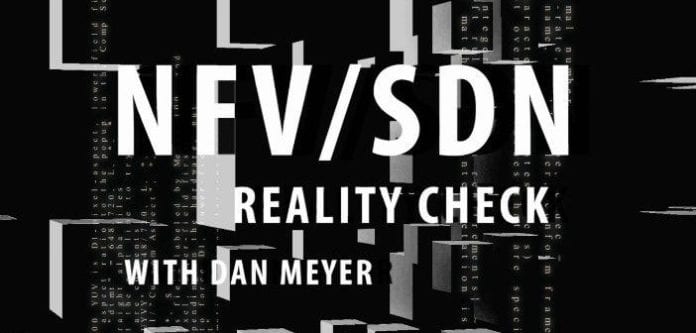 NFV, SDN and cloud platforms are seen as a key component of the Broadband Forum Broadband 20/20 initiative, with a focus on driving revenue.
On this week's NFV/SDN Reality Check we speak with Robin Mersh, CEO at the Broadband Forum, on how it expects its recently introduced focus the business end of network functions virtualization, software-defined networking and cloud platforms to benefit broadband providers.
The organization, which touts a focus on engineering smarter and faster broadband networks, recently updated its vision for the future of broadband at the SDN & OpenFlow World Congress event. That vision included the adoption of SDN and NFV technologies into broadband platforms in order to bring new value to the market.
"Today, even though NFV is being implemented, there is no concept of it being a truly international engagement due to operators' unique footprints but SDN and cloud technologies have the power to change that," said Mersh. "The whole point of virtualization should be to create a global market for new applications and services, and the work we are seeing at the moment with SDN and the cloud has the potential to enable that, bringing us to the pinnacle of a worldwide broadband market for the first time. Operators must now look at implementing these technologies in order to realize this."
The organization noted SDN and NFV are a big part of its Broadband 20/20 initiative, which "focuses on specific new broadband home and business opportunities that leverage SDN, NFV, the 'internet of things' and ultra-fast technologies." The initiative includes work on developing projects designed to form a framework to enable new applications and service, and drive new revenue opportunities for broadband service providers.
"There is, of course, still plenty of work to be done on these technologies particularly in the area of migration and service on-boarding, which is why the Forum is evolving to ensure the full potential of them is unlocked but we cannot do it alone," added Mersh. "Operators across the world have to look closely at their networks and how these technologies can be implemented to create ubiquitous coverage – if it isn't global, it won't be as efficient and it won't enable the same kind of innovation."
The Broadband Forum has a bit of history in terms of supporting NFV, having hosted a session dedicated to the technology at its event in Dublin, Ireland, in 2014. The move followed up a previous agreement with the European Telecommunications Standards Institute to collaborate on a "consistent approach and common architecture for the infrastructure needed to support virtualized network functions."
Thanks for watching this week's show and make sure to check out our next NFV/SDN Reality Check when we speak with VMware on its views of development and deployment of NFV-based platforms by the telecom industry.

Bored? Why not follow me on Twitter.