Fujitsu Cloud Service HPC uses Fugaku CPU, will be available in October
Fujitsu on Wednesday announced Fujitsu Computing as a Service (CaaS), a cloud service portfolio built on Fujitsu High Performance Computing (HPC) technology. Fujitsu CaaS will first debut in Japan and will be rolled out internationally thereafter.
Fujitsu CaaS includes software, a service integration platform, and customized consulting and tuning services based around the same technology that powers its Fugaku supercomputer.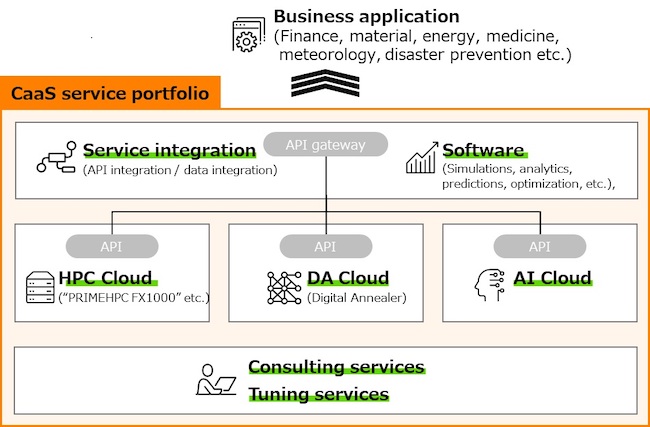 "Fujitsu will draw on CaaS to promote the commercial use of a range of advanced computing technologies, which have until the present been largely limited to applications in an academic context due in part to prohibitively high investment costs and implementation and operational loads," said the company.
The first service out of the gate is Fujitsu Cloud Service HPC, which offers cloud customers on-demand access to Fujitsu Supercomputer PRIMEHPC FX1000. This supercomputer is built using the same CPU as Fujitsu's famed Fugaku, its Arm-based petascale supercomputer.
"In the future, we look to further expand the portfolio with access to technologies like quantum computing. This move marks an important milestone toward democratizing high-performance and quantum computing and will play an important role in the achievement of Fujitsu's Purpose: 'To make the world more sustainable by building trust in society through innovation,'" said Vivek Mahajan, CTO, Fujitsu Limited.
Fujitsu's move to bring supercomputing horsepower to the cloud is part of the company's longer-ranging efforts to help use its technology to solve societal issues, it said. The company wants to democratize high-performance computing by lowering the barrier to entry.
"Cost remains a major obstacle for many companies and organizations aiming to apply advanced computing technologies like Fujitsu's Digital Annealer and high performance computing (HPC) in their business. To address this issue, Fujitsu will offer users easy access to a range of services under its new CaaS portfolio, allowing users from a wide range of industries to easily tap into the power offered by Fujitsu's advanced computing technologies," said Fujitsu.
Fujitsu underscored the CaaS platform's compatibility with Fugaku, for organizations looking to accelerate research and development and data analysis.
Quantum vRAN
The company's quantum computing-inspired Digital Annealer technology also factors into Fujitsu's efforts to launch a new 5G virtual Radio Access Network (vRAN) solution. It began software verification with telecommunications carriers in March. The company believes its solution will deliver lower energy consumption than conventional vRANs.
Fujitsu's news comes as hyperscalers are adding quantum computing to their own services. In December, Microsoft announced Rigetti quantum computers are coming to its Azure Quantum service. The company joined Honeywell, Ionq and Quantum Circuits. Azure Quantum provides Microsoft's Azure customers with on-demand quantum computer access. The company provides tools and a platform for creating quantum algorithms, abstracted from the underlying hardware. Azure Quantum competes with Amazon Bracket from Amazon Web Services (AWS) and a similar on-demand service from Google.