New CFO spent time at Veon and Vodafone Group, including Verizon Wireless
As Sprint makes its case to regulators that it should be allowed to merge with T-Mobile US, the company has brought on a new chief financial officer to handle the day-to-day finances as well as the transition to a merged company.
Andrew Davies will replace CFO Michel Combes, who has been promoted to CEO in the wake of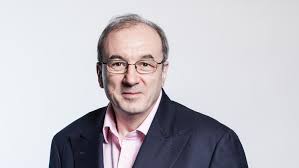 Marcelo Claure's departure from the role of Sprint CEO to serve as COO of Softbank.
Davies most recently served as CFO for Amsterdam-based telecom provider Veon; he stepped down from that role last November. Prior to his time at Veon, Davies spent more than a decade with Vodafone Group in financial leadership positions, including a stint as CFO of Verizon Wireless. Before Vodafone, Davies worked at companies including GE, Honeywell and Caudwell Group in the U.S. and the U.K.
"Andrew has significant experience in the telecommunications industry here in America and around the world, making him an invaluable addition to Sprint's leadership team," said Sprint CEO Michel Combes in a statement. "He has helped to lead companies through transformational periods and is the perfect fit to strengthen our leadership team for the next phase of our transformation."
Davies will take over as CFO effective today.
"It's an exciting time to join Sprint and build on the incredible progress the company has made in the past four years," said Davies. "Sprint has incredible assets, strong financials and subscriber momentum. I look forward to helping the leadership team execute the plan and deliver on the aggressive goals and objectives laid out by Michel and Marcelo."
If the Sprint merger with T-Mobile US is approved — which the company hopes will be accomplished by the first half of 2019 — T-Mobile US CEO John Legere will serve as CEO of the combined company; the companies plan to maintain dual headquarters.