Last December, the Loudoun County Sheriff's Office in northern Virginia used a drone to help search for a 92-year-old hunter who had gotten stranded overnight in the woods. Within 20 minutes, they had sighted the man, who was then rescued safely.
Public safety agencies are beginning to use drones for search and rescue, situational awareness and post-disaster reconnaissance. During the 2017 wildfire season in California, the Los Angeles Fire Department used drones for the first time to precisely track the path of the Skirball fire to keep firefighters on the ground safe as well as to assess damage. The department also used an infrared-camera-equipped drone to identify lingering hot spots after the fire had passed through, giving their locations to firefighters so they could be completely extinguished. 
Emil Olbrich, president of Primelime Consulting, heads up a drone company and sees "great utility for public safety" in unmanned aerial vehicles. However, he also said that challenges, particularly in training and retention of trained employees, come along with the technology. Public safety agencies have to make sure that they have employees who are trained as drone operators and know the applicable rules for operation, he said, and that there are enough of those employees that they are available when needed and so that staff turnover doesn't mean starting from scratch or that a drone sits unused. 
Joe Boucher, CTO of public safety communications company Mutualink, said that he has seen a growing interest in drones in the past six to eight months, in incidents such as the response to Hurricane Harvey. While the interest level is growing, he added, "there are probably a lot more people trying to figure out what to do with drones than there are actually using them operationally, day-to-day – but the operational day-to-day use is growing every day as well." Mutualink is supporting a number of drone video-sharing solutions in different states, he said, as part of an overall communications package.
"They can be very useful in law enforcement and fire situations, being able to give an overhead view," he said, adding that drones have been driving "more than a handful of new opportunities just within the last few months."
Boucher describes the use of drones in two different environments for public safety: a command center, where a drone is launched in the field and may stream video to an offer's tablet or smartphone at the scene, via an LTE router – or even have a large screen set up so that multiple people can view the video. The other scenario involves just having the drone and operator in the field, without a command center nearby, so that the video feed is routed to the cloud over LTE as a remote service and the viewers might be other public safety agencies or a far-off command center. That can get tricky – and expensive – very quickly when the drone camera is, say, streaming 4K video, Boucher noted, so the feed often needs to be compressed or the option available to have high-res video on the ground, but lower-quality video going to the cloud.
Drones themselves can also be used to provide network coverage in remote areas or as part of post-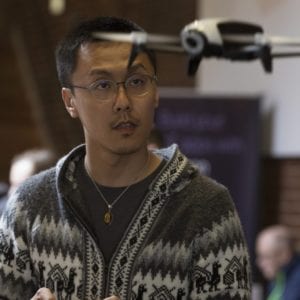 disaster recovery, with both AT&T and Verizon spotlighting "flying cell site" demonstrations in the past year. AT&T used such a site for the first time in Puerto Rico as the carrier worked to restore mobile coverage, and Verizon put together a demo in Cape May County, N.J. in partnership with American Aerospace Technologies to let first responders test out drone-based coverage in remote areas with no other wireless network available. AT&T/FirstNet is also has exploring the role of drones as part of its hackathons for public safety uses, with drone applications comprising part of its augural event in San Francisco.