Learn how geospatial network data, coupled with cloud-based centralized control and monitoring, drives QoE and cuts opex as 5G takes shape
Telecommunications operators have access to a rich pool of customer, both consumer and enterprise, data that, if properly harnessed, can provide valuable insight into network utilization patterns, subscriber behavior and network quality. The competitive edge provided by intelligent data insight means the difference between a seamless VoLTE handover or an angry call to customer service, predictive troubleshooting versus an expensive truck roll.
The way operators approach data collection and analysis is a complex and important process that will only get more complicated as IP-connected devices comprising the internet of things continue to proliferate. Coupled with the wireless/wireline and spectral convergence associated with the emerging 5G standard, providing a high-quality user experience will only become more problematic.
During Mobile World Congress 2017, Ashok Sethu of Keysight Nemo Wireless Network Solutions discussed the electronic measurement firm's approach to helping operators turn data into operational action with the Nemo Xynergy platform.
"The business value of our solution is it's a multi-data source platform," he explained. "The fact is, there are many different data sources that help the operators understand the full user experience. By having all those in one platform, they really can use the synergies between these different data sources to actually derive more value than any one of these data sources on their own."
The latest addition to the Nemo Xnergy platform, which is a scalable, web-based tool for analyzing drive test, RAN and call trace data, is the Nemo Xnergy Geospatial Intelligence module, which Sethu said offers an even more granular view of UX and network performance. "Not only are [operators] able to combine these data sources and get more value out of the analytics, they can also geolocate them so that they will actually see where these users are experiencing the problems. That adds a significant value to the ability to actually improve the quality of their experience."
As Sethu points out, QoE is a dynamic measure that can change as subscribers physically move through a network. In order to monitor these changing conditions, operators distribute network measurement equipment throughout their footprint, while also conducting regular drive, walk and other testing–a process that involves engineers moving user equipment through the network and monitoring fluctuations in a wide range of performance metrics.
Cloud-based monitoring reducing opex
Mikko Hyvärinen, director of CEM and Platform Products at Keysight Nemo Wireless Network Solutions, explained to RCR Wireless News how Nemo Cloud allows operators to streamline network monitoring and control in a central back office location.
"Nemo Cloud is a platform with a dashboard and graphical interface that delivers a real-time view of field testing and measurement projects. Wherever customers are in the world, they can ensure that all projects are monitored, they can ensure that the quality of measurement is always good, and, of course, they can increase the utilization rate of the measurement units."
As applied to the costly drive testing process, "Traditionally, for example, drive testing requires a driver and a radio engineer in the car. Now, when remotely controlling the measurement units, customers manages with a driver in the car. Customer can access remotely their whole measurement fleet, allowing engineers to view results from any given location, allowing teams to be more flexible and responsive, which in turn will streamline processes and reduce operating costs."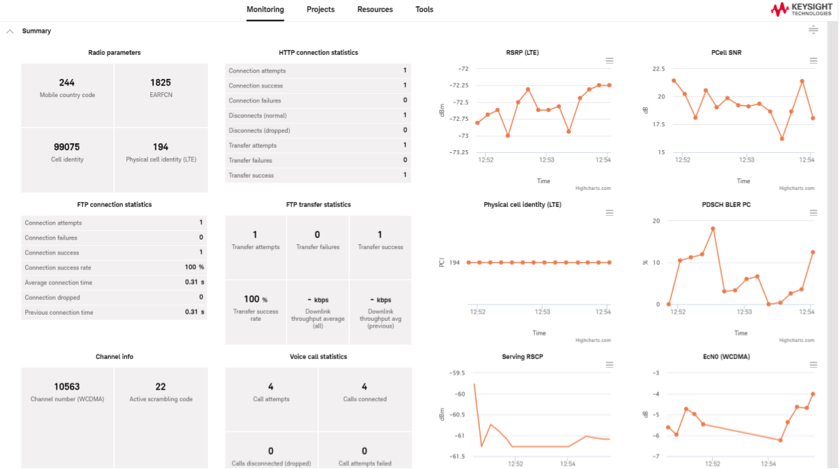 Nemo Cloud's Summary section, pictured above  displaying KPIs during one measurement session, offers a centralized view of any key points of interest, allowing customers to quickly focus on possible problem areas.
While operators can use these tools to drive QoE on current LTE networks, this flexible, cloud-based solution is well-suited for the continuing evolution through LTE-Advanced, LTE-Advanced Pro and, ultimately, to 5G.
Hyvärinen pointed out that the ultra-dense networks associated with 5G will necessitate even more measurement equipment in the field. "Mobile radio networks are getting more complicated, there are smaller and smaller cells. This brings more and more network measurement units. In this kind of environment, centralizing monitor and control platforms are very useful."
As it relates to 5G user experience, Sethu said ensuring QoE "will be challenging. In the early systems, that information is going to be hard to come by. We are already working on technology to get 5G data and 5G signals from the early releases and the pre-5G versions of the standard. We have the means with this platform to be able to derive at a user level what that experience is. It is going to be a very valuable addition to the ecosystem to be able to really deploy successfully the 5G systems worldwide."
The Nemo Xnergy and Nemo Cloud platforms can be deployed on-premises or as a software-as-a-service model. Click here to learn more about Keysight Nemo Wireless Network Solutions.