A new report from IHS Markit notes the current mobile backhaul market is trending down slightly, but 5G and LTE-A plans are set to propel growth
Ongoing network evolutions centered on LTE-Advanced and "5G" technologies is expected to power long-term growth in the macrocell mobile backhaul market, according to a new report from IHS Markit.
The report noted mobile backhaul equipment revenues are trending down slightly for 2016, following a 5% year-over-year increase in 2015. The current slowdown is attributed to increased pressure on equipment pricing as opposed to actual demand, which the research firm said "remains solid from LTE deployments, outlying 3G network expansion and backhaul enhancements for existing connections."
Moving forward, IHS Markit said it has slightly upgraded its growth forecasts for the market, citing 5G upgrades and LTE-A expansion plans. The firm said it now expects global mobile backhaul equipment revenues to hit $8.76 billion in 2020, which is a 3% increase compared with its previous estimate.
"IP edge routers shipping to the mobile backhaul market will gain traction as operators prepare their networks for 5G expansion with backhaul capacity upgrades," the research company explained.
In terms of backhaul choices, microwave technologies are expected to remain a significant part of the market, with plans surrounding LTE-A and early 5G network deployments set to boost the microwave market. IHS Markit noted small cell plans are likely to drive millimeter wave-based backhaul solutions that in turn will be backhauled to a macrocell site to drive "increased macro backhaul capacity."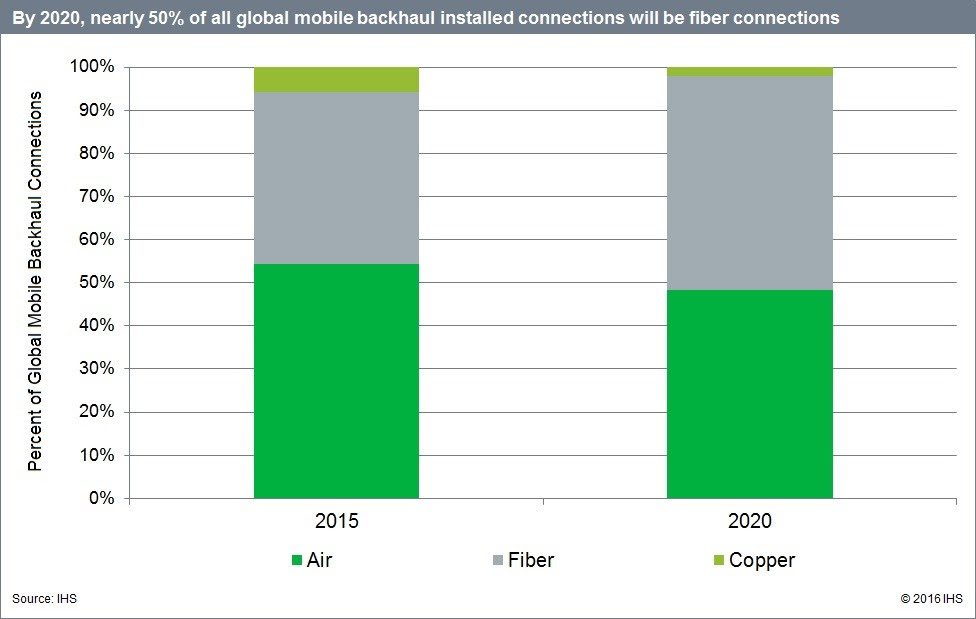 The current reliance on microwave could be one of the reasons for the market's doldrums as operators are looking towards wireless backhaul solutions to cut costs. Sprint earlier this year noted a diverse approach to backhaul solutions in order to "keep our costs down." According to Walter Piecyk from BTIG Research, wireless backhaul could save Sprint more than $1 billion per year.
"Sprint could save $600 million to $1.2 billion of incremental annual network expense by using wireless instead of fiber," Piecyk wrote earlier this year in a research note, explaining those numbers by assuming traditional backhaul would cost $1,000 per month and Sprint would need backhaul for 50,000 to 100,000 small cells.
According to the latest IHS Markit report, fiber-based backhaul solutions are also expected to gain market share, with a "slow shift to a fiber-biased market is evident through our forecast period."
While the current market is flat, IHS Markit noted Huawei, Ericsson, NEC, Nokia and Ceragon were revenue market share leaders through the first half of the year.
Bored? Why not follow me on Twitter