Crown Castle is "as excited as we have ever been by the opportunities in small cell," according to then-CFO, now-CEO Jay Brown on the company's most recent quarterly call. "Our small cell conversations with the carriers have increasingly become more positive with the passage of time and we are seeing the business model of small cells play out very similarly to that of towers."
Crown Castle has 16,500 miles of fiber in its small cell business, which currently accounts for about 12% of its site rental revenue. The following are Brown's remarks during Crown Castle's most recent quarterly call, in which it offered more insight than ever before on its approach to small cells.  
"We often describe the fiber as a tower laid on its side, upon which we are aiming to co-locate tenant nodes. … I think if you looked at an individual [small cell] system, what you would find is when it gets to three carriers the direct margins from those systems … are very likely to be higher than what we typically would find with the tower that had three tenants on them.
"What we run into is, the vast majority of this fiber and small cells are purpose-built. They need to be in specific locations, long routes where we can install on poles. … This fiber is very different than what we have seen historically deployed. And so as we go out and purpose-build this fiber … in the process of working with the carriers, that's where the operational expertise and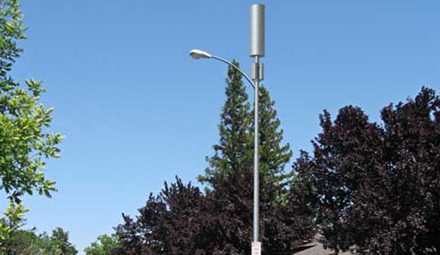 scale is helpful to us to win those next projects.
"As we have deployed … we have not seen carriers come off of macro sites. In fact, we believe … from the comments that carriers have made and our own experience was it actually enhances the value of their macro site. So this is a product that enhances their network. It's not a substitute. And the last point I would make about that is from a cost standpoint, if there is a macro site that solves the problem or the challenge or improves the network, the macro site is always preferable as a solution because it's much more cost effective to the carriers. So small cells are a solution when macro sites really can't solve the need and then it becomes a necessary component of the network at that point.
"What's a little different between small cells and towers is that I wouldn't describe the rent as … a standard rent, as what you typically see in towers. The systems are priced and we provide them to the carriers based on a return. And so as we look at the business, we tend to go back to the financials and look at what's the net capital we are investing in the system against the recurring cash flows in those systems and then how do we price appropriately both the first tenant and then future tenants on those systems.
"Our [contracts] in small cells are very similar to that of towers, where we have an initial term of 10 to 15 years and annual escalations on those revenue streams. … There is a lot of inherent exclusivity in what we are building and it goes really to the purpose-built nature of the fiber and the very significant capacity and strand count that's required on these systems today. So, while it's possible for someone to come in, we don't have exclusivity obviously – somebody can come overbuild technically. Economically, it doesn't make any sense. … We are in Houston, and I look at Houston today where there is two large systems getting built, one by ourselves and another by a competitor, and we don't overlap at all. And so that's the way these are working kind of all across the country where it makes sense. I think it's unrealistic on our part to think that the carrier is going to give us 100% of their market share in a particular area … as much as we love that to happen. That's just not realistic.
"It generally takes us about 18 months to 24 months to build a brand-new system. So we have a pipeline that we are currently working on today. It would be in the soft-cost stage for systems that we won't turn on likely until 2017 and 2018. For new tenants … as they are co-locating on existing systems, that process can take anywhere between nine months and 18 months depending on the dynamics in the market. And so we have a pipeline of those activities as well. What we are seeing in terms of the revenue growth in small cells this year of $55 million, those would have been projects that we started a number of years ago.  … We are seeing activity from all four of the operators on small cells and the business and contribution of the revenue from that business is not being driven solely by one carrier any longer. So, we are seeing good diversity of revenue and opportunities with the carriers and think that will continue."

Want to learn more about the small cell business case? Join RCR Wireless News tomorrow for a webinar featuring iGR, T-Mobile US and ip.access. A special report on the topic will be available for free download from our reports page.