Meanwhile, Sprint CEO Marcelo Claure calls out Verizon ads
In a series of new ads featuring British comedian and television personality Ricky Gervais, Verizon Wireless targets Sprint, particularly around network quality measures generated by third-party testing firm RootMetrics.
The call out apparently didn't sit too well with Sprint CEO Marcelo Claure, who took to Twitter to clarify.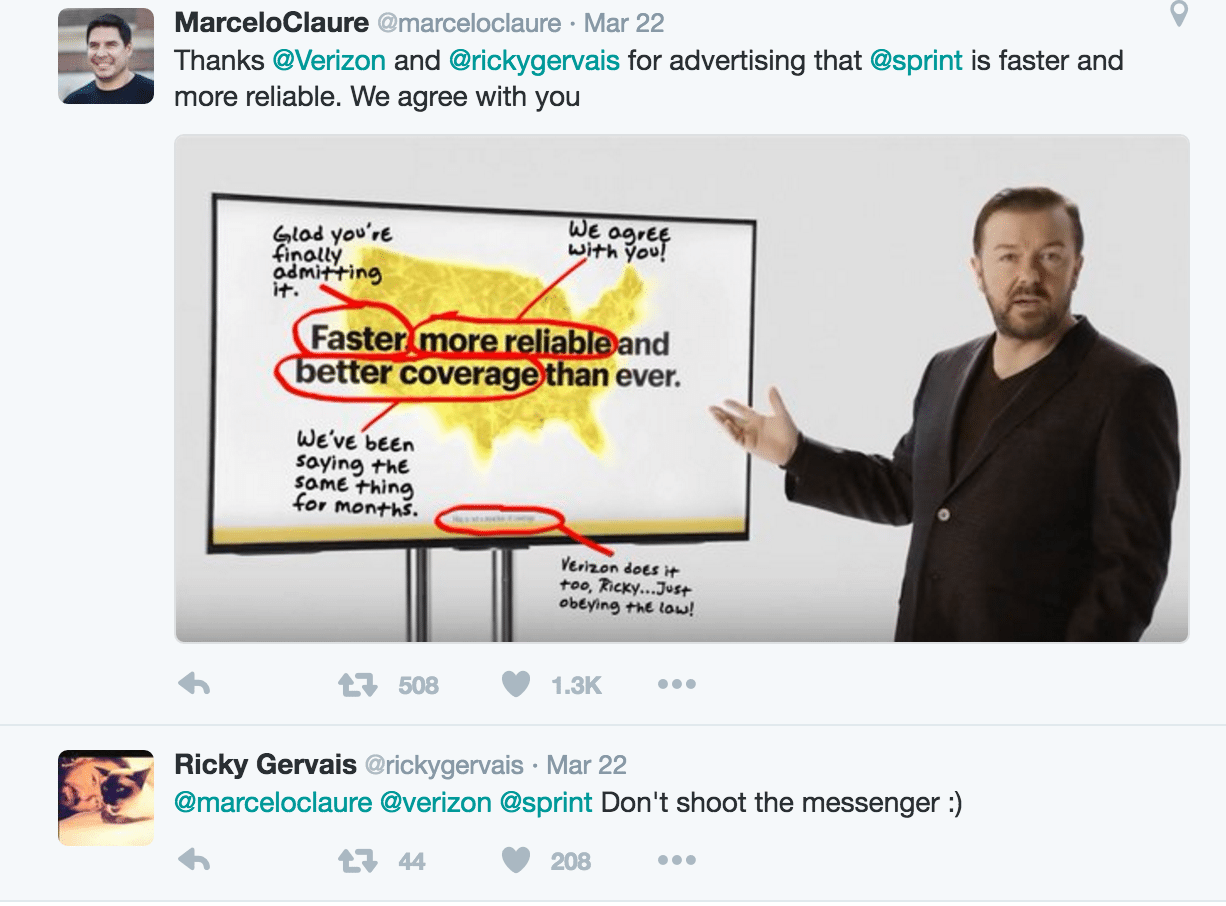 After Gervais's response, Claure laid out his counterpoints in a series of five tweets, noting Nielsen Mobile Performance data suggests Sprint delivers faster LTE download speeds than its three nationwide competitors, as well as the fastest download speeds in more than 120 metros including Atlanta, Phoenix, Houston, Denver and Boston.
In one of the TV spots, Gervais says: "Verizon is the No. 1 network in America. I know what you're thinking – they all claim stuff like that. Yeah, but some of them stretch the truth. One said they were the fastest. We checked. It was fastest in Kansas City and a few other places. Verizon is consistently fast across the country. You wouldn't want to hear from the bloke who patched a parachute, 'it's good over Kansas.' Do you know what I mean? So that's, anywhere else, splat."
In response to those points, Claure tweeted: "We're #Proud2bKC, but coverage is great throughout the country & not just in #Kansas!." Then: "There are many excellent #skydiving schools & clubs in #Kansas & #Missouri so come visit & enjoy the view!"
Sprint hires former Verizon regional presidents
Moving beyond advertisements, Sprint said it has hired two former Verizon Wireless regional presidents for high-level posts.
Claure, also on Twitter, announced that Pat Devlin, former president of Verizon New York, has joined the Sprint team, although he doesn't delineate the position Devlin has taken. And, according to the Kansas City Star, Sprint hired former Verizon Florida regional president Mariano Legaz to serve as chief procurement officer.
"This is a unique opportunity to join a great team working to transform an iconic company like Sprint," Legaz told the Kansas City Star.
Legaz's Verizon contract had a noncompete clause. Based on Claure's Twitter account, Legaz officially joined Sprint on March 23. While the noncompete applied, Sprint had Ramon Colomina, SVP of supply chain management, serve in the interim role.