Jim Patterson looks at a trio of headlines set to impact Q1 wireless results
This week, we'll look at three key headlines that will drive first quarter momentum in the wireless world. Next week, we'll look at the three most important events for the wired world. First, however, let's take a quick look at market performance since the beginning of 2016.
Value tracker 2016: dividends are back in fashion
As many long-time readers of this column know, we like to track long-term value creation. Daily and weekly returns can be impacted by news cycles, but longer-term trends only result from sustained and consistent performance. Below is the snapshot of equity returns (excluding dividends) through last Friday using end-of-year share counts provided by each of the carriers in their quarterly/annual reports: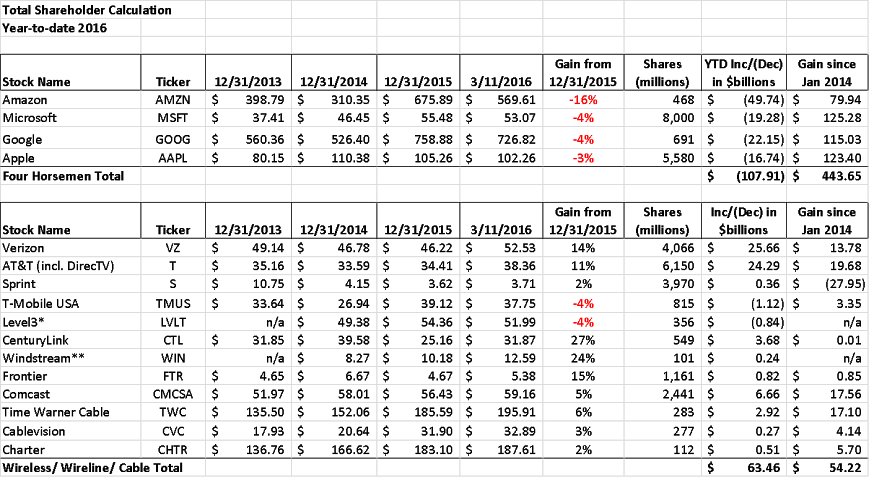 It is no coincidence the highest dividend-yielding stocks are performing well through the market turbulence of the first quarter. Verizon Communications (4.3% trailing dividend yield) is up a healthy 14% year to date, with over $25 billion in increased equity market value. AT&T (4.9%) is not far behind. CenturyLink, Windstream (which includes one-fifth of a Communications Leasing share) and Frontier are also attracting a lot of newfound interest.
Can this trend last? It's hard to say. We have seen a lot of interest in dividend-yielding stocks at the beginnings of other years (2014 being the latest) only to see growth stocks come roaring back in the second half of the year. That was during a low, but not negative, interest rate environment.
While the rest of the globe is trying to revalue their currencies and spur growth through short-term stimulus plans, stocks like CenturyLink look safe and secure. Nothing in their latest earnings report would drive such robust short-term gains; it's a global safety play.
Over the long term, it is interesting to see how Google, Apple and Microsoft are driving nearly identical absolute shareholder gains since the beginning of 2014. It's also worth noting that all of Apple's gains during this period are in the first year, while Microsoft's gains have been steady and Google's gains came entirely in 2015. Regardless of the timeline, any of these three companies (or Facebook) would have lapped the entire telecom and cable industry for shareholder value creation over the past 2-plus years. Something to think about as we head into the earnings season.
3 headlines that will impact Q1 earnings (wireless edition)
1. T-Mobile US improves net additions growth through lower postpaid churn
After listening to the Deutsche Bank webcast of T-Mobile US CFO Braxton Carter's lunchtime keynote last week, I am convinced the operating metric that will surprise investors the most is not the number of postpaid net phone additions, but rather monthly postpaid churn.
T-Mobile US has had a couple of strong first quarters of net postpaid additions (in 2014 and 2015, the first quarter was the strongest of the year), and they have been led by a combination of strong gross additions (taxing advantage of tax season liquidity) and incremental improvements in monthly churn. Subprime credit quality tended to catch up with T-Mobile US in subsequent quarters, and Carter indicated they were tightening credit standards in the first quarter.
From Q4 2013 to Q1 2014, monthly churn dropped 0.2% and net postpaid phone additions grew 1.26 million connections; from Q4 2014 to Q1 2015, monthly churn dropped 0.43% and phone net adds grew 991,000 connections. This year, the network is much better (Carter commented that low-band improvements were helping both urban and rural churn in the quarter) and half the base has a 700 MHz Band 12-capable phones.

T-Mobile US' monthly postpaid and prepaid churn figures are shown in the above chart. Assuming T-Mobile US had a good, but not great, gross add quarter with gross activations (this would drive a higher average subscriber base with minimal/no churn), it's reasonable to expect a postpaid churn rate of 1.25%. As a reminder, every one half of one percent (0.005%) increase in monthly churn equates to a 158,000 improvement in monthly ending subscribers. Said differently, if T-Mobile US came in at an average rate of 1.25% (which I think exceeds most expectations), the quarterly effect on their 31.7 million customer base would be approximately 475,000 net customer additions.
T-Mobile US has a lot of levers to play with here. For example, they could tighten up credit standards even more as lower churn rates are achieved, resulting in lower gross additions, but still hitting their overall net postpaid additions target. This is unlikely given Carter's comments that T-Mobile US "will certainly be taking up their growth guidance," but it's still a possibility.
It's more likely, however, T-Mobile US will hit 2.4 million to 2.5 million postpaid gross additions (or more) while at the same time churning out 1.2 million to 1.3 million subscribers. Here's why: more 700 MHz devices deployed across more geographies means less coverage-related churn; Binge On is not proving to be a selling obstacle or a churn accelerator, but rather a differentiated feature; and there're more tablets in the 2014 gross addition mix (especially in the fourth quarter) and they tend to churn less than phones.
One thing was learned from the webcast: significant growth will not be coming from 700 MHz or LTE market expansion gross additions in the first quarter. Carter clearly made it out to be a second-half 2016/first-half 2017 growth story.
2. Sprint loses postpaid phone customers
When we wrote about Sprint's "to do" list for 2016, one of the items mentioned was the need for a plan to provide a foundation for growth once planned network improvements have been made. As of today, that plan is not in place (the "Better Choice Plans" introduced in late February were completely overshadowed by the unlimited data announcement made the same day). Instead, Sprint has decided to respond to the marketplace by drafting on others' rate plans ("Half Off" and unlimited). As a result, it's possible Sprint could announce postpaid phone losses in their upcoming earnings announcement (see chart for historical trends) while adding a few hundred thousand postpaid tablets in the process.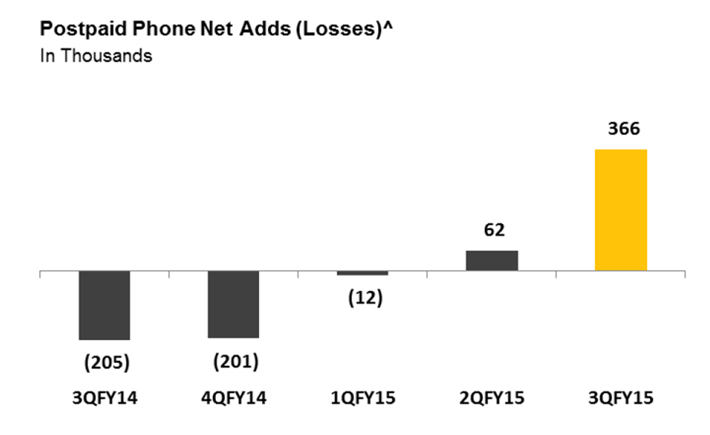 This event will come as a surprise to many industry observers, but Sprint's super-aggressive lease offerings last September and October, as well as the resumption/expansion of the "Half Off" promotion at the end of 2015, brought out the majority of the "want to (re)investigate Sprint" segment. With a good, but not blockbuster launch of the Galaxy S7/S7 Edge last week, as well as increasing pressure from AT&T Mobility with equipment discounts for enterprise and small business customers, finding new growth from quality credit sources will be tough.
A neutral result (plus/minus 150,000 net additions) driven by tablets is likely to have a negative effect on Sprint's 2016 revenue prospects. Sprint will prove adept at cutting costs, but translating improved network results into sustained customer growth and profitability is still several quarters away.
3. Cricket unlimited offers now included in DirecTV bundles
Admittedly this is wishful thinking, but all signs point to another very strong quarter for Cricket Wireless, AT&T Mobility's no-contract prepaid brand. In January, AT&T announced the resumption of unlimited plans for AT&T Mobility postpaid wireless consumers if they also subscribed to a qualifying DirecTV service (nearly all services qualified). As AT&T CFO John Stephens indicated in a recent investor conference, this was a very successful offer and attracted more than 2 million (combined) current wireless and DirecTV customers.
Given the completion of Cricket integration into AT&T Mobility, the next logical step would be to grow the bundled program through the addition of Cricket and DirecTV plans. These would target customers who spend $150 per month for both wireless and video (the current plan targets customers who spend $250 more). More importantly, this could expand distributor opportunities for DirecTV and Cricket (if the same store is not selling these services already).
While this quarter's AT&T earnings release will likely be focused on Mexico milestone achievement as well as DirecTV progress (and postpaid churn reduction), a Cricket headline would be a welcome surprise.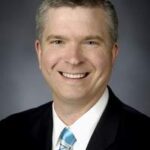 Jim Patterson is CEO of Patterson Advisory Group, a tactical consulting and advisory services firm dedicated to the telecommunications industry. Previously, he was EVP – business development for Infotel Broadband Services Ltd., the 4G service provider for Reliance Industries Ltd. Patterson also co-founded Mobile Symmetry, an identity-focused applications platform for wireless broadband carriers that was acquired by Infotel in 2011. Prior to Mobile Symmetry, Patterson was president – wholesale services for Sprint and has a career that spans over 20 years in telecom and technology. Patterson welcomes your comments at [email protected] and you can follow him on Twitter @pattersonadvice. Also, check out more columns and insight from Jim Patterson at mysundaybrief.com.
Editor's Note: The RCR Wireless News Reality Check section is where C-level executives and advisory firms from across the mobile industry share unique insights and experiences.
Photo copyright: jgroup / 123RF Stock Photo