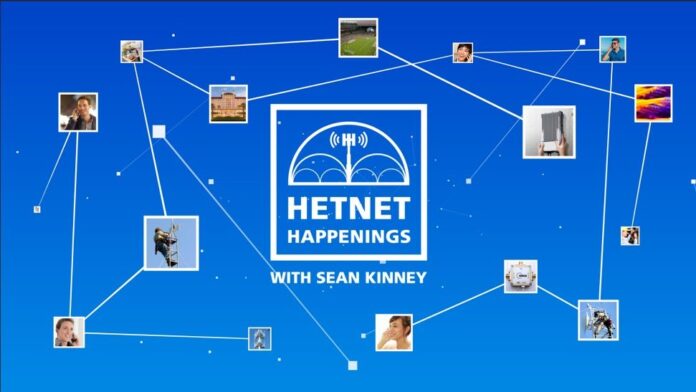 On this episode of HetNet Happenings, Sean Kinney shares highlights of a recent trip to Qualcomm headquarters in La Jolla, California.
Qualcomm engineers demonstrated solutions that will be unveiled during Mobile World Congress, Feb. 22-25, in Barcelona, Spain.
The first demonstration shows hardware that supports the 802.11ad Wi-Fi standard, which promises gigabit Wi-Fi speeds. This has a lot of potential for consumers; think 4K video streaming to multiple devices and similar bandwidth-intensive applications.
As Wi-Fi networks add capacity and complexity, it's important to seamlessly manage that complexity. To that end, Qualcomm has developed a Wi-Fi SON (self-organizing network) solution. The demonstration includes a Wi-Fi access point, coupled with a Wi-Fi range extender, with multiple handsets connected to the network. The demo shows how the Wi-Fi SON solution dynamically manages the traffic on the Wi-Fi network.
Qualcomm also showcased a technology that's considered to be fundamental to an ultimate 5G standard: millimeter wave beamforming and steering. Millimeter waves operate in largely untapped high-band spectrum and have challenging propagation characteristics.
In the demo, Qualcomm engineers in San Diego link up with colleagues in New Jersey who use millimeter waves to connect two pieces of test equipment. The equipment is then moved around the test space while the millimeter wave signal is adjusted to fit the geography.
Finally, Qualcomm SVP and GM of Connectivity Rahul Patel demonstrates a new MulteFire solution. Qualcomm does lots of work around LTE-U, which refers to operating LTE in unlicensed spectrum. One flavor of LTE-U is Licensed Assisted Access (LAA), which requires an anchor tenant deployed in licensed spectrum. MulteFire removes the need for the anchor tenant.
Stuck in traffic or video blocked at work? Check out the HetNet Happenings podcast.
[soundcloud url="https://api.soundcloud.com/tracks/246690938″ params="color=ff5500&auto_play=false&hide_related=false&show_comments=true&show_user=true&show_reposts=false" width="100%" height="166″ iframe="true" /]
For previous episodes of HetNet Happenings, as well as other RCRtv productions, click here.