The new modules also feature enhanced 5G/Wi-Fi coexistence capabilities
Qualcomm has announced its third-generation of Wi-Fi Front End Modules (FEM), which are integrated RF components that help amplify and route signals between the Wi-Fi System on Chip (SoC) and the antenna. The latest generation of modules is designed for Bluetooth, Wi-Fi 6E and Wi-Fi 7, and according to Qualcomm's SVP and GM of RFFE in Germany Christian Block, they will help the company push its market leadership further "across all key wireless categories."
After commenting on Qualcomm's position as a global leader in handsets, Block said during a press briefing that the company's "next to goal is to be the global number one is all business."
"We have been focusing more and more on areas like automotive and IoT. What we have been doing in mobile, we will also do that for adjacent businesses," he continued.
By bringing its RFFE knowledge to OEMs in these markets, Qualcomm believes it can help them tackle industry-specific obstacles such as product development cost and scalability. In a blog post that accompanied the announcement, Block and Qualcomm's Manager of Product Marketing, RF360 Max Rodrigues wrote, "By selecting our Wi-Fi Front End solutions, customers can secure their roadmap to the latest innovations and features that Wi-Fi 7 adds to older Wi-Fi standards – including new frequency bands, new data rates, and high band simultaneous usage."
At the press event, Block offered further insight here, stating that the new RFFE modules offer several notable improvements over previous generations. He called out speeds of up to 5.8 gigabit per second, 60% higher than the previous generation of Qualcomm's RFFE modules, a battery life improvement of 50% and an increase in overall efficiency of 35%.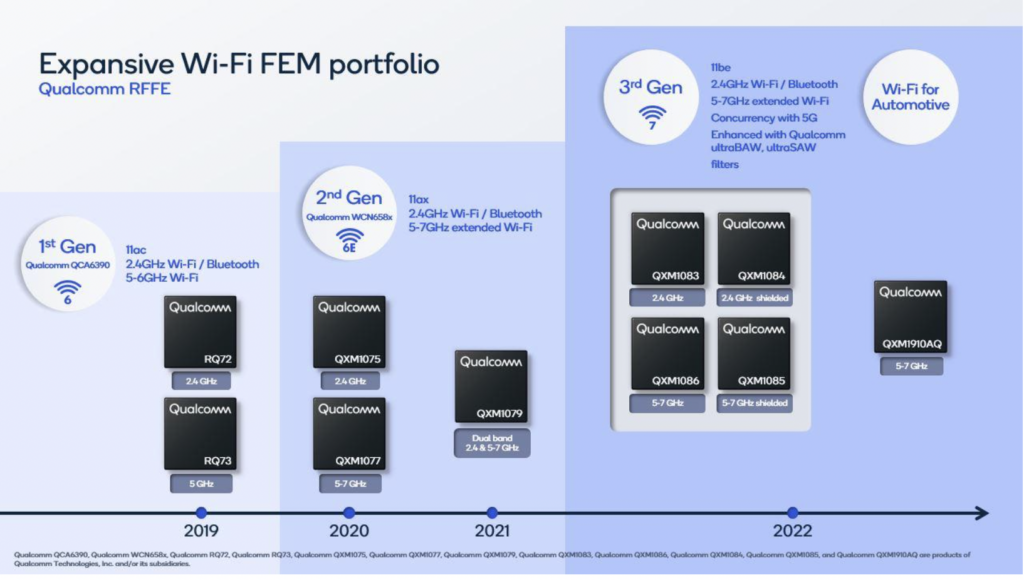 5G/Wi-Fi concurrency
The new modules also feature enhanced 5G/Wi-Fi coexistence capabilities and complement Qualcomm's ultraBAW filters, enabling 5G/Wi-Fi concurrency, which Block and Rodrigues argued will improve the wireless performance of mobile handsets.
"Manufacturers can use the new modules along with Qualcomm Technologies' client connectivity products, such as Qualcomm FastConnect 7800 Wi-Fi 7/Bluetooth Systems and Snapdragon 5G Modem-RF Systems," the pair wrote, adding this can be done either with devices featuring Snapdragon Connect or those with 3rd party Wi-Fi and Bluetooth chipsets.
The new front end modules are currently sampling to customers and commercial devices featuring the new solutions are expected to launch by the second half of this year.