LAS VEGAS – During a CES 2022 press event Tuesday, Qualcomm CEO Cristiano Amon presented several new partnerships spanning several markets, proving once again, that "there is more to Qualcomm" than its mobility technology. Most notably, though, were the company's announcements around its continued emphasis on automotive and XR technology.
Amon introduced the "the digital chassis," a redefining of the vehicle base framework to include digital components based on the company's Snapdragon processors. Specifically, this digital framework includes the Snapdragon Ride Platform for automated driving and advanced driver assistance systems (ADAS), the Auto Connectivity Platform for cellular-connected services, cellular vehicle-to-everything (C-V2X), Wi-Fi, Bluetooth and precise positioning, and the next generation of the Snapdragon Cockpit, a digital cockpit and infotainment system.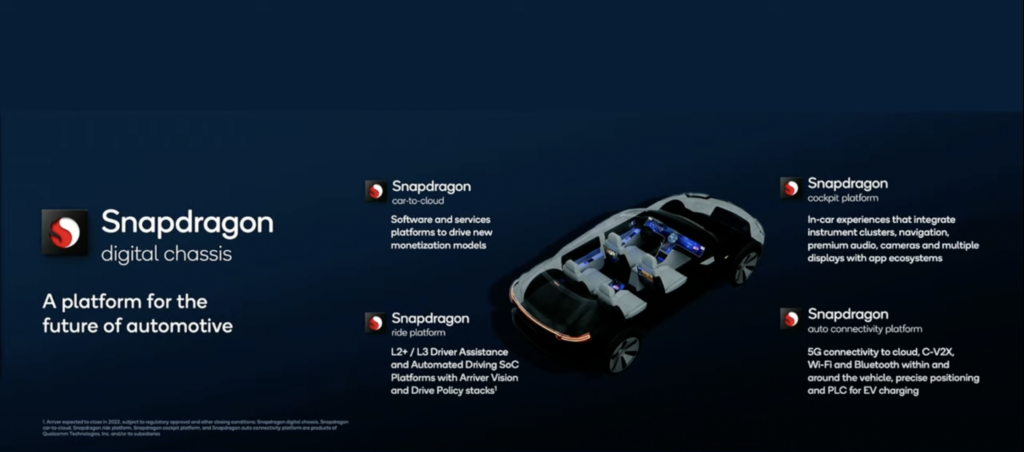 "What we saw with the transition of the car into a completely more digital cloud connected and intelligent experience [is that] car companies started to develop a direct relationship with tech companies and chip set providers," Amon said. "That was taken to the whole next level when we look at the supply chain crisis and [have] the understanding of the importance of semiconductors […] in the digital evolution of the car."
He then revealed that Honda, Volvo and Renault will use elements of Qualcomm's digital chassis components in their next-generation vehicles. A similar agreement was reached with BMW last November. Other OEM partners for Qualcomm include General Motors (GM), Hyundai and XPeng.
Automotive has been a huge growth story for Qualcomm and the company, as outlined in its 2021 financials, expects revenues to hit $3.5 billion in five years and $8 billion in a decade.
Qualcomm also underlined its commitment to the growing augmented reality (AR) and mixed reality (XR) with the announcement of a partnership with Microsoft to provide chips for inclusion in metaverse hardware. The chip company is developing a custom Snapdragon augmented-reality chip for lightweight AR glasses.
The chip platform, said Amon, will integrated Microsoft Mesh, a mixed-reality platform powered by Azure and the Qualcomm Snapdragon Spaces XR Developer Platform. The platform was announced last fall with T-Mobile US and Deutsche Telekom as official launch partners and is a head-worn AR developer kit that the company said will "enable the creation of immersive experiences that seamlessly blur the lines between our physical and digital realities."
"We've been talking for years about the possibility of having wearable augmented reality glasses [at scale]," Amon said at CES, "[and] this partnership is a step in making that a reality."
In addition to earmarking automotive and XR reality as areas of significant opportunity, Amon also took the time to highlight next-generation Arm PCs and wireless fiber as critical growth areas for the company moving forward as he revealed partnerships with PC manufacturers Acer, HP, Microsoft, Lenovo and Asus to address the former, and with wireless carrier AT&T to address the latter.