Operating in the sub-1 GHz band, Wi-Fi HaLow sports long range and low power connectivity, and can provide reliable connectivity in challenging environments
The Wi-Fi Alliance recently announced the arrival of Wi-Fi Certified HaLow, designed for the certification of products incorporating IEEE 802.11ah technology, expanding Wi-Fi applications for the Internet of Things (IoT). As with previous Wi-Fi certifications, Wi-Fi Alliance's Senior VP of Marketing Kevin Robinson expects this development to "serve as an inflection point in mass adoption."
"It's not uncommon for implementations of Wi-Fi 5 or Wi-Fi 6 to get out into the market some number of months prior to the availability of certification," he continued. "With Wi-Fi HaLow, in fact, there were some references designed on the market."
However, he added that with the certification, multi-vendor interoperability will now be at the forefront, which he said will allow for new use cases to emerge, particularly in the connected home environment, where it is practically "unheard" of for a single vendor's solutions to be used throughout.
"Even in more industrial or enterprise use case, Wi-Fi certified is often used as a critical component in things like RFPs. When somebody is building an enterprise solution, they also want those assurances around interoperability and things like security that come along with Wi-Fi certified gear," he said.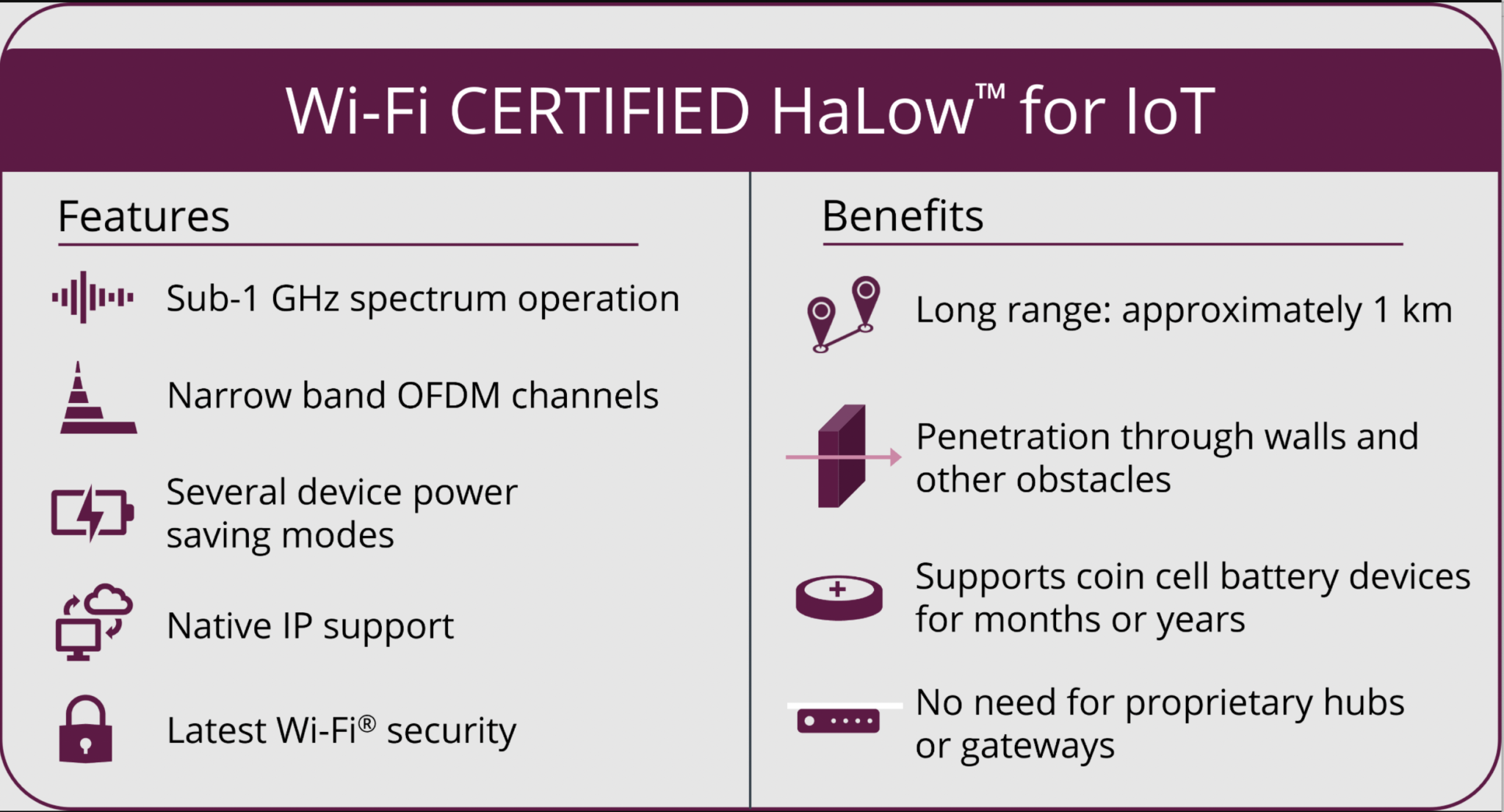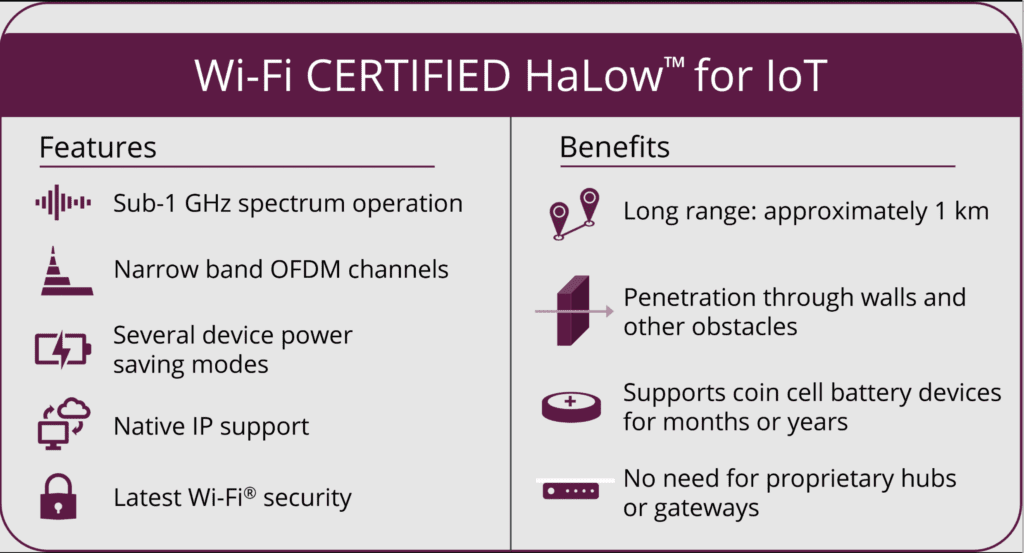 Operating in the sub-1 GHz band, Wi-Fi HaLow sports long range and low power connectivity, and can provide reliable connectivity in challenging Wi-Fi environments. As a result, Robinson explained, Wi-Fi HaLow brings the ability to do things like penetrate walls or other barriers and works well in noisy RF environments.
These characteristics make the technology suitable for IoT and Industrial IoT (IIoT) environments, in addition to retail, agriculture, healthcare, smart home and smart city markets. Sensors, personal wearable devices, security cameras, utility meters and other applications that require multi-year battery operation make for great Wi-Fi HaLow candidates.
Using security cameras as an example, Robinson described a situation in which the cameras are placed on a campus or in a backyard where longer range is necessary, stating, "Wi-Fi HaLow can support those use cases because it has the extended range, but it can also support 30 Mbps at good ranges […] It's not just the range, it's what you can send over that data pipe at those ranges."
According to him, Wi-Fi HaLow "exceeds" in such situations when compared to other technologies.
"When you look at the overall Wi-Fi portfolio," Robinson offered, "there are a lot of different tools in the tool kit. With the release of Wi-Fi HaLow, there is now a complimentary technology that addresses some new use cases, or some of the use cases better. When you look at the [Wi-Fi] portfolio as a whole, [it is] really unmatched in the breadth and diversity of capabilities."
He was careful to point out that HaLow, like all Wi-Fi technologies, supports existing Wi-Fi protocols, including multi-vendor interoperability, strong WPA3 security and easy setup.