AWS has several operator partners, including Verizon, Dish Network, Vodafone and KDDI
Speaking at the Connectivity Expo in Orlando, Florida, AWS' Industry Solutions Technology Leader for Worldwide Telecom Robin Harwani detailed the company's telecom strategic focus, supported by what it's hearing from its operator partners and with an emphasis on edge computing.
Harwani said that, after speaking with its telecom customers and partners, it became clear that telecom providers are first and foremost interested in partnering with AWS because they want to serve the company's end customers.
"It can be our public sector customers, our enterprise customers, as well as our customers within the national space," he continued. "That is where all the things from SD WAN solutions […] to edge solutions have helped them."
AWS is also focused on helping its operator partners actually build networks, particularly secure, scalable software-driven networks that help operators offer their customs cost reductions by only charging for what is consumed.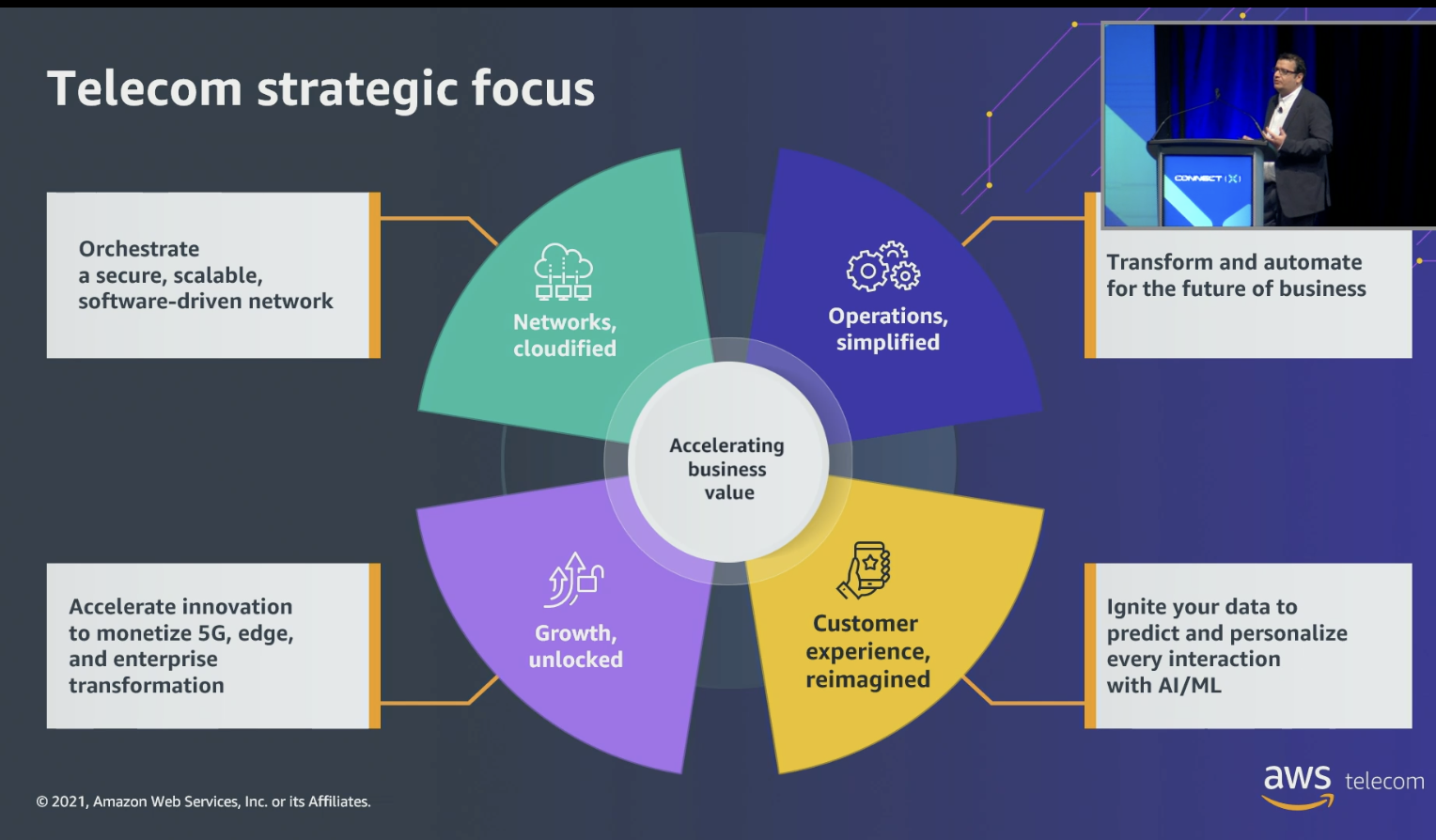 In addition, AWS is focused on leveraging tools like automation, machine learning and artificial intelligence to help operators transform their customer experiences and improve how they manage their networks.
"Thirty to fifty percent of the operators time and effort goes into managing these networks and […] we are working closely with our operator partners to make sure we have solutions that allow for zero touch [management] experiences," explained Harwani.
Harwani's talk also highlighted the importance of the edge in accomplishing this strategy and in accelerating the deployment of 5G infrastructure.
"For us, edge is not about compute or storage," Harwani stated, "edge is an ecosystem of tools and services."
These tools and services, he continued, can be used by developers and telecom companies to buildout applications that "transform industry experiences."
One "industry experience" that AWS has worked hard improve is what Harwani called "the life of the network."
Laying out the example of an indoor network deployment, he walked the audience through the standard process: First the devices arrive and are provisioned with the backend; then they are manually configured, installed and connected. Finally, they are onboarded and then must be locally managed.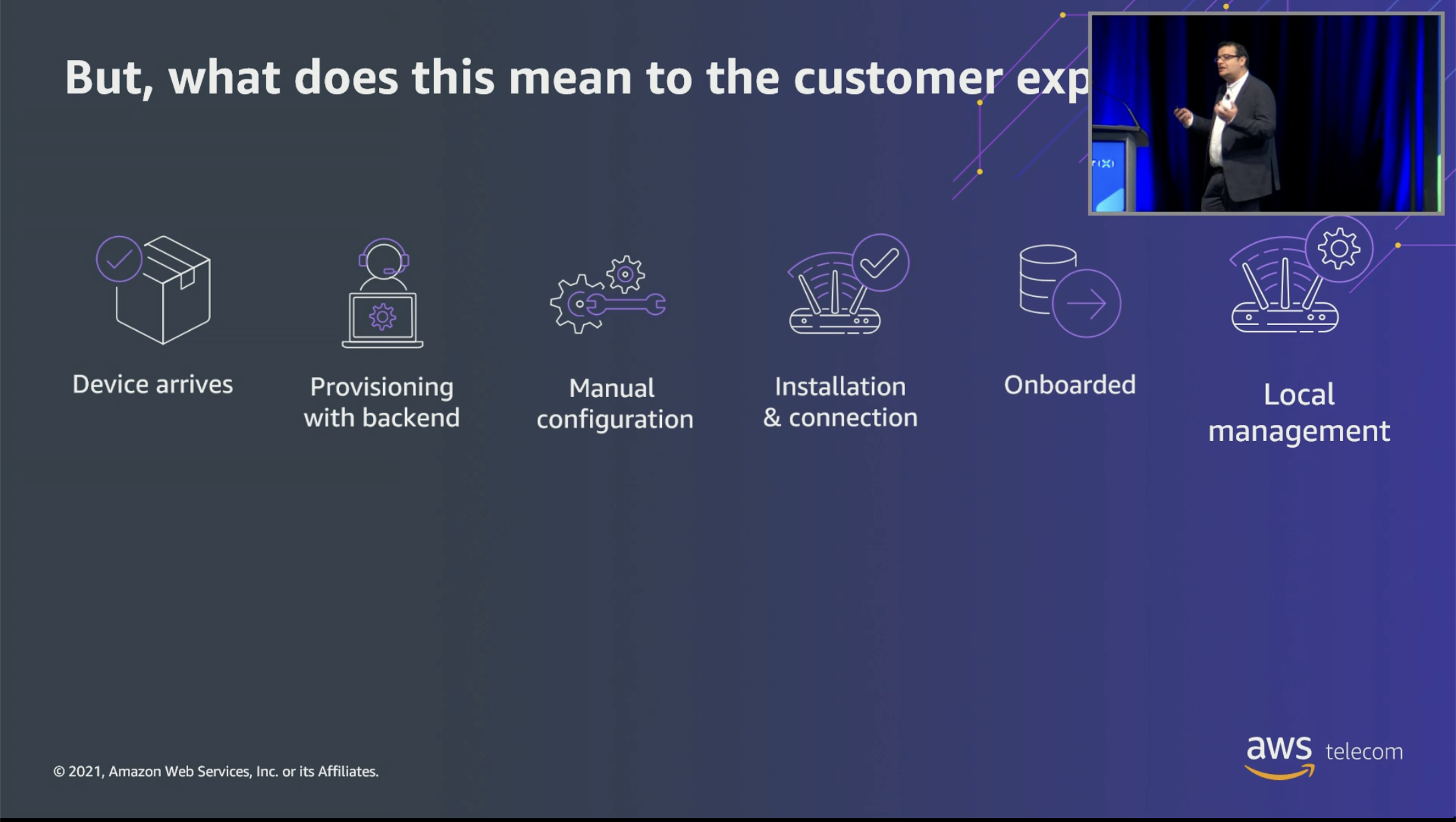 "This entire process […] has taken lots of time and energy by a lot of our partners," he continued, adding that AWS has focused "extensively" on improving device onboarding and management, in particular, using automation orchestration and its regional and edge cloud infrastructure.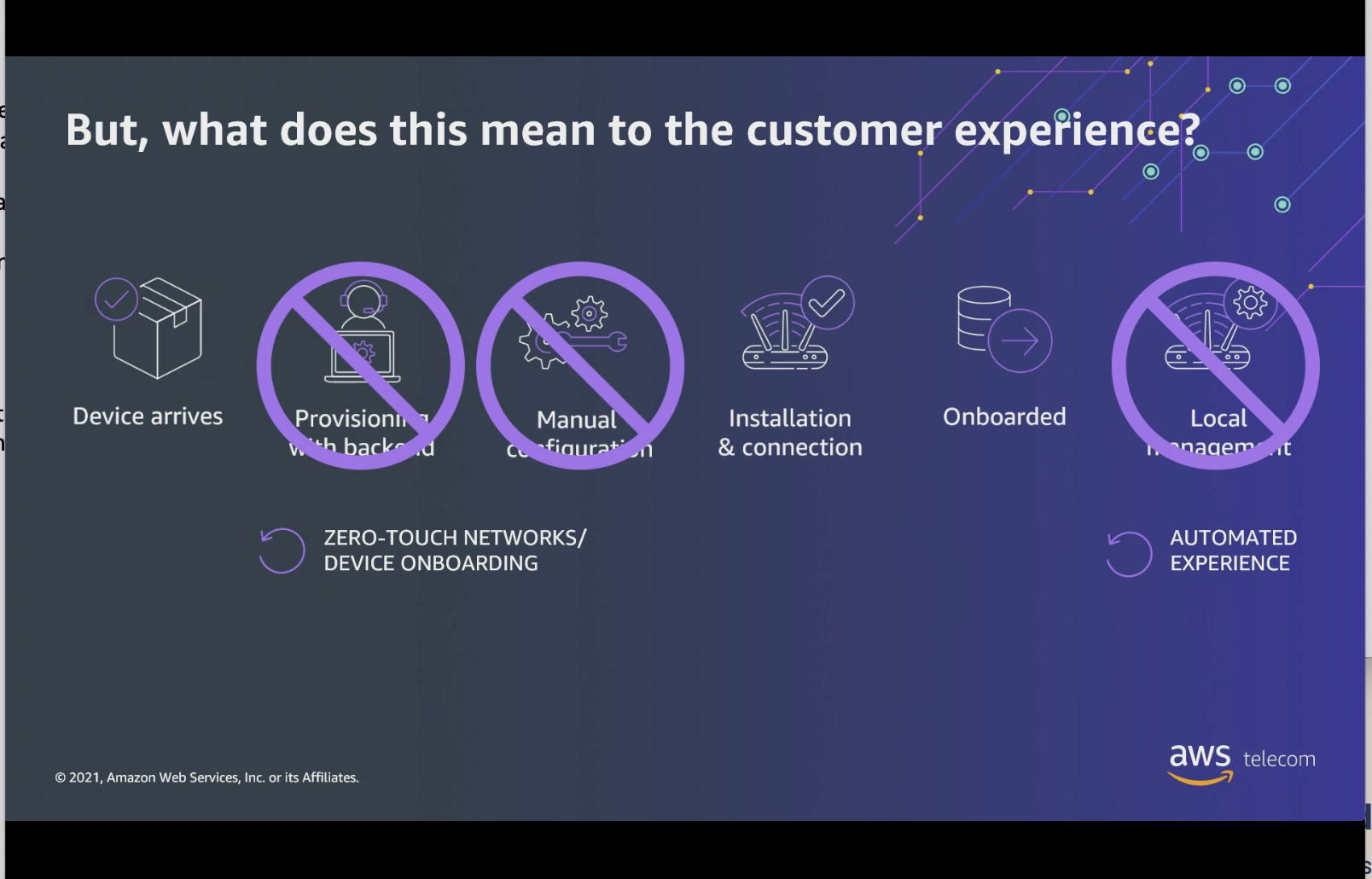 AWS has several operator partners. Some of the more notable partners include Verizon, which has leaned on AWS Wavelength to deploy its 5G mobile edge computing (MEC) service since August 2020, and Dish Network, which uses AWS as the foundation for its cloud-based 5G network that will reportedly launch in Las Vegas this year.