Broadband is a necessity, not a luxury
Over the years, there has been an ongoing argument over whether broadband should be considered an essential utility similar to that of basic utilities, such as water, light, heating, waste management and others. Making broadband more affordable and accessible by labeling it as a utility promotes social mobility through enhanced access to information and education, among many other aspects.
The COVID-19 pandemic has further reinforced the importance of broadband in daily activities, especially with lockdowns occurring in countries across the globe. As the way people work and interact was altered to what is emerging as the "new normal," it is likely to speed up the expansion of broadband capacity and the implementation of 5G technology.
Economic benefits of mobile broadband
According to the GSMA, mobile technologies and services generated $4.4 trillion in economic value in 2020, amounting to about 5.1% of the global Gross Domestic Product (GDP). This is estimated to increase by $480 billion, to a little over $4.8 trillion by 2025.
In developing and developed markets, the economic impacts of mobile technology accounted for 4.3% and 2.8% of GDP, respectively, in the past two decades. Looking forward, the GSMA also estimates that with 5G technology capable of delivering up to 100X faster speeds and 10X latency reduction, this could lead to a global income growth of 2.1% in the next 10 years. This further highlights the importance of 5G's role in enabling economic and productivity growth, especially with digital technologies being at the forefront of countries' post-COVID-19 recovery.
Current state of 5G
ABI Research forecasts that global 5G subscriptions will reach just less than 2.4 billion in 2025 from 220 million in 2020, growing at a five-year Compound Annual Growth Rate (CAGR) of 61.3%. Currently, a total of 176 operators in 72 countries have launched 5G commercial networks as of mid-August 2021, up from 41 countries from a year ago according to a General Services Administration (GSA) report.
Map of Operator Investments in 5G Networks (Source: GSA)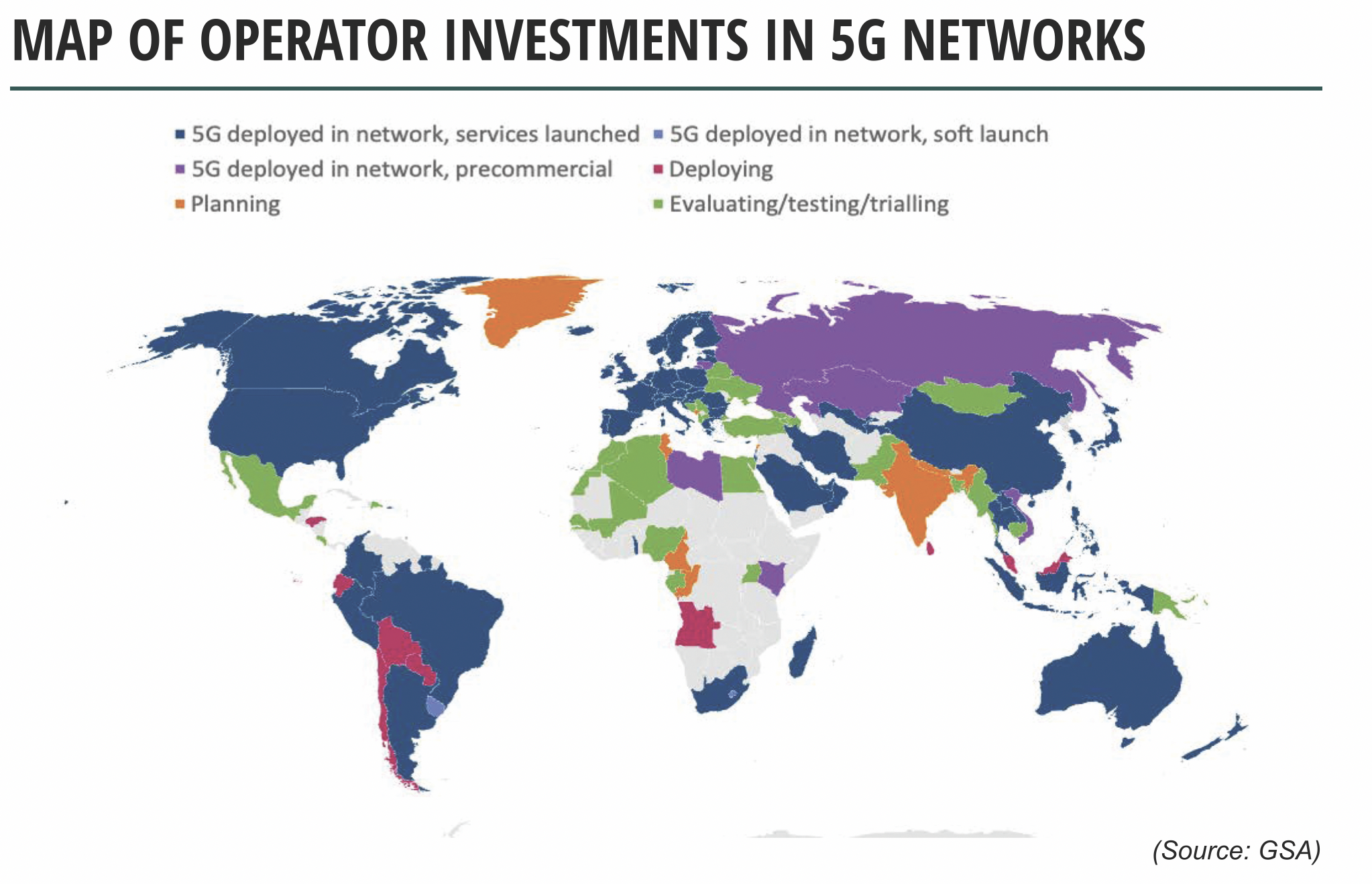 It is expected that 5G will reach 1 billion users in three and a half years, compared with four years for 4G and 12 years for 3G. Such an exponential growth in 5G is largely due to much faster speeds and ultra-low latency enabling many more consumer and enterprise use cases. The ability to support many new services and applications, such as Augmented Reality (AR)/Virtual Reality (VR), cloud gaming and Fixed Wireless Access (FWA) means that 5G can help operators generate new revenue streams and deliver cutting-edge services.
In addition, the number of commercially available 5G devices has seen exponential growth over the years, with more than 600 available as of July 2021.
The rise in implementation of C-band spectrum
Broadband speed test firm Ookla recently released its Global 5G Benchmark Report Q1-Q2 2021, which analyzed the performance and availability of 5G in 30 major cities around the world. It was found that almost every city had 5G download speeds of over 100 Mbps; however, 5G availability for most cities remained below 50%.
Out of the top 10 cities ranked by 5G speed, nine of them had operators that have deployed C-band spectrum with Seoul, South Korea coming out on top with the highest median download and upload speeds.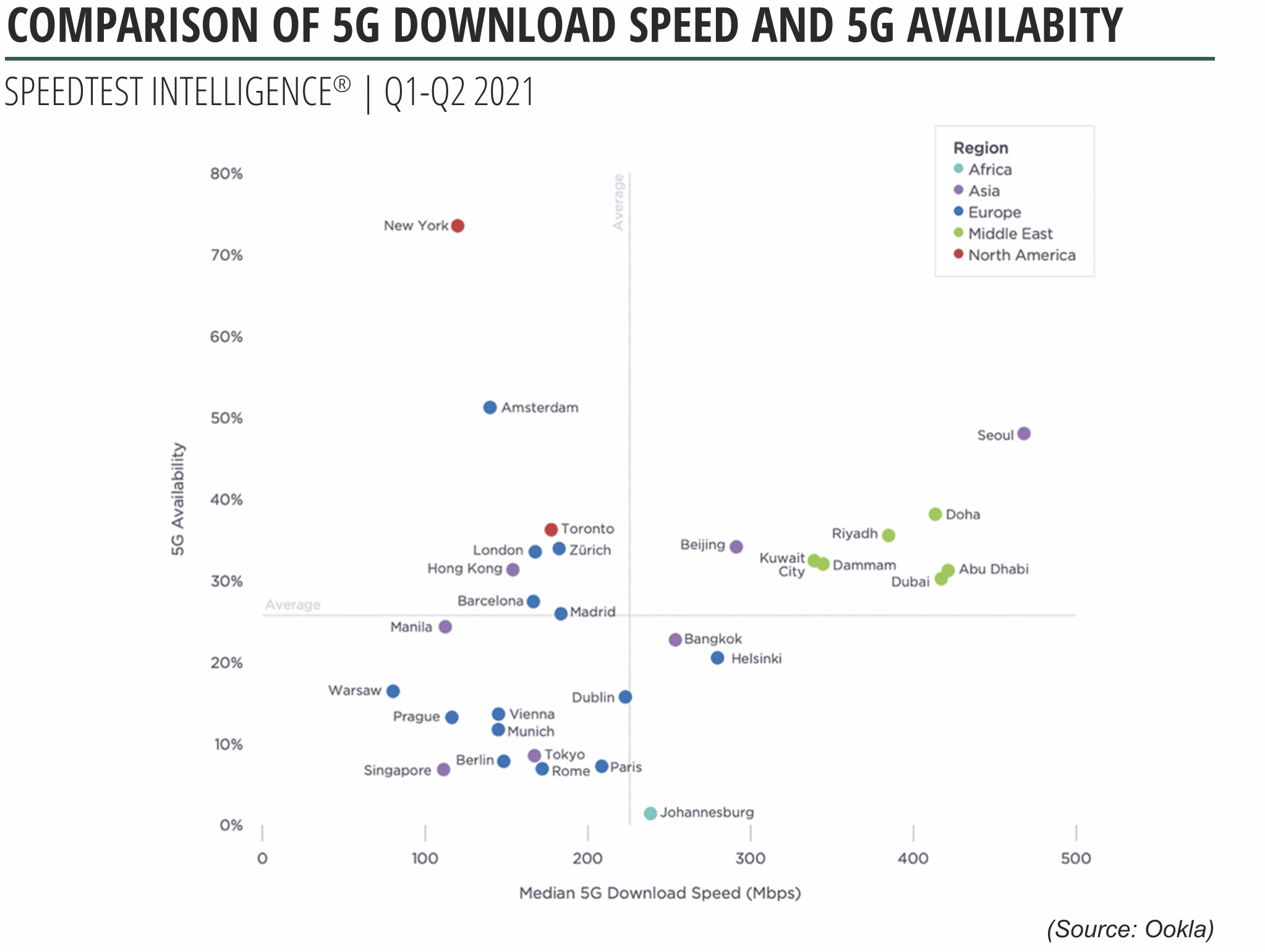 The LG U+ 5G network in Seoul achieved the highest speeds in the 5G market with a median download speed of 522.3 Megabits per Second (Mbps) and a median upload speed of 53.8 Mbps. One reason LG U+ is leading the way in 5G connectivity is due to the operator leveraging high-bandwidth Massive Multiple Input, Multiple Output (mMIMO) deployments on a large scale. LG U+ secured 80 Megahertz (MHz) of 3.5 GHz spectrum (n78 band) in the June 2018 auctions and launched its 5G network in April 2019. LG U+ ended 2Q 2021 with 3.7 million 5G subscribers, up 108.8% Year-on-Year (YoY) and added a total of 971,000 5G subscribers in the first half of the year, while total net additions in the second quarter reached 392,000. In addition, the operator recorded US$2.5 billion in service revenue in 1H 2021, a 5.2% YoY growth from 1H 2020.
Apart from LG U+, Zain in Saudi Arabia is another operator from the top 10 cities that has seen a significant boost in speeds from 5G. The operator has introduced 5G using 2.6 Gigahertz (GHz) and 3.5 GHz, along with M-MIMO, allowing it to achieve download speeds of 319.9 Mbps with 5G availability of 40.3% in the city of Dammam. Having an aggressive strategy for rolling out 5G resulted in the operator offering 5G coverage in 41 cities and across all regions with more than 4,000 5G towers — more than any of its competitors.
Both LG U+ and Zain had an earlier start to their 5G deployments and were able to achieve high 5G speeds and availability due to the use of mMIMO technology. Other operators, especially in the Southeast Asian region, such as AIS in Thailand, are building up increased 5G momentum. AIS launched its 5G network in February 2020 using 100 MHz of 2.6 GHz spectrum. At the end of 2Q 2021, the operator reported having more than 1 million 5G subscribers, achieving an Average Revenue per User (ARPU) lift of 12% to 18%, and is looking to target 2 million 5G subscribers by the end of the year. Coverage levels are slightly above 25% with more than 6,700 5G base station sites. The presence of mMIMO helped boost AIS' data throughput performance in the Ookla tests.
5G broadband to 5G smart city
The speed and availability of 5G deployments also play a role in smart city developments. The COVID-19 pandemic also pushed cities to go wireless with autonomous form factors for disaster and disease management being invaluable in ensuring a city's resilience and safety. From 5G-powered smart city robots in Guangzhou, China that monitor temperatures in real time to 5G-enabled self-driving vehicles making contactless medical deliveries in Thailand, 5G has improved population coverage, resilience, and data throughput speeds to enhance smart city ecosystem development.
Operator deployment strategy
The achievements of operators like LG U+, Zain and AIS, as well as the smart city benefits of 5G, underscores the value of adopting C-band-based mMIMO on a wider scale, which, in turn, has helped operators monetize their 5G networks at a faster pace. With the large number of antennas, such as 32T32R or 64T64R, mMIMO enables beamforming and enhances data speeds and capacity for users, while providing consistent service through the efficient use of spectrum. Furthermore, it enables accelerated deployments for operators that are just beginning their 5G rollouts and looking to speed up their network coverage and 5G capacity in key regional areas within the telco's operational footprint.