MWC 2021 took place in Barcelona in June 2021, during a difficult period for the whole world as new COVID-19 variants are sweeping the world. Nevertheless, the GSMA and the city of Barcelona must be commended on their organizational skills and that they persevered to make this even happened, even at a smaller scale. Indeed, the official statistics from the GSMA indicated that the show had 20,000 attendees, while the show had about 100,000 attendees in 2019. Despite this, we expect that 2022 will show signs of complete recovery and all of us will be able to meet again in person to exchange ideas and travel the halls of Barcelona's Fira.
The pandemic and the lack of certainty surrounding the show meant that there were fewer announcements compared with previous years, but regardless, there were still some important news that came out of MWC. For example, Qualcomm announced a new chipset – the Snapdragon 888 while all operators made commitments for faster rollouts of nationwide 5G networks. From the network infrastructure side, Ericsson, Huawei, Nokia, and Samsung all made announcements but no major new product launches. From these vendors, Huawei had a physical presence in MWC 2021.
A key market indicator is the GLOMO awards, which are the most important awards in the telecoms industry and capture the "pulse" of the industry. The following table illustrates a comparison of this year's awards, compared with the 2020 awards.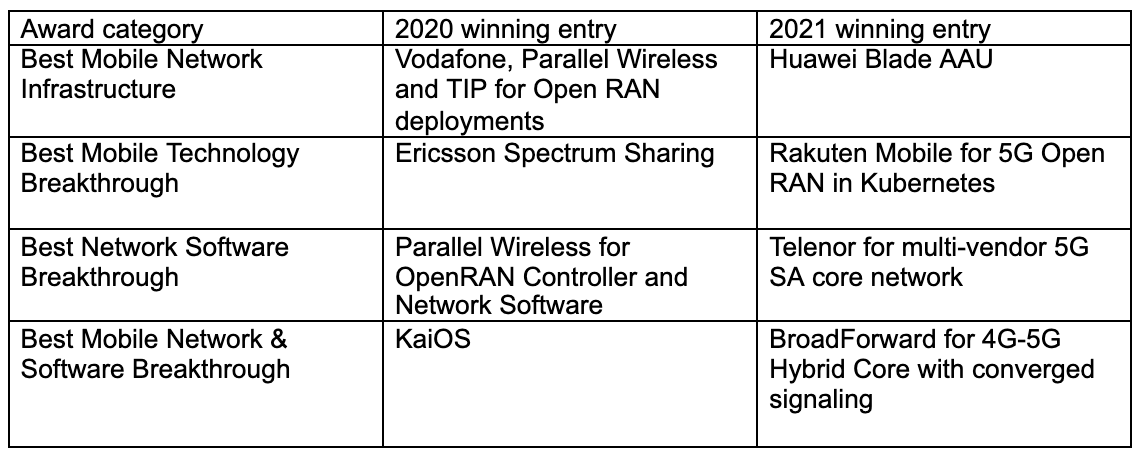 Although many operators and vendors are exploring Open RAN, there were still important innovations introduced by single vendors, including Huawei with its Blade AAU solution. In fact, Huawei captured no less than 5 awards, contrary to Ericsson and Nokia that captured none.
Huawei's wins and why the Chinese vendor is still very important for a healthy market
Huawei's wins are an important indicator for the global nature of the supply chain, regardless of the restrictions caused by the pandemic or geopolitical challenges. Namely, Huawei won the following awards, either on a standalone basis or through a cooperation:
Best Mobile Network Infrastructure: Huawei for BladeAAU series
Best Mobile Innovation for the Connected Economy: China Southern Power Grid 5G+Smart Grid
Best Mobile Innovation for Emerging Markets: Huawei for RuralStar Pro connectivity and digital inclusion solution
Outstanding Mobile Contribution to the UN SDGs: Rainforest Connection (RFCx) & Huawei for Nature Guardian Project
Best Innovation for COVID-19 Response & Recovery: China-Japan Friendship Hospital & Huawei for 5G Telemedicine Solution for COVID-19
These awards are wide ranging and highlight Huawei's involvement in areas that go well beyond the traditional infrastructure market. Huawei has won awards for a core technology (Blade AAU), for its involvement in enterprise verticals (China Southern Power Grid and China-Japan Friendship Hospital), for rural network developments and for sustainability (Rainforest connection). It should also be noted that these categories were subject to a significant number of high-profile entries, but the judging panel picked Huawei as a winner.
The conclusion for this promising outlook is that Huawei is developing concepts and technologies that can be applied to the Western world. In fact, Huawei's expertise in enterprise verticals from the Chinese market (where most activities are in fact driven by mobile operators) could definitely benefit operators in Europe, who are currently trying to find their footing for enterprise vertical use cases and business models.
What we expect for the years to come
We expect next years' awards to have a balance between open networks and core innovation for existing 5G products, namely Massive MIMO units, mmWave systems, cloud-native systems and perhaps the best of both worlds: large infrastructure vendors opening their systems to introduce third party innovation through APIs and open interfaces.
Regardless of the geopolitical and pandemic challenges, we expect Huawei to continue to innovate in the technology and commercial domain and highlight its achievements in industry awards and other initiatives. It is unfortunate the market is facing such challenges, but we hope that the supply chain can regain its previous state and offer a truly global environment for competition, where the market decides who is the best available choice for a network.