Terrestrial and satellite networks have progressed along their independent path, rarely intersecting. However, the new generation of low earth orbit (LEO) satellite constellations are poised to change the economics of space-based networks. This promises new services and deployment models that could have major impact on the service provider ecosystem including submarine, wholesale, mobile, fixed and geosynchronous earth orbit (GEO) satellite service providers. New market dynamics will jeopardize some players while others stand to win. 
The LEO threat to GEO services
The new LEO constellations are by a new breed of players from outside the traditional satellite industry: Starlink backed by Elon Musk and Kuiper backed by Jeff Bezos' Amazon are examples. New launch economics and advances in satellite technology make it economically feasible to deploy large number of satellites at altitudes below 2,000 km. These constellations promise to reduce latency to below 100 msec – a 5x improvement over the performance of GEO satellites. Thousands of satellites will cover the entire surface of the earth giving rise to global players and bring terabytes of new capacity online. Additionally, a new breed of LEO 'nanosatellites' promise to bring ubiquitous connectivity for IoT.
While there are still some technical challenges to resolve related to LEO satellite networks, launches are already in progress by the likes of Starlink and OneWeb. We expect that by 2024 LEO satellites will provide 24x the capacity of what GEO satellites offer today. This will impact GEO satellite service providers whose networks remain suited for broadcast services but have limitation in supporting broadband internet services that are better served by the LEO constellations.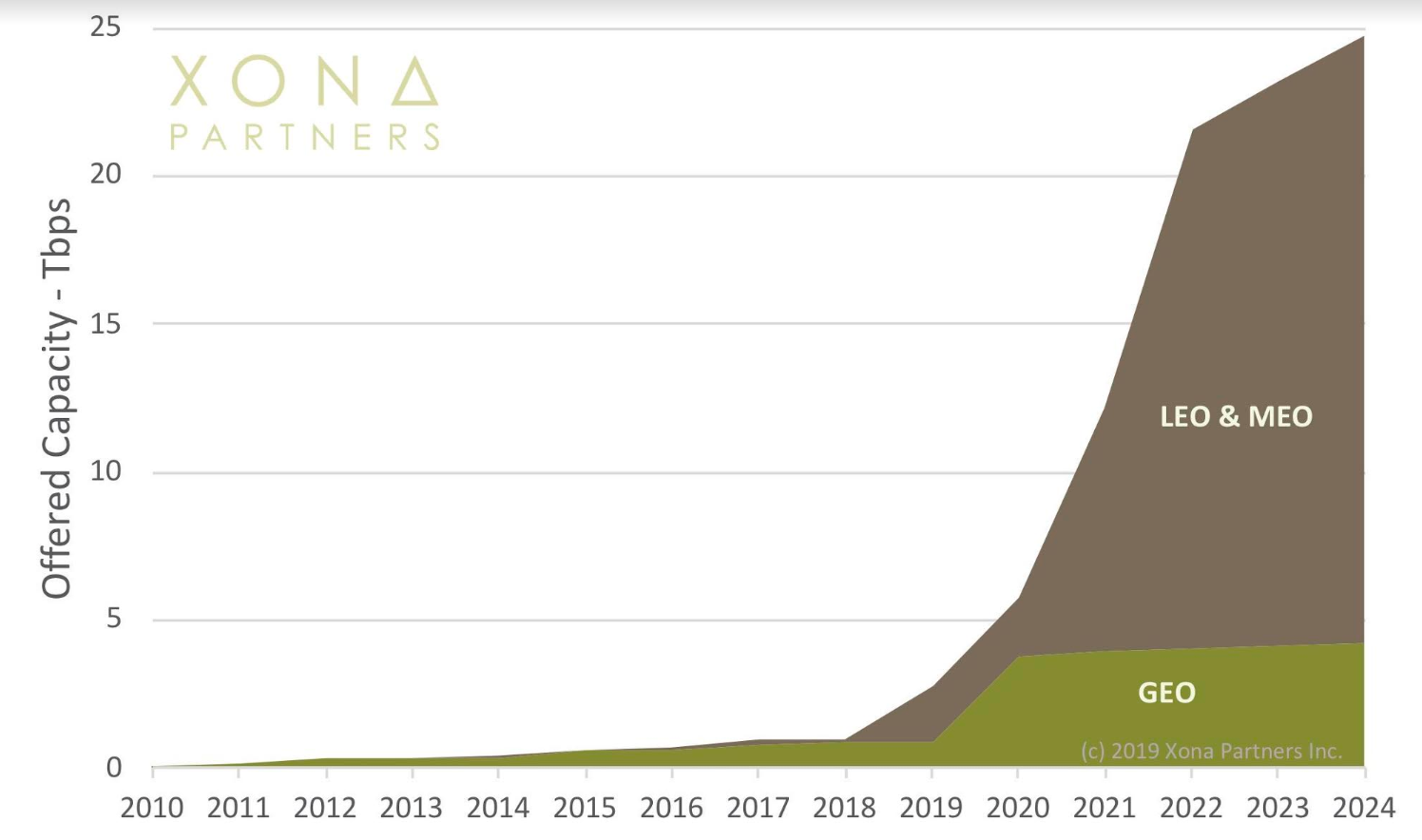 The opportunity for mobile service providers
The 3GPP identified 12 use cases for 5G-satellite convergence and plans to support some of these requirements in Release 17. The application of SDN and NFV alongside network slicing and edge computing technologies offer different technical architectures and business models to support remote enterprises and rural applications. Such convergence is not expected before the second half of 2022, the earliest date for 5G Release 17 commercial availability. 
In the short term, there is an opportunity for enterprises, either on their own or in partnership with mobile service providers to deploy private wireless networks with satellite backhaul to connect remote areas such as mines, oil platforms and ships. The traditional barriers to deploying such networks are fading, in particular: 
SDN and NFV technologies make mobile core networks economically scalable to support small deployments. 

Falling satellite capacity prices and new pricing models from satellite service providers reduce the total cost of ownership where satellite backhaul capacity is a major cost driver. 

Regulators are making cellular spectrum available for enterprises in countries such as the US, Germany and Japan among others.
Mixed-bag for submarine cable operators and wholesalers
Submarine cable operators and wholesalers could stand to win or lose depending on their service characteristics and geography. Satellite networks still require terrestrial connectivity, but they also provide alternative mode of transport. Signals travel 33% slower in fiber as they do over the air. LEO constellations with intra-satellite optical links stand to complete on providing superior latency performance to connect remote locations.
Concluding remarks
OTTs such as Amazon, Facebook, Google who are investing in LEO satellite networks already own extensive terrestrial fiber networks used to connect their hyper-scale data centers. The balance sheets of these companies support the cost of building LEO networks. OTTs have long eyed the telecom sector for disruption to grow their revenues by reaching the unconnected. The threat of LEO satellites needs to consider this perspective.
Xona Partners is a boutique advisory services firm offering technology, management and due diligence services in TMT.