US, European device upgrades may lag compared to China and South Korea
There are likely to be significant regional differences in 5G device adoption rates around the world — and Chinese and South Korean consumers appear to be more likely to make immediate upgrades to 5G devices once they are available, while consumers in the United States, Europe and Australia are more likely to hold off, according to a new report from GSMA Intelligence.
The Future of Devices report, released yesterday, concludes that smartphone will "remain the dominant consumer device into the new decade, but the arrival of 5G will not guarantee a surge in device upgrades."
"The device ecosystem will be critical in shaping the trajectory of 5G adoption," said Peter Jarich, head of GSMA Intelligence. "However, it's a mistake to believe that consumers in every market will look at 5G upgrades in the same way. Operators and device manufacturers will need to understand consumer demand on a granular level if they hope to make the most of the 5G opportunity."
The new device report is based on a GSMA Intelligence 2019 survey of 38,000 people in 36 markets around the world. It found that 46% of Chinese consumers surveyed planned to upgrade to a 5G devices as soon as one was available, while only 28% of respondents in the U.S. planned to do the same.
Fully 70% of Chinese consumers surveyed planned to upgrade to 5G at some point, even if they didn't know exactly when, and so did 60% of South Korean respondents. Meanwhile, only around 40% of U.S. survey respondents indicated any plans to upgrade to 5G. The numbers were even lower for European countries including France, Germany, Spain and the U.K., where between 20-30% of consumers had some level of interest in upgrading to 5G.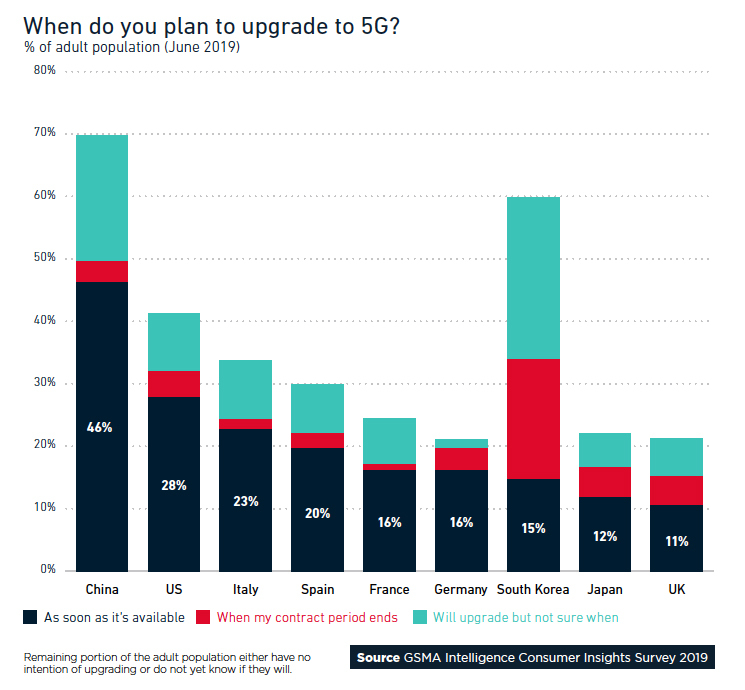 Recent reports from the Global mobile Suppliers Association found that there are 199 announced 5G devices from 76 vendors with 16 form factors, from smartphones, hot spots and indoor and outdoor customer premise equipment to drones, TVs, robots and a vending machine. As of the end of 2019, at least 47 5G devices were commercially available, up from around 20 in June of 2019. The bulk of the available or planned 5G devices are smartphones and CPE, which make up 63 and 61 devices respectively out of the 199.
Other findings from the GSMA Intelligence report included:
-Adoption of smart home devices continues to be slowed by fragmentation and lack of compatibility across manufacturers, although smart speakers are "increasingly acting as a single control point within the home."
-The adoption rates for wearables such as smartwatches and fitness trackers rose last year, with millennials having the highest ownership rates. However, GSMA Intelligence said that connected health devices for older populations are a "missed opportunity for tech companies and governments, given that such devices can facilitate remote monitoring for a range of conditions."