3GPP including 5G NR-U for 5 GHz and 6 GHz in Rel. 16
With the forthcoming 3GPP Rel. 16, 5G New Radio will be expanded into the unlicensed 5 GHz and 6 GHz bands. Called NR-U, there are two modes of operation: non-standalone wherein operators can aggregate the unlicensed bands with licensed 5G frequencies to bolster capacity similar to LAA, and standalone wherein an enterprise could use unlicensed spectrum to deploy a private cellular network.
During a recent RCR Wireless News webinar, Qualcomm's Yongbin Wei, vice president of engineering, discussed the differences between asynchronous and synchronous sharing of unlicensed frequencies; both can support a range of legacy and nascent use cases although the former does so in a more efficient manner which could be necessary given the breadth of potential 5G applications.
"We always kind of look for ways to improve the spectrum efficiency to support more and better services," Wei explained. "The question we have been asking is can we do something unique to improve all the uqitlization of unlicensed spectrum."
He said the current channel access model for 5 GHz is somewhat "ad hoc…If you realize the channel is free, you can jump in." However, with technologies like coordinated multi-point, ultra-reliable low-latency communications–think wireless control of industrial equipment that's moving around a factory floor, synchronized sharing of unlicensed spectrum would be better.
So the question becomes, Wei said, "Can we introduce the synchronization notion to unlicensed spectrum? I think this is doable."
The idea between synchronized sharing for 5G NR-U is to coordinate access between different network nodes. This provides an improved user experience, improved quality of service and overall more predicatable network operations.
Channel access to the 5 GHz band is asynchronous given the massive number of Wi-Fi devices using that frequency. But the 6 GHz band is much less encumbered by legacy equipment. "You could allocate, for example, part of the band to be for synchronized or…we still allow asynchronous operation but we found a way to also accommodate the synchronized access," Wei said.
Wei also highlighted localized 5G services, which can come in a number of different flavors, all of which would need mechanisms to ensure co-existence. He specifically called out the 3.7 GHz to 3.8 GHz spectrum opened up by German regulators for localized, private networks and similar moves in the U.K. from Ofcom to open up access to 3.8 GHz to 4.2 GHz.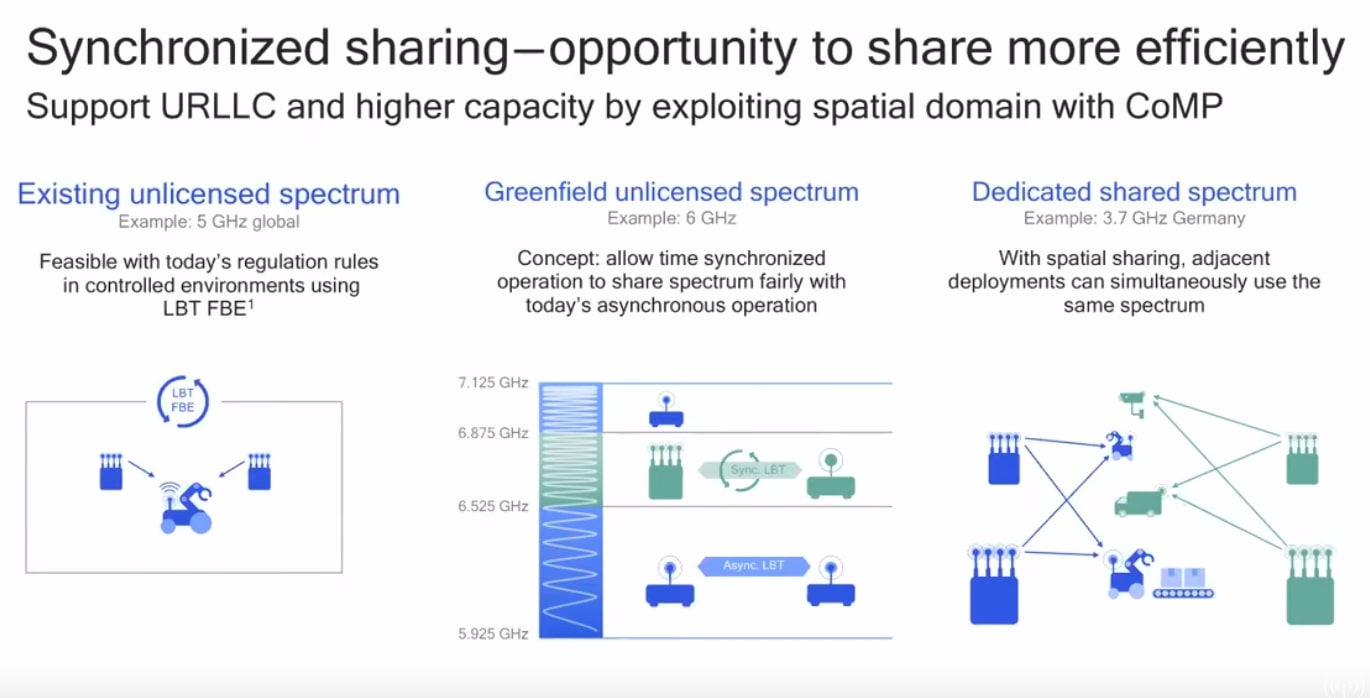 "One issue about this kind of local services is they have a lot of boundaries," Wei said. "How do you make sure you can work together with your neighbors to access the channel? Time synchronous access is one way to share more efficiently with your neighbors."
All of this underlines a major shift that's happening as 5G rolls out around the world–"We are moving beyond the wide area public network" to also includes geographically localized, private 5G. "You could lease the licensed spectrum from an operator or the operator can offer the local services. I mentioned the dedicated spectrum…also you have the option for unlicensed spectrum."
For more information on 5G NR-U, as well as other spectrum sharing topics including dynamic spectrum sharing and sharing access to mid-band frequencies such as with CBRS in the U.S., check out the below webinar featuring Wei and Mark Gibson of CommScope.