Qualcomm engineers test Vivo's 5G mmWave antenna in commercial form factor
Chinese smartphone manufacturer Vivo and U.S. semiconductor company Qualcomm have integrated a 5G millimeter wave antenna array into a commercial-sized smartphone and measured its performance over the air, the companies announced.  
The design integrates a 28 GHz mmWave antenna array into a cellphone-sized form factor that also uses sub-6 GHz technologies, Qualcomm said in a blog about the Vivo announcement. Qualcomm engineers conducted radiated measurements at Qualcomm's antenna lab in San Diego to verify the antennas' performance.   
"This achievement, the demonstration of 5G mmW coexisting with sub-6 GHz in a commercial form factor, is groundbreaking work critical to the commercial launch of 5G," said Qualcomm.  
Fitting a 5G-sized antenna into a mobile phone is no small feat.
"To get the full benefit of 5G, handsets should have both sub-6GHz and mmWave antenna systems coexisting in the same device. Eventually, both mmWave and sub-6 GHz are planned for deployment in every major region of the world, including some markets in 2019 and 2020," said Qualcomm's blog.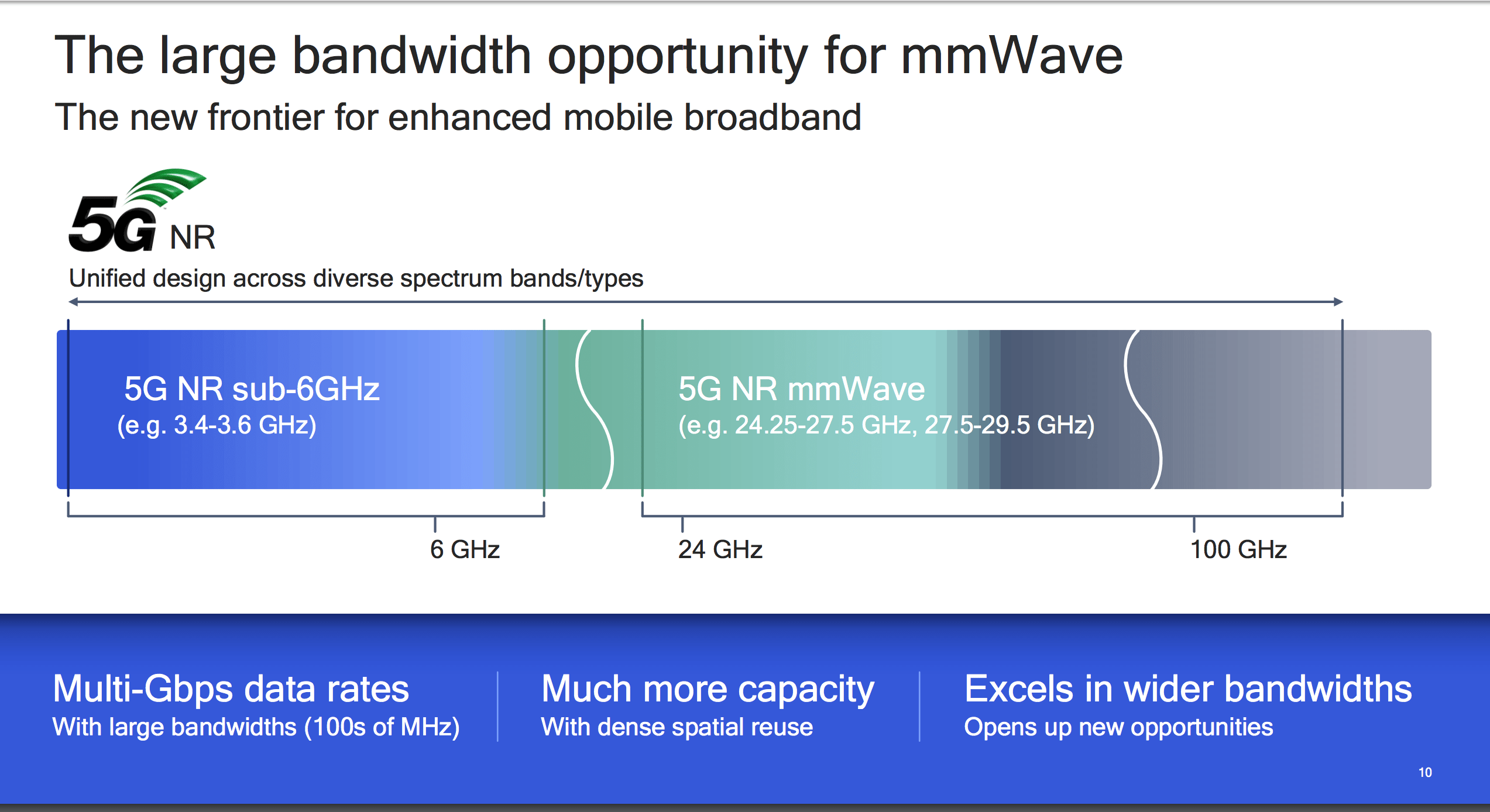 Several issues make 5G antennas space hogs: Backwards compatibility, carrier agnosticism, and 5G multiple-input multiple-output beamforming.  
Carrier-agnostic devices — devices that can be used on multiple carriers' networks — will need to have radios that work with the range of spectrum flavors that each carrier offers. Also, devices will need to be backward compatible to 4G (sub-6 GHz spectrum), and some carriers — such as T-Mobile US, for one — plan to use low-band spectrum at 600 MHz for 5G; or, in a number of countries, mid-band spectrum around 3-4 GHz is expected to be deployed for 5G.  Sub-6 GHz "plays a critical role, allowing for flexible deployments with ubiquitous network coverage and a wide range of use cases," said Qualcomm.
Millimeter wave — loosely defined as 24 GHz to 100 GHz — are new bandwidths for mobile phones. Unlike low- and mid-bands, the wideband mmWave requires line-of-sight between the device and transmitting antenna without obstructions, although some live deployment tests are showing it is more forgiving than previously thought. Even so, 5G antennas will have multiple radiators in the multiple-input and multiple-output (MIMO) configurations, with high gain. Sub-6GHz antennas have traditionally used a single radiator and are omni-directional.  
Larger mobile devices, like tablets and laptops, are generally expected to have 5G antennas before the smartphone simply because they are larger and can hold the multiple, large antennas needed for 5G and backward compatibility to 4G. Partly because of the space issue, smartphones with 5G capability aren't expected until the first half of 2019 — so the Qualcomm and Vivo announcement is a notable step toward commercial availability of mmWave-equipped smartphones.
"Through this landmark cooperation between Vivo and Qualcomm, Vivo's industry leadership and innovation on 5G mmWave antenna design will contribute to creating optimal devices for end users," said Dr. Huan-Chu Huang, antenna technical director/ principal antenna expert at Vivo, in a statement. "After this successful completion of 5G mmWave antenna design and measurement based on a Vivo commercial form factor, consumers will soon see the next round of new device designs offering superior performance benefits and a taste of the next generation mobile experience." 
Vivo is one of Qualcomm's 5G Pioneers, which include Lenovo, OPPO, Xiaomi, ZTE and Wingtech. The 5G Pioneer Initiative is intended to help Chinese manufacturers launch 5G New Radio (NR) standard-compliant commercial devices.