U.S. needs to step up the pace of its 5G spectrum pipeline and regulations, says CTIA report
The U.S. trails behind China and South Korea in 5G progress, a potentially costly mistake, warns CTIA in a report released yesterday. CTIA estimates 5G could bring 3 million new jobs and grow the U.S. economy by $500 billion. The 5G boom is in jeopardy, says CTIA, if the U.S. does not quickly embrace 5G-friendly policies.
Friendlier U.S. policies include passing pending legislation and regulatory reforms, clearer schedules for spectrum auctions and modernizing infrastructure siting rules, according to CTIA's report. China is slightly ahead of U.S. and South Korea, which used a trial network showcasing advanced connectivity at the Winter Olympics. The U.S. ranks third in the CTIA report, followed by Japan.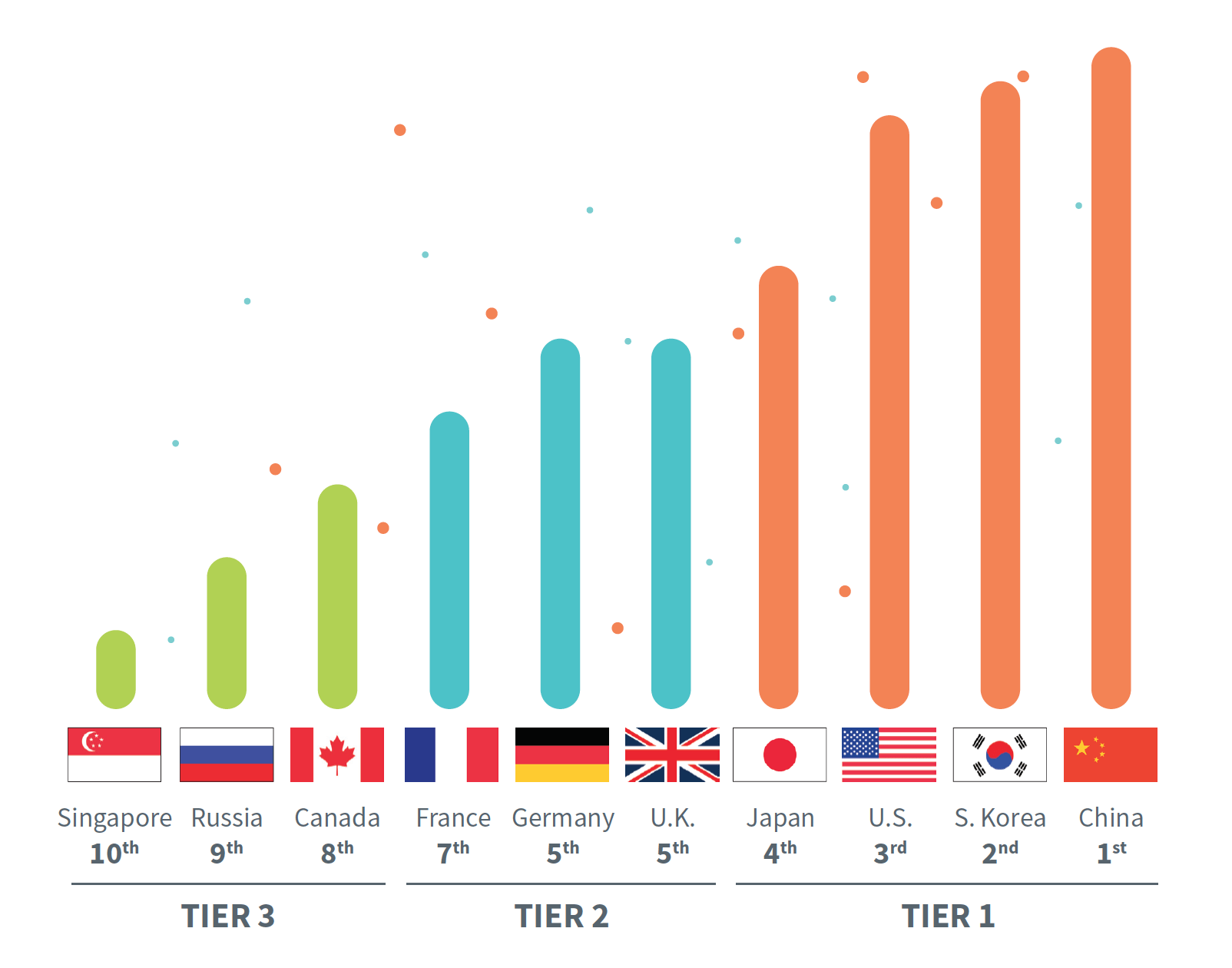 Indeed, China and South Korea have been busy: South Korean telecommunications companies recently announced plans to start commercial 5G mobile services next year. The Korean government will award spectrum in June, auctioning 3.5 GHz and 28 GHz spectrum. China plans to release 100 MHz of mid-band spectrum, specifically 3.4 to 3.6 GHz with 2 GHz of high-band spectrum for each wireless provider. China has its Five-Year Plan integrated with Chinese companies' goals. Recently, Chinese company Huawei became the first to complete a network trial for 5G.
The U.S. can still catch up, CTIA concluded. The FCC will auction spectrum in November 2018.   "Unlocking a mix of new low-, mid-, and high-band spectrum for wireless use will position the U.S. to win the 5G race," says the report.
For the report, CTIA, the lobbying organization for the U.S. wireless industry, commissioned telecom analyst firms Analysys Mason to compare 5G infrastructure plans and readiness of countries and Recon Analytics to dig into historical data about the transitions of 2G through 4G.
Why is 5G a race?
If all infrastructure is local, why is deploying next generation networks  a race among nations?  CTIA asked if there were benefits to being first in any wireless node. Recon Analytics looked at data from previous generational roll outs and found that leading nations got the proverbial golden egg: jobs and a strong, native wireless industry. Other nations and regions suffered. "Losing wireless leadership in 3G and 4G had significant, long-term, negative effects on the Japanese and European telecommunications industries," the study says.
Recon Analytics also found that losing leadership meant losing jobs. A clear example is Europe, when it lost its leadership in 3G and 4G after leading 2G.
Although the U.S. has done well in releasing spectrum so far, CTIA warns it must speed up its pace bringing mid-band spectrum to market, "establishing a clear spectrum pipeline as seen in China and South Korea."  The FCC needs to provide federal guardrails for local infrastructure rules and regulations and Congress needs to pass legislation such as the AIRWAVES Act. States needs update review processes of infrastructure deployments, lower fees and make light poles available.