A key element in Teléfonica Deutschland Digital Transformation Journey
Executive Summary
Teléfonica has made customer experience a brand differentiator, with an ambition to grow the Teléfonica and O2 brands by delivering superior customer experiences that subscribers will not find elsewhere. However, despite spending millions on probing systems, the advent of encrypted Over-The-Top (OTT) aps has greatly reduced Teléfonica's ability to see the type of data that customers are using on its network.
The proportion of encrypted OTT data is fast approaching 100% with new traffic types increasingly encrypted by default, making it almost impossible for operators to assure service delivery on their networks, or to innovate based on customer usage needs. This is an unsustainable position for a mobile operator to be in, as data services have become the main driver for today's mobile networks. Visibility of the level of the quality being delivered during the subscribers' data services activity is therefore critical to any operator that views themselves as truly 'customer-centric'.
Without compromising service encryption and therefore customer privacy, Teléfonica Deutschland and Huawei have used innovative Deep Flow Inspection techniques to re-connect the operator with its customer's service usage. Through the deployment of Huawei's Encrypted Traffic Detection System (connected to the Huawei SmartCare CEM Solution), Teléfonica can once again identify and measure service quality and Customer Experience for OTT App services.
This is an important first step for Teléfonica, as the operator embarks on its digital transform journey.
Customer
The traditional CSP business model is being eroded by more agile and digitally-powered competitors – a familiar story that most operators are dealing with worldwide.
The largest mobile communication provider in Germany, Teléfonica Deutschland is setting the pace for the telecommunications industry. The operator is responding to rapidly changing market forces by embarking on a digital transformation program, where new business models are being explored, and sophisticated monetization strategies are beginning to show promise.
The foundation for Teléfonica's business transformation strategy is the customer. The operator was determined to build and grow customer relationships, and make customer experience – across network, products and services – the new yard stick for measuring brand quality.
But getting to know its customers was easier said than done.
Teléfonica realized it needed to become more customer-centric in its thinking and outlook, transforming from being a network-centric "inside – looking out" CSP, into one where the default viewpoint is one of "outside – looking in".
Telecom Operation Cycle Inside-out                                                     Customer Experience Lifecycle Outside-in

Challenges
The growth in encryption by popular point-point OTT applications has addressed customer concerns on privacy, but has critically reduced the ability of operators to proactively manage customer experience, service usage and commitments, using traditional approaches to monitoring and correlation of Network data.
Teléfonica needed tools that would increase their understanding of what their customers were doing online – for example, their likes and dislikes and OTT app usage. These requirements were a long way from where Teléfonica was, with only a very general understanding customer calling and SMS usage patterns. The reality for Teléfonica was that their customers' digital activity was invisible – and this needed to change.
Solution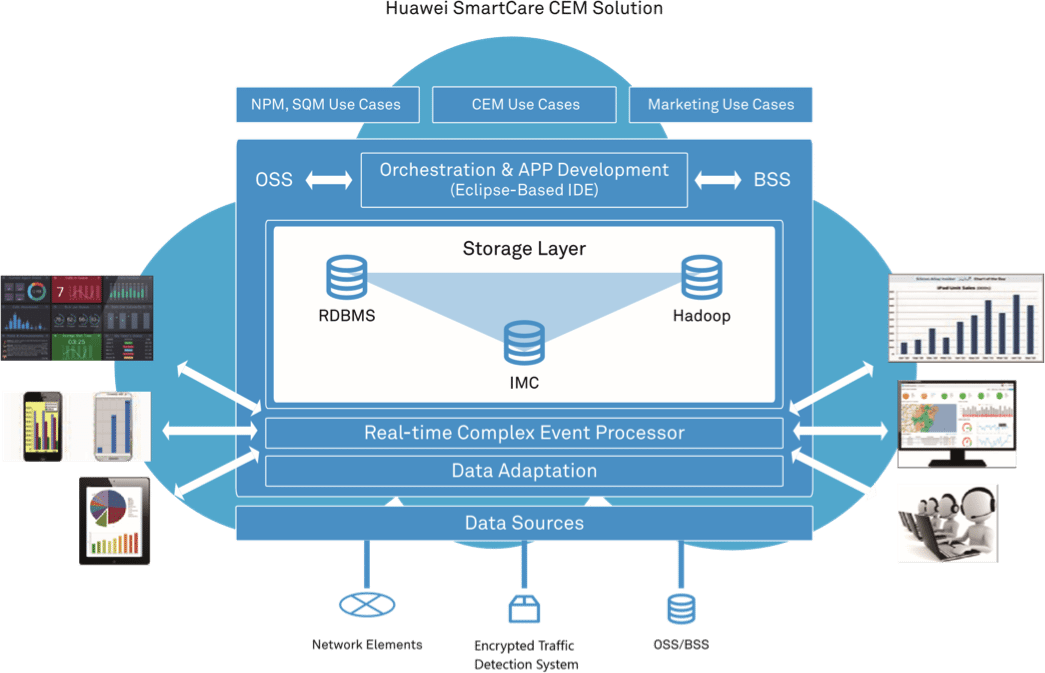 In 2015, Teléfonica engaged with a number of industry analysts and probe technology vendors to find a solution to this problem. The most exciting approach was the Encrypted Traffic Detection System from Huawei, a new generation of Encrypted Deep Flow Inspection (eDFI) engines for detecting encrypted User Plane payloads.
Teléfonica had heard of vendors who were close to commercial offerings, but could not find another whose approach was as mature.
The DFI technology at the heart of Huawei's Encrypted Traffic Detection System solution uses several machine learning techniques to automatically recognize the communication patterns, cadences and timings of many different encrypted apps on the User Plane. The output of this process is a Heuristic that can then be run at speed to secure high accuracy customer activity identification when the patterns are encountered again.
The Encrypted Traffic Detection System gives Teléfonica the ability to determine the service usage type (e.g. Video, Voice and Messaging) for the 200 most popular encrypted OTT services in Germany and correlate that usage to OSS and BSS data, in order to identify and measure service quality and customer experience for the apps running on its network. A major advantage of Huawei's eDFI solution is that each local Teléfonica office is able to train its probes to support its own local market apps.
The solution is integrated with Huawei SmartCare CEM, with a view to develop and deploy new cross-organizational processes that deliver for all parts of the organization.
Results
Teléfonica Deutschland set the bar quite high by demanding that it be able to accurately classify over 200 of the most popular German market apps from day one. The Encrypted Traffic Detection System has enabled Teléfonica to do just that; restoring the operator's ability to observe and understand their customers' digital lives in action.
The eDFI Encrypted Traffic Detection System is already delivering business benefits for Teléfonica Deutschland for Network Optimization and Customer Care:
Network Optimization
Previously, encrypted services would be reported as just volumes of raw data. Now Teléfonica can visualize the most important OTT app traffic (including Voice, Video and Messaging), and develop plans to optimize the network to support those consumption patterns.
During 2017, the operator plans to develop use cases that will focus on Marketing.
Customer Care
Teléfonica now has the ability to see individual customer data usage, in near real time. This has also had a dramatic impact on standards of customer care. Agents are empowered to discuss OTT app usage issues with customers, and can identify the types of data that customers are consuming.
During 2017, Teléfonica plans to develop use cases that will focus the operator's marketing requirements i.e. developing use cases to support its efforts in reducing Churn, improving CSAT and increase the accuracy of marketing campaigns.
The Encrypted Traffic Detection System solution has delivered significant insights and benefits for Teléfonica subscribers and is on target to optimize the customer experience for all 44 million subscribers by 2018.