Spectrum positions coming out of the 600 MHz incentive auction show strong moves by T-Mobile and Dish, while Sprint and AT&T remain the market's heavyweights.
Aggressive bidding activity by T-Mobile US and Dish Network helped bolster each company's respective spectrum positions, according to a post-auction report complied by Allnet Insights & Analytics.
T-Mobile US, which spent nearly $8 billion during the auction proceedings in acquiring a claimed 45% of all 600 MHz spectrum sold, came out of the auction with an average of 41 megahertz of sub-1 GHz spectrum holdings. T-Mobile US entered the auction with a nationwide average of eight megahertz of low-band spectrum.
The carrier has been very vocal in touting the benefits of its growing low-band spectrum assets, which also include 700 MHz licenses deployed in covering more than 250 million potential customers. T-Mobile US this week said it's expecting this year to begin deploying some of its recently won licenses and have access to at least 10 megahertz of 600 MHz spectrum covering more than 1 million square miles. The carrier in total won 1,525 10-megahertz licenses covering 414 of the auction's 428 partial economic areas.
"Our team has a history of deploying network technologies at record-breaking pace – including the fastest recorded LTE deployment in U.S. history," said T-Mobile US CTO Neville Ray, in a statement. "We're ready to break records again on 600 MHz."
Allnet's report showed T-Mobile US also has an average of 69 megahertz of so-called "mid-band" spectrum, which includes licenses in the 1.7/2.1 GHz and 1.9 GHz bands, pushing the carrier's total traditional spectrum holdings to an average of 110 megahertz across the country.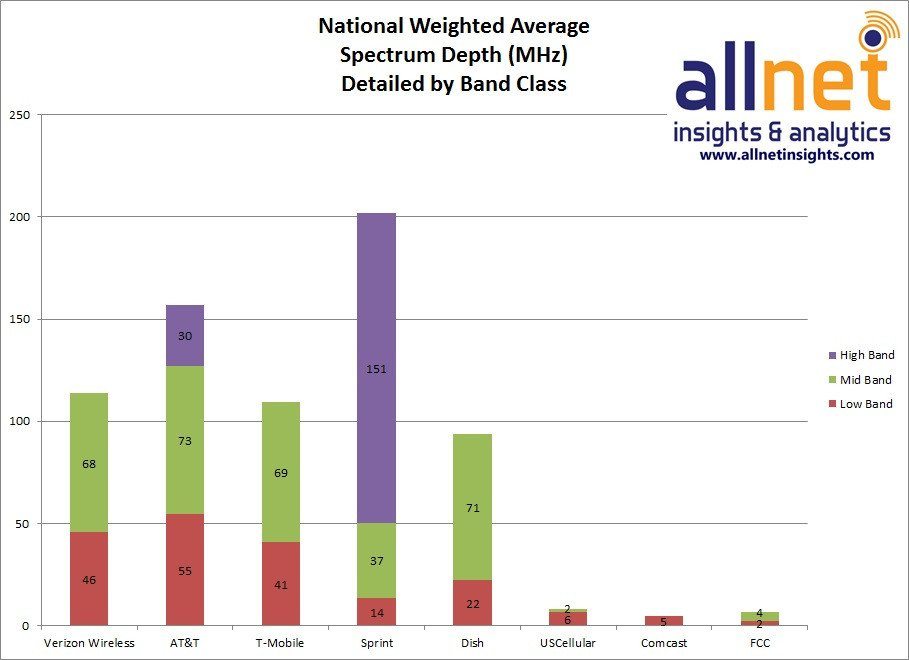 Dish Network, which was the second-highest spender in the 600 MHz auction at $6.2 billion in total winning bids, is now sitting on a nationwide average of 93 megahertz of licensed spectrum. The total includes 22 megahertz of sub-1 GHz spectrum in the 600 MHz and 700 MHz bands, and 71 megahertz of mid-band spectrum between the 1 GHz and 2 GHz bands.
Dish – and its bidding partners – bid nearly $14.5 billion during the FCC's previous two spectrum auctions in a move to bolster its already bulging spectrum portfolio. However, the company, which has yet to launch a commercial service taking advantage of its spectrum holdings, was forced to return $3 billion of the licenses from the AWS-3 auction due to irregularities in handling the designated entity status.
"With its spectrum auction winnings, Dish has assembled a complete package of spectrum assets that now include both low-band spectrum for coverage and ample mid-band spectrum for capacity," noted Walter Piecyk from BTIG, in a research note. "This broadens Dish's strategic value to any new entrants contemplating a facilities-based move into the wireless market in the United States."
As the 600 MHz auction's third-most aggressive bidder, cable giant Comcast has again entered into the realm of spectrum ownership. Allnet's numbers indicate the company now has an average of five megahertz of low-band spectrum across the country, having picked up 73 licenses covering 72 PEAs for $1.7 billion.
The cable television giant has been a frequent participant and winner in past FCC spectrum auctions, though has sold off most of its winnings in the secondary market. The company did recently move on long-simmering plans to launch a mobile service using a mobile virtual network operator agreement with Verizon Wireless gleaned from one of those license deals.
Piecyk said Comcast's activity came in under expectations, with the company only securing "spectrum across 46% of the population, removing the possibility of building a thin layer national network."
AT&T was also not as aggressive as expected in the latest auction, but still managed to bolster its low-band holdings by picking up 23 licenses covering 18 PEAs for $910 million. The carrier exited the proceedings with an industry leading 55 megahertz of low-band spectrum and is also in the process of gaining access to 20 megahertz of spectrum in the 700 MHz band through an agreement with the First Responder Network Authority.
In total, AT&T is now sitting on a nationwide average of 158 megahertz of spectrum, including 73 megahertz between 1 GHz and 2 GHz, and 30 megahertz of high-band spectrum in the 2.3 GHz band.
Verizon Wireless, which did not win any licenses in the latest auction process, and Sprint, which did not participate, continue to sit on radically diverse spectrum positions.
According to Allnet, Verizon Wireless controls a nationwide average of 114 megahertz of traditional spectrum holdings, including 46 megahertz of low-band spectrum in the 700 MHz and 850 MHz bands, and 68 megahertz of mid-band spectrum in the 1.7/2.1 GHz and 1.9 GHz bands. The carrier's activity in the latest auction would seem to indicate the operator remains focused on the mid-band spectrum in order to bolster capacity for its LTE network that is backed by its healthy low-band holdings.
Sprint, on the other hand, early on said it would not participate in the incentive auction process, citing its robust high-band spectrum holdings the carrier said will be considered low-band spectrum for upcoming "5G" technology deployments.
According to Allnet, Sprint has access to an industry leading nationwide average of 202 megahertz of total spectrum, including 151 megahertz of high-band spectrum in the 2.5 GHz band; 37 megahertz of 1.9 GHz spectrum in the mid-band; and 14 megahertz of low-band spectrum in the 800 MHz and 900 MHz band.
Bored? Why not follow me on Twitter.
Photo copyright: cooldesign / 123RF Stock Photo