Google has declared the smartphone business is too important to leave to others with its move for tighter integration between hardware and software
Google is getting serious about mobile. Of course, it has always been serious about mobile since it acquired Android and, along with it, Andy Rubin who founded the fledging smartphone operating system company by the same name and built it into the most successful mobile software product in the world based on unit volume (Google never sold the software but made it broadly available at no charge to the hardware original equipment manufacturers such as Samsung).
To clarify, Google is getting serious about smartphones. In the past, Google would build "reference designs" and sell them to the public under the Nexus brand. They were meant to be an example for hardware OEMs of what they might be able to do with the latest version of the Android OS. However, this put Google in a "sort of pregnant" position. It made smartphones, but was careful not to outdo its Android partners. Thus, for a number of years, it "sort of" made smartphones. That all changed on Oct. 4, 2016, with the announcement of the new Pixel line of smartphones. But first … a little history on how Google got serious about smartphones.
In May 2012, Google purchased a large trove of over 10,000 patents from Motorola for $12.5 billion. The Motorola Mobility smartphone group was part of the deal. The group was headed by Rick Osterloh, a long-time Motorola executive who I've had the fortune to know for many years. Motorola seemed to languish inside Google; they treated it more like a Nexus division rather than an operating, successful hardware division.
As a result, in January 2014, Google sold Motorola to Lenovo for $2.91 billion. According to Google, it claims it actually made money from the two deals when other financial parameters were taken into account. Today, Motorola has become a brand used by Lenovo as part of its overall smartphone business.
On Oct. 4, Google held a press conference to announce the launch of its "really serious" Pixel smartphone program along with the integration of the Google artificial intelligence-based Assistant. It re-hired Osterloh to head this division, which includes a number of other minor hardware products like Chromecast. Osterloh, who never left Silicon Valley since he was working at Motorola there, simply drove up the Bayshore Freeway to Mountain View to work for Google … this time for what I suspect to be a much longer stint.
The Pixel smartphones are on par, or in some cases, excel at what other smartphone vendors currently provide in the market. There are two models: the Pixel and Pixel XL. Both phones are powered by Qualcomm's Snapdragon 821 processor, run Android Nougat 7.1 and are available in three colors with either 32 gigabytes or 128 GB of memory.
The two Pixel phones are similar to other current smartphones on the market, with large high-definition displays, 12-megapixel f/2.0 rear cameras and metal bodies. The Pixel offers a 5-inch display while the Pixel XL has a 5.5-inch display.
In the announcement, Google focused on the Google Assistant and the improved camera software. Google Assistant allows users to have "Siri-like" interactions that can leverage the full power of Google's search results and the smart integration found in things like the Google Now launcher.
The Pixel camera hardware is competitive with Apple's new iPhone 7 Plus and Samsung's Galaxy S7. Google claims Pixel has the best smartphone camera on the market. For example, it showed numerous software features that can capture multiple images and either intelligently combine them to improve image quality or select the sharpest photo from a quick burst of shots. The Pixel comes with Google Photos pre-installed. It offers unlimited, free storage of photos and videos at full quality and a live customer care app is pre-installed in the phone.
Verizon Wireless is the exclusive carrier distributor, at least initially. Customers can also order Pixel through the Google Store. I expect Google will expand distribution globally over time.
The real key to the entire Pixel smartphone strategy, however, is around integrating unique software and content to make them more highly integrated. That's resoundingly similar to another venture down Highway 85 to 280 in Cupertino called Apple. I think Google has come to realize that to be really successful in smartphones long term (in order of 10-plus years), it needs to tightly integrate hardware, software and services.
Some software and services like the Assistant may not become part of the Android ecosystem. If it wants to truly succeed and build a tight bind with its customers, Google needs to include things around the Pixel brand that delight users and offer these services only on the Pixel platform (music could be another area in which it might provide a unique service only through Pixel).
AOTMP perspective
When it comes to the enterprise, many of Pixel's feature sets are going to stand out in areas other than hardware. It's easy to see the changes it has made to the user interface, Allo voice and messaging app and Assistant; the AI engine supporting the entire platform. Allo and Assistant allow for extensions so enterprises can build custom vocabularies and dictionaries that will work for specific vertical markets. Apple has announced they are opening Siri to third-party developers; one of which is one of the foundations of Viv and created by the founders of Siri (who left Apple to build Viv).
I believe this platform approach to the voice interface is very important both to support homologation (international languages) and to support specific markets where voice can help, but must be done for a specific industry or vertical market.
Take a look at the following table. You can easily see the main differences between the major smartphone suppliers: Google Pixel, Apple iPhone and Samsung Galaxy S. Samsung has two recent acquisitions that will be important to the future of the Galaxy platform: Joyent and Viv. Joyent gives Samsung the ability to have a cloud infrastructure, and Viv gives Samsung's Galaxy S smartphones a state-of-the-art voice interface with an underlying artificial intelligence engine.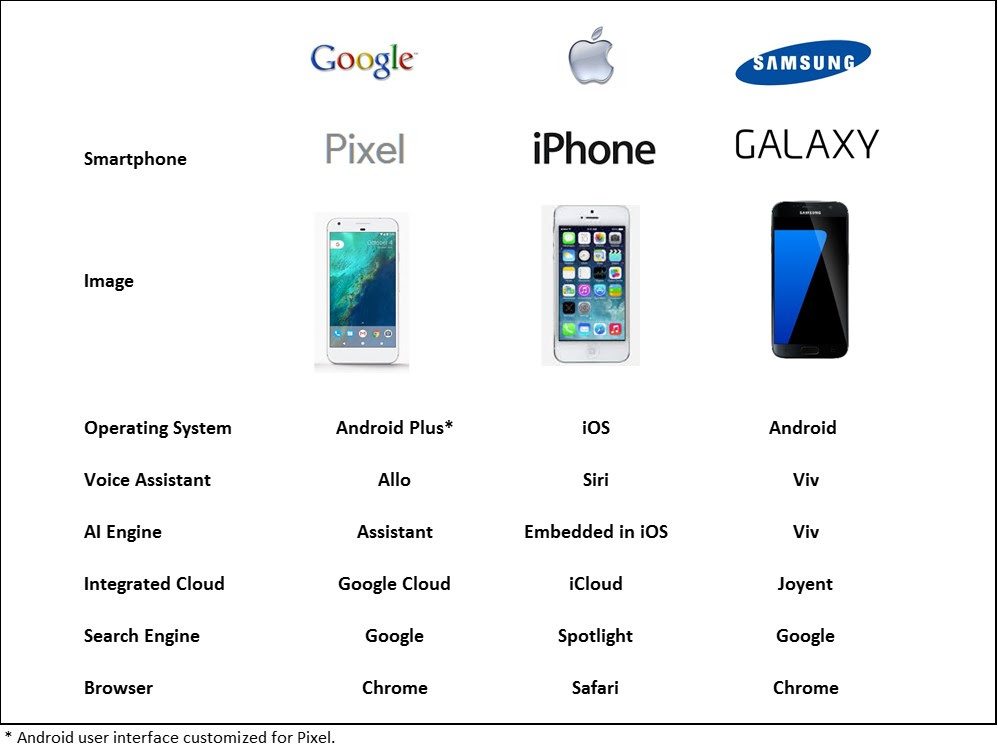 Pixel is clearly migrating toward Apple's approach to smartphone design: closely tying the hardware and software together to give users a more pleasant experience. Apple has been doing this from the get go with the iPhone. However, Samsung – because they have used the basic Android OS (also developed by Google) – have taken a more hodgepodge approach to stay competitive.
Google has also invested in Allo (messenger and voice interface) to provide another level of distinction. It appears to me that Allo, the unique UI and Assistant, will likely stay resident in Google and not migrate to become part of the Android OS open source.
Could it be that Google will keep improving the Pixel platform so that it has a unique offering in the market?
I would do that if I ran Google. (It's fun making ridiculous statements like this as an analyst.) If that's the trend, it presents a tremendous challenge for Samsung. It acquired Viv, which was created by Dag Kittlaus, Adam Cheyer and Chris Brigham, who previously worked on Siri at Apple. Viv will likely keep Samsung on par with Apple and Google. However, its entire environment is still part of open source. Perhaps Samsung will yank out Android and build a similar but unique experience using Tizen, a Unix-based platform that it has been quietly developing for the past few years.
If this scenario happens, all three of the major providers of smartphones will end up with unique, tightly coupled hardware and software environments – exactly the opposite of the objective Google had when it acquired Android in the first place. But, you can't criticize Google for simply trying to offer the best possible product to its customers. Osterloh should do whatever it takes to build high customer satisfaction. And, if it requires Google to tightly integrate its hardware and software, and keep important things such as Allo and Assistant internal and proprietary, then everyone comes out ahead. Users want to acquire the best possible product benefit – and Google makes more money and fame in the process.
Also realize that both Amazon.com with Alexa and Microsoft with Cortana have their own version of intelligent voice interface with deep AI underneath their platforms. Microsoft appears to be getting out of the smartphone device market, but Amazon does have the Blu smartphones designed for the value segment. While its first foray into smartphones was not successful, perhaps Amazon will find a way to evolve Blu into a successful smartphone business. However, both companies could offer their intelligence voice assistant on other smartphone platforms as an application.
Finally, all of these developments seem to head toward a more robust set of offerings for the enterprise. Google clearly has the enterprise in mind when integrating Pixel with the new Google Cloud offerings, which was previously branded as Google for Work. This reminds me of the evolution of laptops where major vendors such as Dell, Hewlett-Packard and Lenovo integrated enterprise services, such as device configuration and preload, to better manage the on-boarding and end-of-life migration to newer models.
With the work now being done in IT asset disposition, we're seeing a lot of maturity in services such as Google Cloud. Combined with software services for device management, the entire smartphone lifecycle is now getting serious attention. These services will help enterprises manage the entire enterprise mobile environment more effectively.
Gerry Purdy leads AOTMP's mobile and wireless practice. He contributes to AOTMP programs; authors "Mobile Letter," a weekly syndicated column; and heads the annual Mobility Awards program. He is widely quoted in the press, and has appeared on a number of TV news shows such as MSNBC, Fox Business and CNN regarding mobile and wireless products. Purdy has a Ph.D. from Stanford University, an M.S. From UCLA and a B.S. from the University of Tennessee. Contact: [email protected], mobile 404-855-9494.
Editor's Note: In the Analyst Angle section, we've collected a group of the industry's leading analysts to give their outlook on the hot topics in the wireless industry.