A recent report from IHS Markit found Cisco, Nokia and Ciena viewed as top SDN vendors by global service providers surveyed
Cisco, Nokia and Ciena were noted as the market's top software-defined networking vendors, according to a recent IHS Markit survey of global service providers.
The survey, which included carriers that have deployed or plan to deploy SDN and network functions virtualization platforms, cited Cisco and its Tail-f division, Ciena and its Blue Planet division, and Nokia as having the greatest brand awareness in terms of SDN orchestration software. Cisco/Tail-f and Nokia were also noted as top providers in hardware and software "under evaluation."
IHS found more than 40% of those surveyed planned to buy equipment from specialized SDN vendors, open-source distribution vendors, SDN application software specialists, data center virtualization/orchestration software vendors and virtual network functions software specialists. Criteria cited in selecting vendors included product reliability; service and support; technology innovation; price-to-performance ratio; and management software.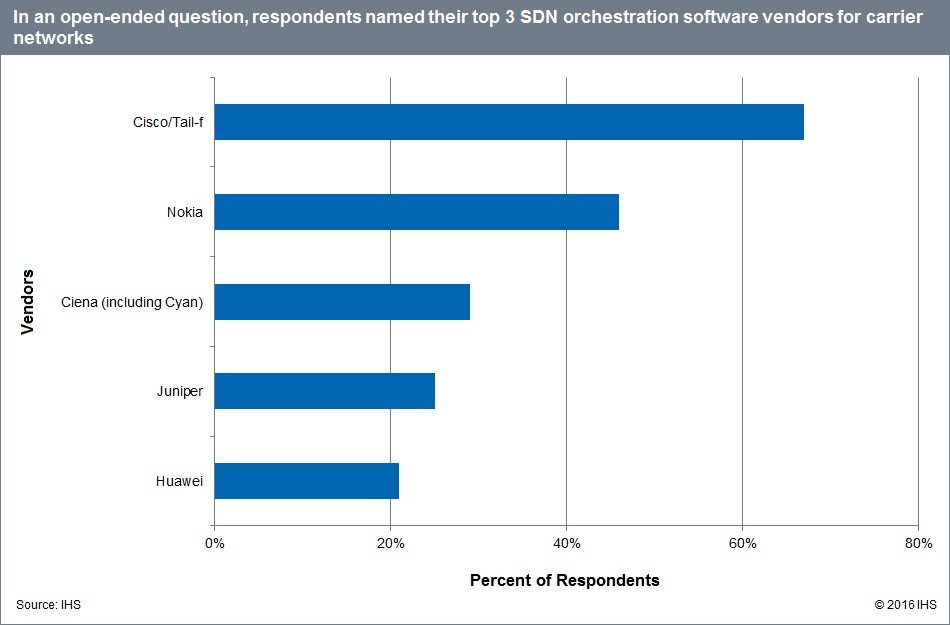 "Over three quarters of our operator respondents will use telecom equipment manufacturers, among other supplier types, to supply SDN hardware and software for their networks," said Michael Howard, senior research director and adviser to carrier networks at IHS. "Carriers envision a world of multisupplier SDN and NFV, with centralized orchestration of network services and equipment, and new control mechanisms and network architectures. They'll use a variety of suppliers to avoid vendor lock-in."
A recent report from Current Analysis touted Netcracker as the leader among nine vendors surveyed in NFV management and orchestration, with the research firm citing the vendor's comprehensive platform in "supporting almost every aspect of the carrier journey." Outside of Netcracker's leadership position, Cisco, Hewlett-Packard Enterprise and Nokia garnered "very strong" rankings, followed by "strong" rankings for Ericsson, Huawei and Oracle, and "competitive" rankings bestowed upon Amdocs and ZTE.
Bored? Why not follow me on Twitter
Photo copyright: nikkytok / 123RF Stock Photo