The Special Temporary Authority for Qualcomm and Verizon to conduct LTE-Unlicensed tests at two sites in Oklahoma City, Ok. and two sites in North Carolina has been extended by the Federal Communications Commission for an additional year.
Qualcomm was granted the STA in January and it was originally set to expire at the end of this month; the FCC extended it to June 2017. LTE-U is the proprietary standard being developed through the LTE-U Forum, which would enable the aggregation of LTE at 5 GHz with licensed cellular spectrum. The Verizon testing, as originally described by Qualcomm, covers fixed and mobile devices within about a 1-mile radius of the sites and involve as many as 30 small cells and access points within the coverage footprint.
Qualcomm also has an existing STA to conduct LTE-U coexistence testing with T-Mobile US.
In other test news this week:
– EXFO introduced a new fiber tester with a "tablet-inspired" form factor for telecommunications and outside plant networks. The MaxTester 945 Telco Optical Loss Test Set replaces EXFO's FOT-930 and includes a step-by-step "reference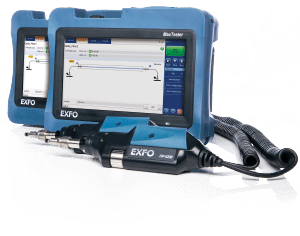 wizard," and intelligent fault diagnosis to guide users; it also has re-testing capabilities that trim the number of test steps from eight to three. EXFO says that the features can dramatically reduce test times, taking a test job that would traditionally take around eight hours down to 2.5 hours.
EXFO also launched iOptics, a pluggable optics test application for transceivers in high-speed networks that can be used for validating any type of 10M to 100G interface, according to the company. The tool requires minimal user configuration and is designed for use in both the field and the lab.
– Viavi Solutions is expanding its support for DOCSIS 3.1 with a new cable television tester that provides network sweep and alignment tools for DOCSIS 3.1 frequency ranges at 204 MHz upstream and 1.2 GHz downstream. Viavi demonstrated the tester at Anga Com this week in Cologne, Germany — and says that it developed the solution with the European cable market specifically in mind.
–Amdocs has introduced a new core network testing service that aims to speed service providers' ability to launch new services. The company said that in research that it commissioned, it found that service providers rely on as many as four different testing vendors before launching a new service, and the new solution is aimed at reducing the number of multi-vendor test cycles through a more holistic approach. According to Amdocs, the Core Network Testing Service includes "test scoping and planning, network equipment testing, interoperability testing, pilot testing, network test lab management and device certification for both physical and virtualized network functions (NFV) testing."
–Anritsu has new support for eCall conformance testing for the automotive market via its Signaling Tester MD8475A and supports 98% of conformance test cases for emergency call communications, the company said. eCall is a European Union requirement for automated emergency calling capabilities in new vehicles starting in 2018.
–Synopsys was selected as the primary system-on-chip verification solution by NXP Semiconductor to support NXP's work as it develops chipsets for automotive and secure communications applications, and also for software emulation for NXP's advanced SoC development.