New York City's transit system is undertaking a major mobile-focused upgrade of its bus transportation system. The Metropolitan Transit Authoriry plans to add more than 2,000 public buses with Wi-Fi and device charging capabilities, with the new MTA buses expected to hit NYC streets as soon as next month.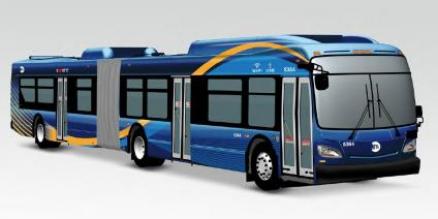 MTA said the new buses will have free Wi-Fi hot spots and each vehicle will have between 35 and 55 USB charging ports so passengers can plug in their mobile devices. MTA will replace about 40% of its current fleet with the 2,042 planned new buses. The organization said it is investing $1.3 billion in the new fleet, mostly coming from the MTA capital budget, but with some contributions at the state level as well. MTA is also upgrading its existing buses with Wi-Fi and USB charging ports and said all express buses are set to be upgraded by the end of 2017.
In addition to Wi-Fi and charging ports, MTA said it is starting a pilot program of digital information screens on 200 buses this year. Two to three LCD screens in each bus will provide details on the weather, upcoming stops, available transfers, news, advertising and other information.
MTA said 75 of the new MTA buses will start running in the second and third quarter of this year in Queens. Those will be joined over the next two years by 70 buses in Brooklyn, 209 in the Bronx and 18 in Manhattan. By 2020, NYC plans to have more than 2,000 enabled buses operating on routes throughout its five boroughs. MTA says it handles about 8.7 million passengers per day.
Governor Andrew Cuomo said in a statement the upgrade "will create a stronger, more convenient and more connected mass transit system for years to come."
Image: yelo34, 123RF Stock Photo