AT&T unlimited data brought out of hibernation for those selecting TV service
AT&T is dangling unlimited data in front of current mobile customers willing to also sign up for the telecom giant's DirecTV or U-verse television product.
AT&T said beginning Jan. 12, new and existing AT&T Mobility customers who have or add either one of the two television services can move to the carrier's Unlimited Plan priced at $100 per month for the first line of service. Second and third lines of service can be added for $40 per month, with the fourth line eligible for free. AT&T Mobility is touting the offer allows unlimited services across four lines for $180 per month once the fourth line discount kicks in.
The rate plans include unlimited calling, text messaging and data access, with AT&T linking the unlimited data aspect to customers being able to access unlimited video services from either one of its television platforms. The additional lines can include tablets or smartphones for the $40 per month access fee, basic/messaging phones for $25 per month, or smartwatches and other "select" connected devices priced at $10 per month.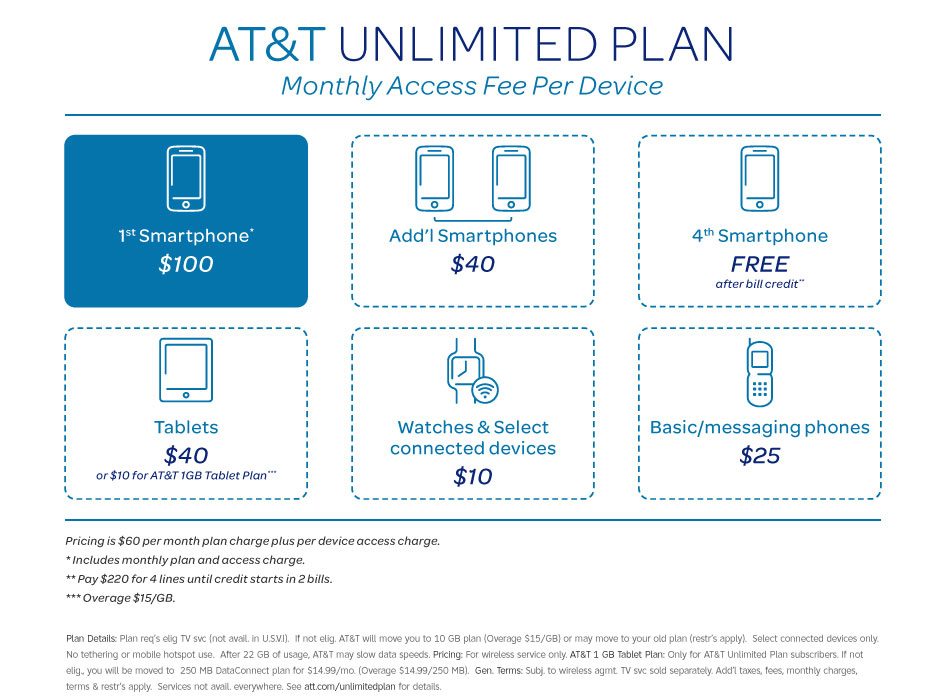 AT&T is continuing to offer financial incentives for new and current DirecTV and U-verse customers to also sign up for the carrier's mobile service, providing $500 in credits for each mobile line of service switched to AT&T Mobility. The offer does require new mobile customers to trade in their current mobile device and purchasing a new AT&T Mobility smartphone using the carrier's Next device financing option.
Similar to rivals, AT&T Mobility has set a soft cap on the unlimited data aspect of the service, noting once an unlimited data customer reaches 22 gigabytes of data use in a month, the carrier may slowdown access speeds during "periods of network congestion." Sprint and T-Mobile US both say they may limit data speeds for unlimited data customers once they reach 23 GB of usage in a month.
AT&T in 2011 stopped offering unlimited data services to new customers, a move followed by rival Verizon Wireless. AT&T Mobility late last year followed competitors in raising the price for customers that remained on legacy unlimited data plans, foisting an additional $5 per month charge.
AT&T completed its $48.5 billion acquisition of DirecTV last July, and immediately went about throwing incentives at customers and potential customers.
AT&T's move also positions the carrier to potentially counter mobile video services from rivals. Verizon Wireless last year launched its Go90 video service, which offers mobile subscribers access to select live and on-demand video.
T-Mobile US followed the Go90 launch with its Binge On service, which allows select customers to stream video content from dozens of content providers at a limited video quality level over the carrier's cellular network without eating into their monthly data allotment. The service has drawn considerable attention from some content providers, consumer groups and the federal government regarding the service's alignment with recently introduced net neutrality regulations.
Bored? Why not follow me on Twitter