Canada's 2.5 GHz spectrum auction latest attempt to increase competition
Canada's quest for deeper mobile competition continues today as the country's telecom regulator begins what is expected to be a short auction of spectrum licenses in the 2.5 GHz band.
The auction is set to include as much as 190 megahertz of spectrum, including 140 megahertz of paired spectrum and 50 megahertz of unpaired spectrum. The paired spectrum bands will include seven total licenses of 20 megahertz each, while the unpaired will be a pair of 25-megahertz licenses.

Spectrum availability will be somewhat uneven across the vast country due to the location of incumbent license holders in that band, with between 60 megahertz and 100 megahertz of paired spectrum and at least 25 megahertz of unpaired spectrum available across the entire country. Each license up for bid will be for a 20-year term.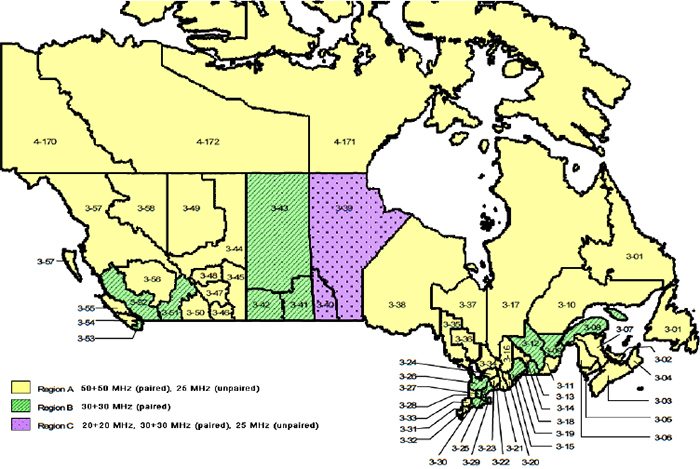 Bidders will be limited to 40 megahertz of spectrum in the 2.5 GHz band across the most heavily populated areas of Canada, with exceptions for the Northwest Territories, Yukon and Nunavut service areas, where there is no limit. Build-out requirements of covered potential customers range from 10-50% over the first 10 years, depending on the location.
Industry Canada said that 11 companies are set to participate in the 2.5 GHz auction, including market heavyweights Rogers Communications, Telus and Bell Canada. Other qualified participants include Xplornet Communications, CCI Wireless and SSi Internet, Wind Mobile and Quebecor.
Reports indicated that the spectrum rules will limit participation from Rogers and Bell Canada, as those two operators already own close to the maximum amount of spectrum allowed in most markets. Telus, by comparison, owns almost no spectrum in the 2.5 GHz band and is expected to be a significant player.
Canada's AWS-3 auction, which was conducted earlier this year and raised 1.67 billion Canadian dollars, lasted just one day through a rapid bidding process. Telus walked away the big spender in those proceedings, plunking down 1.5 billion Canadian dollars for 15 licenses.
The 2.5 GHz spectrum auction will be the country's third since early last year, which included a 700 MHz spectrum auction that generated a record 5.27 billion Canadian dollars in total proceeds, and the AWS-3 auction.
The 2.5 GHz band is not expected to generate quite the amount of the previous auctions as the spectrum up for bid is a bit of an outlier for traditional mobile services. Most carriers look to tap into sub-1 GHz spectrum bands for broad coverage, a move especially important for Canada's population density, while layering in so-called midband spectrum below 2 GHz for added capacity.
In the United States, Sprint holds a vast majority of the 2.5 GHz spectrum set aside for commercial wireless services, which it's using to power its Spark network initiative. That lack of carrier depth could make equipment prices more expensive than what is used to support more traditional spectrum bands as well as limit cross-border roaming opportunities.
Industry Canada noted that following completion of the auction it expects the nation's three largest mobile operators will control about 75% of the country's total spectrum base available for commercial mobile services, down from 98% before the country's AWS-1 spectrum auction in 2008.
Bored? Why not follow me on Twitter