Editor's Note: Welcome to our weekly Reality Check column. We've gathered a group of visionaries and veterans in the mobile industry to give their insights into the marketplace.
Greetings from Kansas City, where we are preparing to host the Big XII basketball championships. Last week's column generated a lot of discussion, so this week, we are continuing in that vein to analyze the growth of broadband data and capital spending.
From last week, we had two takeaways:
1. EBITDA concentration in the wireless industry continues, and we are definitely in a duopoly situation with Verizon Wireless and AT&T Mobility making up 80% of the cash flow. Verizon grew cash flow at a more rapid clip in the fourth quarter than AT&T. (However, this may change or level out in the first quarter with Verizon's iPhone launch).
2. Access line losses are the elephant the room that no one knows how to address. As a follow up to this point, here's the actual table of line losses from AT&T's 10-K released last Tuesday, showing the loss of 23 million access line Revenue Generating Units (RGUs) with only 5.6 million data RGUs gained over the past five years. This creates the "Swiss cheese" network that many of you commented on :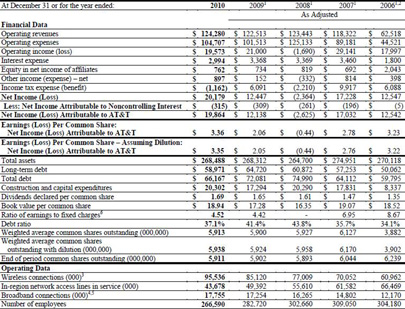 Increased High-Speed Internet Growth: Apple Inc. needs it! This week, we dive into one of two remaining growth units for the wireline units of AT&T and Verizon, and how they are doing in head-to-head competition against their cable competitors. First, as seen above with AT&T's results, high speed data (U-Verse for most of the AT&T coverage area; FiOS for most of Verizon; DSL everywhere else) continues to show signs of growth. Here's the fourth quarter view of growth between cable, traditional telco, and Leap/ Clearwire: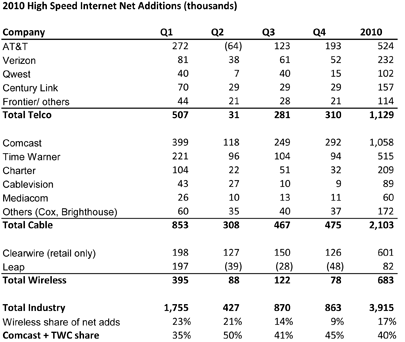 Bottom line: There's still a lot of growth in high-speed Internet, with 50% of that growth going to cable providers, and about one-third going to traditional telcos. The clear winner in high-speed data is Comcast Corp. It got out early deploying the new standard to 85%+ of its footprint, which delivers up to 50 Megabits per second to homes and more to available/ passable businesses. It built a strong bundle of services with video, and even showed more of a willingness in 2010 to settle for a "double" as opposed to "triple" plays. As a result, Comcast alone accounts for more than 25% of the growth in the high-speed data industry, controlling the Wi-Fi (and therefore the iPhone/ iPad experience) for millions of AT&T customers!
Divorcing the smart phone from the Wi-Fi experience is a dangerous exercise because of the "Wi-Fi only" limitation placed on certain iPhone and iPad applications. As we started to discuss before Q4 earnings, there are three building blocks to a sustainable, superior smart-phone experience: a) faster processors; b) greater availability of bandwidth; and c) efficiently written and smartly connected applications. Thanks to faster processors, bandwidth requirements are increasing. To alleviate the bandwidth constraints, the device (and in some cases the application) actively looks for ways to leave the wireless carrier's CDMA or GSM network in favor of the Wi-Fi network. That's where the long-term problems begin for the wireless carriers.
Yes, the dirty little secret of iPads is that they really are Comcast and Time Warner Cable devices. They do not carry the Comcast or TWC brands, but they are just as much a part of the cable experience as they are the wireless network experience. Said another way, let's think about the following scenario:
– The cable connection goes out at your home and Wi-Fi is unavailable.
– You switch over to the wireless carrier's network if it's strong enough for your home (or, if you have a Wi-Fi-only device, you drive to the nearest free signal).
– As a result of being used to Wi-Fi applications, you use 2 GB in one weekend (remember: the TV is still out) which amounts to an extra $25 to $50 on your wireless bill – if the wireless is fixed before next weekend.
– You aren't sure who to be more upset with – the cable company, or the wireless company. So you place calls to both of them.
– The finger-pointing begins.
If I'm Comcast or Cablevision, I have to smile if I am watching Verizon sell Wi-Fi-only devices and I control 50% to 60% of the total connections in the market. In fact, if I were at a cable company, I'd get behind the highest bandwidth/ lowest latency applications before the carriers do.
One honorable mention before we leave the high-speed Internet topic – Clearwire. Everyone likes to tell Clearwire what it is doing wrong (including me), but how many people know or care that it has added more than two times more high-speed data customers than Verizon, not just in 2010, but also in 2009? What would Clearwire have achieved with the FiOS capital budget? We can only surmise.
Capital spending: When does it abate? Not in 2011. One of my favorite quarterly results charts is for capital spending. Here's where we ended up for 2010: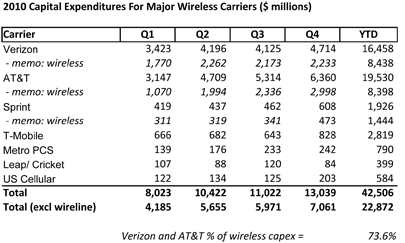 Wireless capital spending. If this doesn't convince you that we are in a wireless duopoly, nothing will. Yes, more than 85% of the capex in the chart above is being consumed by AT&T and Verizon Wireless, and more than 73% of the wireless capital spending decisions are made by two carriers. Sprint Nextel Corp. and T-Mobile USA Inc. make up 21% of wireless spending (and, from last week's article, only about 17% of the industry EBITDA). Not listed, but important to note: Comcast spent just under $5 billion this year for capital expenditures, slightly down from 2009 and substantially down from 2008 ($6 billion).
Beyond the duopoly nature of the chart, the next question is "Why so much on wireline?" Between AT&T and Verizon (without Frontier), they spent nearly $19 billion on the wireline side. For comparative purposes, think of AT&T and Verizon's wireline spending as equivalent to another two wireless carriers in dollar terms, or four Comcast equivalents. In fact, think of the wireless and wireline capital spending by Verizon and AT&T over the past four years (over $140 billion) exceeding that of the entire cable industry in the past decade.
That's where we are – more capital to feed an increasingly data hungry and "hi def" consumer base. Who wins? Backhaul providers like Zayo, Comcast, Cox, CenturyTel/ Qwest and others (another dirty little secret – without their backhaul product profits, the wireline divisions of the large telcos would barely be able to support their current debt loads). The other winners: Device makers that create demand for richer experiences and drive near-term operating expense subsidies. The wireless carriers also win, provided they can drive a higher percentage of discretionary spending (which seems to be sticking for the 3G network – 4G premiums will be harder to sustain).
Next week, we go back to the processor/ bandwidth/ applications thesis, with a particular focus on four data-hungry applications.
Now for five you may have missed:
1. Courtney Love, those Tweets cost you money. Seriously, can a Tweet form the basis for a libel case? We got close, but didn't find out this week. Next time.
2. Facebook decides that the Do Not Call List does not apply to you or your friends or their friends. Seriously, have a look at its congressional filing. What is it thinking?
3. Google had its share of headaches this week, with malware being released across the Android platform. Here's its response to TechCrunch as of 10 p.m. PT Saturday.
4. A full review of the iPad 2 from our friends at Engadget. A counter piece by CNET.
5. Executive departures abound – AT&T announced the departure of CFO Rick Linder and RIM announced the departure of their Chief Marketing Officer, Keith Pardy. Meanwhile, Stephen Bye heads to Sprint to take (part of) the role of Mathew Oommen, who is back guiding the development of wireless strategy at Reliance Industries.
Have a great week, and don't forget to sign up for Mobile Symmetry at www.mobsym.com.