Cloud Area Network promises to unify, scale, and connect enterprise cloud deployments
Alkira on Tuesday promised cloud-based network deployments on demand with its new Cloud Area Networking solution. Alkira describes the offering as a "full stack edge-to-cloud enterprise-grade network," which includes built-in routing and network services. Alkira said it's the only network built in the cloud and delivered as a service, requiring customers to outlay no hardware costs and requiring no software agents to install.
For CEO Amir Khan, the new service is all about delivering the true promise of cloud computing.
"Cloud was supposed to make life easier, but it has grown more complex as customers struggle to manage islands of networking, each with its own rules and tools. They thought they were buying agility, but what arrived was a mountain of complexity and technical debt," said Khan, who added that Cloud Area Networking is "built for the cloud, but grounded in reality."
Khan enumerated some challenges facing enterprises as they move to the cloud.
"First, there are three entirely new classes of networking. Securely connecting on-prem to cloud. Networking inside the cloud. And networking across cloud regions and multiple clouds. All with their own new and unique requirements.
"Secondly, the cloud has created a compounding of complexity. As apps have moved into the cloud, every cloud region has essentially become its own data center. With its own local networking, user access, security, network services, internet, and visibility. Complexity is now multiplied instead of added. Network islands, silos, and visibility blinds spots also multiply. And this complexity also exposes deep expertise gaps across IT teams both in cloud-specific architectures and in the networking required to support them," Khan said.
Cloud Area Networking is a cloud deployment solution aimed at enterprises grappling with siloed network functions, according to the company. Cloud Area Networking automates the network's creation, management and operation, it said.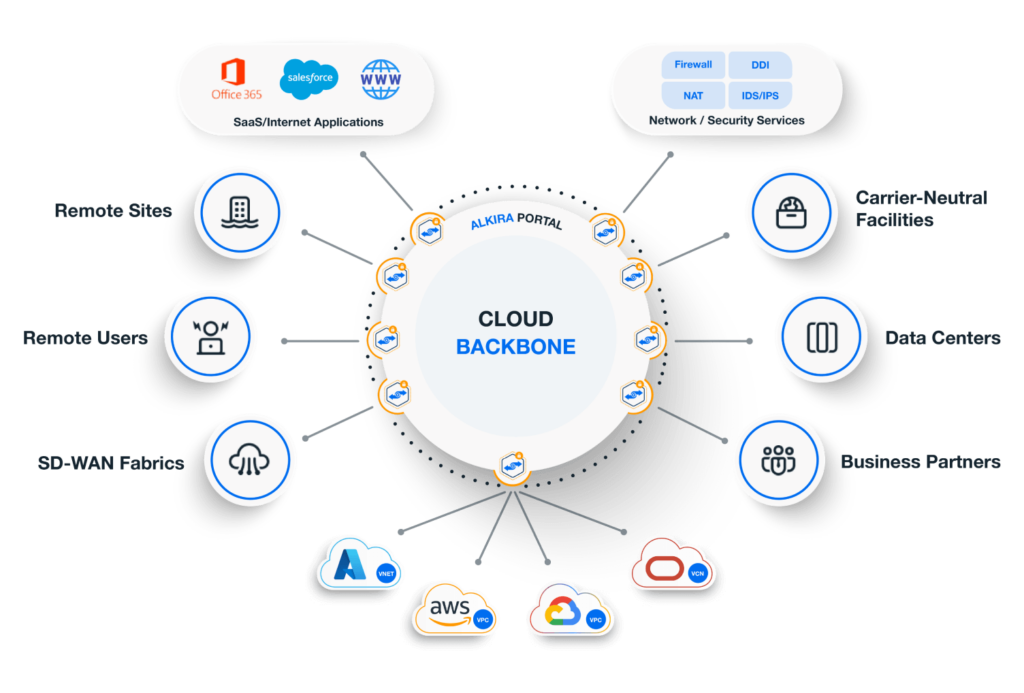 "Unification is key and requires specialized cloud knowledge and error-prone manual configurations," said Alkira, which counts Koch Industries, Warner Music Group, Tekion and others among its customers for the new service.
Alkira promises to "unify everything" with Cloud Area Networking, providing end-to-end network function visibility from on-premise to cloud. That includes visualization of all network traffic, including traceroute, packet capture, flow capture and policy inspections. 
Alkira said that Cloud Area Networking integrates with Continuous Integration/Continuous Deployment (CI/CD) pipelines for effective operational lifecycle management. The platform incorporates Application Programming Interfaces (APIs) to enable network-as-code and policy-as-code deployment postures. The service includes end-to-end app security and compliance policies to manage egress, ingress, and access control.
"This makes it easier to deliver a unified policy posture across the entire on-prem and cloud network," said the company.
Cloud Area Networking also supports complex multi-cloud deployments, according to Alkira. The service will auto-connect clouds, sites, users, and Software-Defined Wide Area Network (SD-WAN) fabrics. It's also capable of managing rapid and secure network service insertion, with enhanced protection against denial of service (DDoS) attacks and Web Application Firewall (WAF) support, to help mitigate issues for Internet-facing apps.