According to analyst firm CCS Insight, global 5G connections will reach 1.2 billion in 2022, despite the "turbulent" last few years. Analysts cite widespread availability of 5G-capable smartphones, refined operator strategies and the initiation of delayed network launches as the main drivers behind this growth.
"Despite 5G's foundational years being clouded by the Covid-19 pandemic and the problems it created, the market is in a stronger position as we enter the second half of 2022", comments James Manning Smith, senior analyst at CCS Insight. "The world still faces a bleak macroeconomic and geopolitical outlook in 2022, coupled with supply chain difficulties. But the transition of mobile subscribers to 5G networks is set to make good progress, with 5G connections forecast to nearly double this year to 1.2 billion."
The report also predicts that in 2022, usage of mobile broadband on smartphones, cellular-connected tablets, laptops and other similar devices will account for 99% of 5G connections. Smith commented that 5G is now considered "a standard feature" of premium smartphones and that mid-tier phones are experiencing "a strong push" in the same direction. He added that 681 million new phones — or 44% of all mobile phone sales in 2022 — are expected to have 5G connectivity.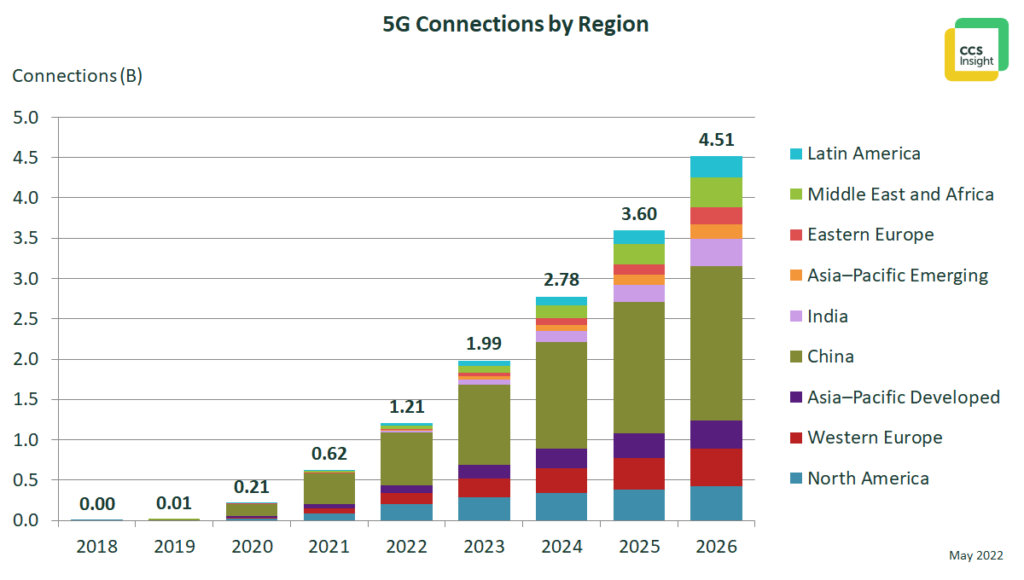 "This is despite expectations of a weak year for the mobile phone market, hit by supply limitations and falling demand. However, this negative trend is less pronounced in the 5G segment, which is being prioritized by chipset- and phone-makers and sits in the more expensive, higher-margin part of the market where demand remains strong," the firm stated.
Additionally, CCS Insight suggests that 5G fixed wireless connections will grow 160% to 7 million worldwide in 2022 as competition in this market continues to "heat up," particularly in North America. "T-Mobile, Verizon and AT&T are treating 5G fixed wireless access as an integral part of their 5G strategies and this is already bearing fruit, with T-Mobile reporting over 1 million customers," said Smith.
The firm also forecasts that, by 2026, 5G fiber connections will reach 83 million and 5G machine-to-machine (M2M) and cellular Internet of things (IoT) applications will hit 455 million connections, combined. By this same year, the firm anticipates that there will be 4 billion 5G mobile broadband connections worldwide, with North America and Western Europe emerging as leaders.