Mobileye's CEO says the company has designed the 'ultimate chip' for autonomous driving
LAS VEGAS – Intel's autonomous driving subsidiary Mobileye announced three new generations of its EyeQ system-on-a-chips (SoCs), which are purpose-built for autonomous vehicles (AVs), at this year's Consumer Electronics Show (CES) in Las Vegas: The EyeQ Ultra, the EyeQ6 High and the EyeQ6 Low.
During a technical deep dive session, Mobileye's CEO Professor Amnon Shashua explained that the EyeQ Ultra is the culmination of years spent committed to understanding the workloads of automated vehicles (AVs) and what kind of silicon architectures are needed to support those workloads.
"After all these learnings, we were ready to design the ultimate chip," he claimed.
He described what he referred to as an AV-on-chip as a monolithic chip designed to support the full self-driving experience. Each of the EyeQ Ultra accelerators are built for a specific task and are paired with additional CPU cores, ISPs and GPUs. It will support 176 deep learning operations, or tera operations per second (TOPS).
Shashua acknowledged that 176 sounds like a small number when you compare it to what you're hearing from Mobileye's competitors.
"It's roughly one tenth of what we hear from our competitors," he said, adding, however, that the value of such systems is not only measured by TOPS. Efficiency of the chip, he argued, is just as important.
"The efficiency [of the EyeQ Ultra] is born out of understanding this very tight interplay between hardware and software," he continued. "You can be very efficient and be lean in your compute by designing [the chip] properly."
By "properly," he means that Mobileye designed the autonomous vehicle chip's hardware and software together.
Sampling for the EyeQ Ultra is expected at the end of 2023.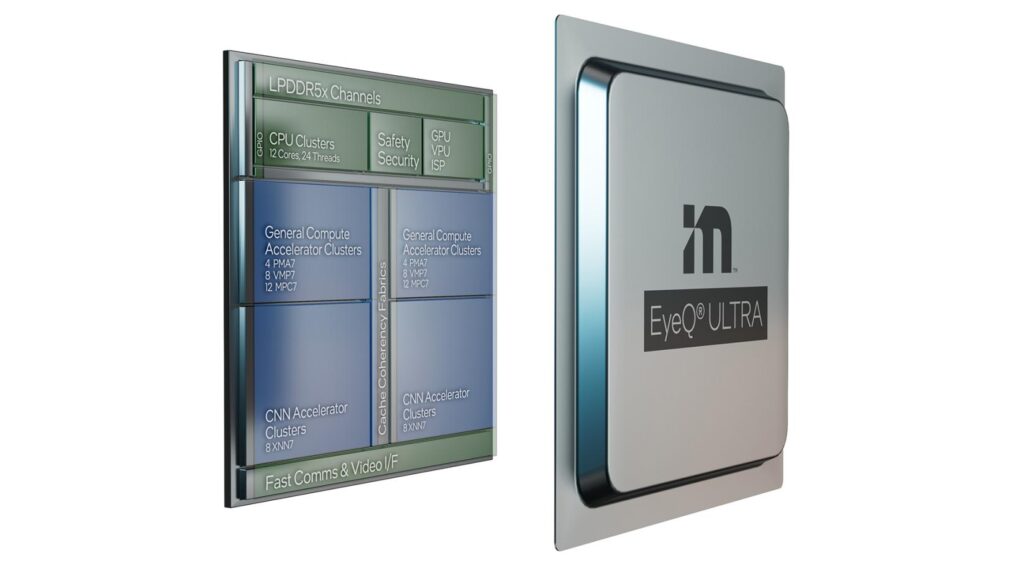 Moving down the line from "ultimate" to "very, very good," the EyeQ6 High SoC will deliver all ADAS L2+ functionalities and will host third-party apps such as parking visualization and driver monitoring. It has three times the TOPS as the previous generation — the EyeQ5 — while only consuming 25% more power. The EyeQ6 High will begin sampling this year and is due to begin production by the end of 2024.
Finally, the EyeQ6 Low product supports level 1 and 2 ADAS and delivers more deep-learning TOPS at ultra-low power for highly efficient ADAS. According to Shashua, the company has already won design deals totaling more than 9 million units of EyeQ Light, which is slated for volume production in the middle of 2023.
Previous generations of Mobileye's chips have been launched in 188 vehicle models as of 2021, and the company currently supplies EyeQ products to 13 of the 15 largest automakers in the world. Ford's CEO Jim Farley joined Intel and Mobileye at CES for a press event to share that the companies are expanding their partnership.
Farley spoke highly of its relationship with Mobileye and its vision sensing technology, calling it "fundamental in all of [Ford's] ADAS systems."
"What I'm most excited about […] is working with on [Mobileye's] open platform on a whole new generation of autonomous technologies that are really going to change customers lives […] from safety to doing all sorts of new things inside the vehicle," he continued.
Of all three new SoC's, Shashua said: "These are systems that are designed for behind the windscreen [with] very powerful compute for a wide range of driving assist features."