Last December, the entire mobile industry reached a significant milestone for 5G. The 5G NR Release-15 Non-Standalone (NSA) specifications were completed at the 3GPP RAN Plenary meeting held in Lisbon, Portugal. These are the first specifications that define the global 5G standard, covering spectrums from sub-1 GHz to mmWave, and it enables the acceleration of the 5G NR deployment timeline as we expect to see the first commercial networks starting in 2019.
The tasks for the next phase
The completion of the first 5G NR specifications sets the stage for standards-compliant trials and implementations starting in second half of this year. What should the ecosystem be focusing on in the next 6 months? There are three primary tasks ahead.
Stabilize 5G NR Release 15 specifications for commercial launches
Though now we have the first 5G NR standard, there is still much work to be done before 5G NR can be commercialized. 3GPP is continuing to make the specifications ready for implementation of commercial products and services. As such, there are ongoing efforts in 3GPP to stabilize the Release 15 specifications and essentially take care of bug fixes, or "Change Requests".
Finalize the 3GPP Release 15 specifications for the standalone (SA) 5G NR network implementation
In addition to the recently completed 5G NR NSA, Release 15 will also include 5G NR operating in Standalone (SA) mode. 5G NR SA is being specified by 3GPP and utilizes the new 5G next-generation core network architecture (5G NGC), and it is expected to be completed in June 2018. Since NSA and SA share common 5G NR physical layer specifications for the air interface, the main focus for the SA standardization is on the upper layers with full user and control plane capability and on the next-gen core network architecture.
Prepare for the 5G evolution work in 3GPP Release-16 and beyond
Even though the first phase of Release 15 has just been completed, work on the 3GPP Release 16+ is already starting. It will expand the mobile ecosystem and add new services, enabling new devices and business models (Figure 1). Some of these services would include but are not limited to:
5G NR private network & ultra-reliable, low-latency communications for the industrial IoT
Vehicle-to-Everything (V2X) communication focusing on autonomous driving (5G NR C-V2X)
5G NR in unlicensed and a new spectrum sharing paradigm (5G NR-U and 5G NR-SS)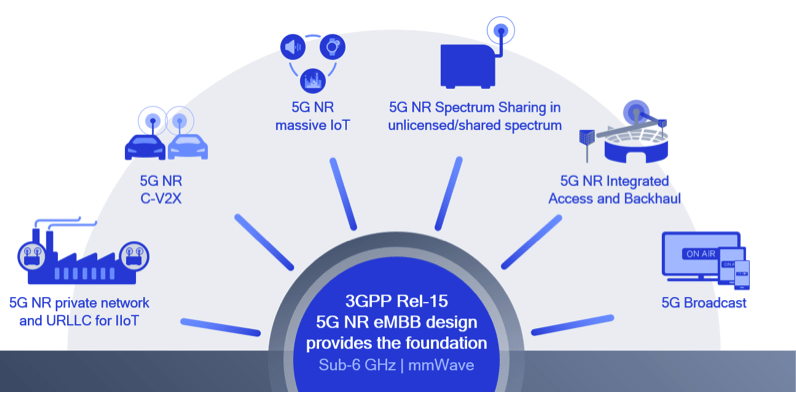 In summary, we are witnessing the beginning of the 5G era, one that will generate more than $12T in economic value once 5G fully proliferates in 2035. All in all, the momentum for 5G is picking up quickly, and there is still significant work to do, both in R&D and in standards, to make our 5G vision a reality.