From NB-IoT to autonomous vehicles, as networks converge and move to the cloud, Viavi focuses on end-to-end SON
5G is envisioned as a unifying architecture capable of seamlessly supporting a wide range of use cases—massive machine-type communications on one end of the continuum and ultra- low latency, high-capacity remote industrial control on the other—in one fully-programmable network.
Factoring in the need for further tailoring to create a personalized network for particular verticals, creating virtual, cross-domain network partitions, or network slices, will prove key to fully realizing the potential of 5G.
Sameh Yamany, CTO of Viavi Solutions, discussed this important trend with RCR Wireless News.
"If you think about the network of the future, we need to talk about the promise of what we call a personalized network infrastructure for these new, different verticals," including connected vehicles, smart homes and cities, healthcare, energy and more. "All of these different verticals are gonna require very specific characteristics. In many cases, these characteristics are contradictory."
Yamany explained that a network slice will create a bespoke link joining devices or premises to the radio access network, onto the backhaul network, and then to the packet/IP core.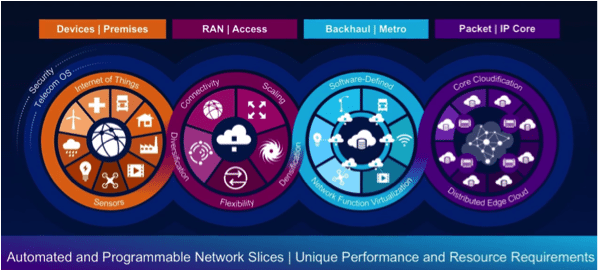 "Network slicing is what 5G is promising to bring in," Yamany continued. "The slice is taking a cloud inside another cloud inside another cloud to be able to program the entire network slice chain."
As 5G continues to take shape ahead of projected standardization in the 2019-2020 timeframe, many operators are adopting technologies based on the LTE-Advanced standard to boost capacity and provide a better customer experience.
Some aspects of LTE-Advanced, including cloud RAN, multi-channel carrier aggregation and the use of licensed and shared (unlicensed) spectrum, will evolve to fit into 5G.
As this transformation continues, Yamany identified dynamic network optimization as a key challenge service providers are currently and certainly will continue to face.
"We are already seeing this current evolution happening in the radio access network." When 5G ushers in dual-connectivity, "The definition of cell disappears. How are you going to optimize when you have your (cell site) pole, and at the same time, you have IoT devices running on the same network. This kind of optimization brings is a problem that needs to be worked out in a different way. It's going to become not only an essential part to optimize the customer experience, but it's important to actually define how you're going to program the network itself."
The point is, current solutions used to plan, build, manage and optimize networks will not be effective in a 5G world. Service providers will need end-to-end solutions that enable automated intelligence across a network slice to achieve the monitoring and service assurance 5G will command.
Through a collaborative 5G strategy involving partnerships with numerous industry leaders, Viavi is committed to lighting the path to 5G. For instance, the award-winning GEOson solution combines subscriber and network insight, location intelligence and real-time self-learning to provide a high-level of quality of experience while helping operators reduce opex through increased efficiency.
To learn more about Viavi's 5G-related research, development and standardization work, as well as solutions helping operators undertake the migration to 5G, click here.