What is FirstNet?
The First Responder Network Authority is an independent authority within the National Telecommunications and Information Administration created to provide emergency responders with a nationwide, high-speed, broadband network dedicated to public safety. FirstNet claims it will provide a single interoperable platform for emergency and daily public safety communications. The final recommendation of the 9/11 Commission, the controversial organization founded in 2012, has been met with harsh criticism.
FirstNet is the first of its kind, with Congress establishing an independent government authority with a mandate to provide specialized communication services for public safety. The organization claims it will use nationwide 700 MHz spectrum to put an end to decades-long interoperability and communications challenges to help keep communities and emergency responders safe.
Here are the ways the organization says it will help save lives and secure communities:
Share one network to improve communication.
Connect responders in rural America.
Enhancing situational awareness during emergencies.
Prioritize public safety.
Provide key capacity for planned events with large crowds.
Delivering actionable data via apps, devices.
The components to this massive operation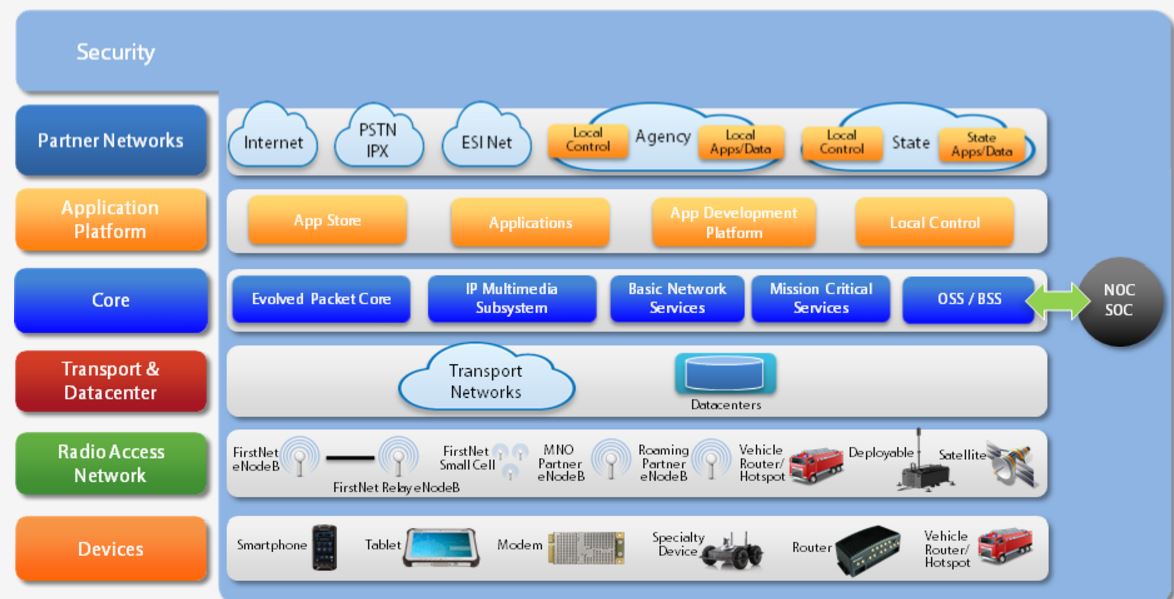 FirstNet plans to build a Band Class 14 network it says will be designed to be reliable, functional, safe and secure, and provide operational capability at all times. It's said to allows public safety communications to be based on commercial standards, which the organization says will bring on lower costs, consumer-driven economies of scale and rapid evolution of advanced communication capabilities.
LTE
The law that established FirstNet specified the network be based on the minimum LTE technical requirements. FirstNet says it is involved in the standards process and works closely with public safety organizations to support the development of standards and functionality that meet the needs of the public safety users to be served. Much of the current focus is on an international set of standards to support mission-critical voice when these capabilities become available. The same MCV technologies is expected to work across all standards-based equipment and networks worldwide.
Applications
The planned network is set to support public safety applications and mission-critical network services. The organization's strategy is to enable creation of new public safety applications while maintaining support for existing commercial applications in order to establish a portfolio of "resilient, reliable, secure and easy-to-use applications" for first responders. FirstNet says it envisions an application development ecosystem that provides a strong development environment, with tools and resources for testing, review and distribution of public safety applications.
Core network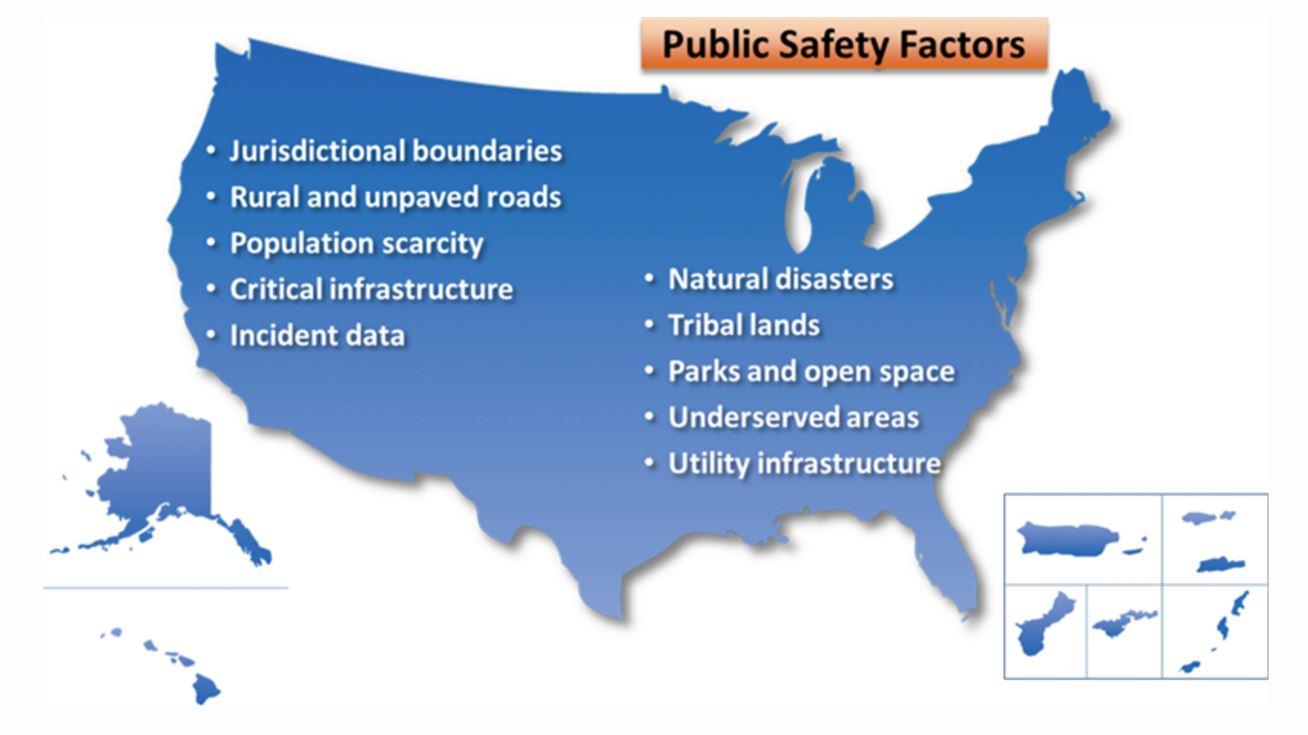 FirstNet is responsible for building the core network, a key component for ensuring users have a single nationwide interoperable platform. The core network has six primary functions: it switches data; processes and reformats information; stores and maintains data; and keeps it secure. The core is set to interface with other state, local and federal networks, including 911 and the internet. According to FirstNet, the core serves as a giant umbrella covering all of the United States including territories and the District of Columbia. The core is connected to radio access networks in each state via the backhaul layer of the network.
RAN
Comprehensive RAN planning is required to optimize coverage, capacity and performance for a nationwide network. Initial modeling has shown that tens of thousands of radio base stations are needed to cover at least 99% of the population and the national highway system.
Public safety devices
Everything from smartphones to laptops, tablets, dongles and a wide variety of specialty devices will be developed for FirstNet users. The goal is to create devices rugged enough to withstand the many public safety environmental issues, but still be easy to use and convenient to carry. Devices will also have to be easy to administer and secure.
The government group says scale will spur lower prices and interest from a number of new vendors, which can enhance vendor and design diversity, increase competition and help lower prices for public safety devices. In the future, FirstNet plans to work with the industry to develop device types and applications to meet public safety use cases identified by public safety users. FirstNet devices and applications are set to undergo testing and certification in areas including interference, operation, environmental factors and security.
Spectrum Relocation Grant program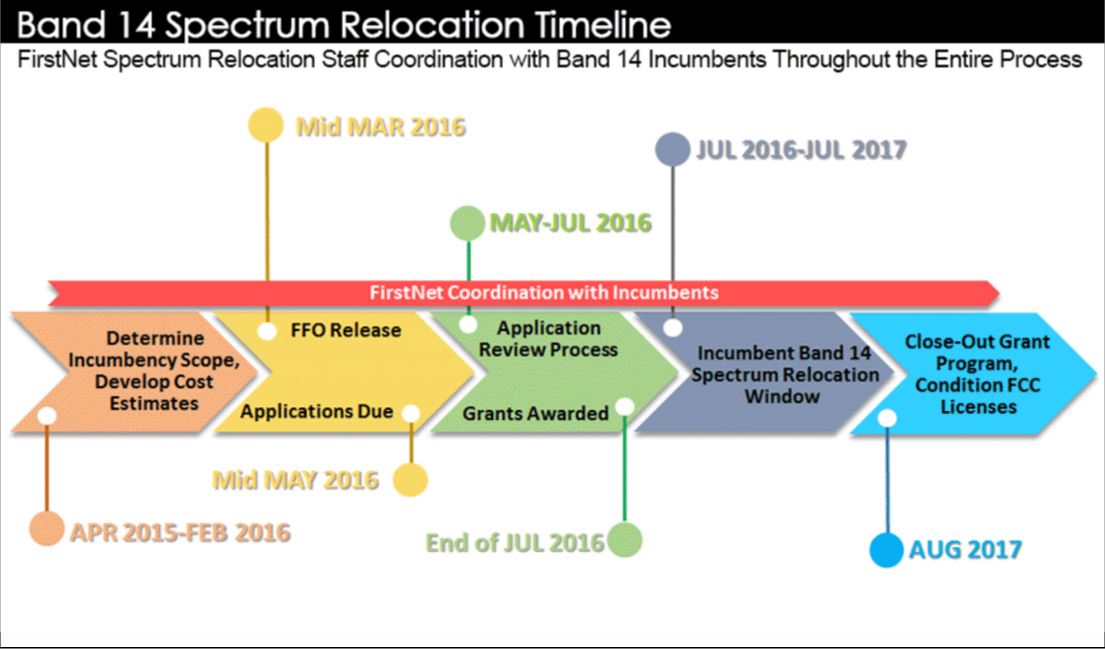 The FirstNet Band 14 Incumbent Spectrum Relocation Grant program provides financial assistance to eligible public safety entities in relocating their radios and systems from Band 14 in advance of the Nationwide Public Safety Broadband Network development and deployment.
Money and finding a network provider
In 2012, Congress allocated spectrum and up to $7 billion in funding for the construction of the FirstNet network. To create a nationwide network, all 56 U.S. states and territories must have a radio access network connected to the FirstNet core network. To contain costs, FirstNet plans to use existing telecommunications infrastructure and assets.
The FirstNet Board recently approved a $6.585 billion budget package for fiscal year 2017, that it said will support "landmark developments" for its upcoming network. The approved budget includes $6.5 billion for the award of a network build-out contract and $85 million for FirstNet operations. FirstNet will contribute 20 megahertz of low-band spectrum to "ensure the building and operation of the network during a 25-year term."
It is currently in the evaluation phase of the procurement and remains on track for awarding the contract in November.
AT&T has confirmed they are among the bid contenders, but Verizon Communications declined to comment on its involvement, according to Wireless Week. T-Mobile US previously said it would likely forego a bid for the buildout to allow it to focus on spectrum auctions and its own network expansion.
Criticism and potential obsolescence
Steven Brill, in an editorial titled The $47 billion network that's already obsolete, featured in the September 2016 issue of The Atlantic, expressed harsh criticism of the FirstNet program.
"The prize for the most wasteful post-9/11 initiative arguably should go to FirstNet," Brill wrote. "FirstNet is in such disarray that 15 years after the problem it is supposed to solve was identified, it is years from completion—and it may never get completed at all. According to the [Government Accounting Office], estimates of its cost range from $12 billion to $47 billion, even as advances in digital technology seem to have eliminated the need to spend any of it."
Brill goes on to criticize the speed at which it took the organization to establish a "skeleton staff," with progress only further impeded by the Commerce Department inspector general's report showing conflicts of interest with handing out consulting contracts.
Then there is the question of whether the technology is needed at all, with Brill claiming network plans are already obsolete, with many agencies having already fixed interoperability issues.
In reaction, APCO Executive Director and CEO Derek Poarch issued the following statement:
"APCO does not usually react to hyperbolic and inaccurate pieces of media that are clearly aimed at inciting a response, as opposed to educating readers or contributing to legitimate discourse. However, in the case of the article entitled "The $47 Billion Network That's Already Obsolete" appearing in the September 2016 issue of The Atlantic by Steven Brill, we must come to the defense of FirstNet's high-quality and devoted leadership and staff, and all of the thousands in the public safety community that have worked so hard to support FirstNet.
As the world's largest association of public safety communications professionals, we take issue with Mr. Brill's inflammatory claims. Mr. Brill and The Atlantic are at best misinformed about public safety communications matters. They have done a disservice to the citizens of our country, our brave first responders and public safety communications professionals across the country by publishing an article that is more about attention-gathering than fact-based journalism. The truth is that FirstNet has made enormous strides undertaking a project unique in the world and of the highest importance to public safety and emergency response."