Top 5 smartphone makers, American Tower earnings, CWA vs. T-Mobile
1. In another good sign for the U.S. tower industry, American Tower beat Wall Street's expectations with its first quarter earnings report. Total revenue was $1.29 billion and earnings before interest, taxes, depreciation and amortization were $833 million. One-third of the tower giant's revenue came from international markets. First quarter capital expenditures totaled $159 million, slightly below some analysts' forecasts. The news follows last week's strong earnings report from Crown Castle.
2. The Communication Workers of America is accusing T-Mobile US of violating U.S. labor laws. The union claims T-Voice, a T-Mobile US initiative that gives call center workers a connection to management, is an illegal attempt to create a company controlled union. T-Mobile US says T-Voice helps employees be heard by management, and that input from T-Voice has helped workers get free Wi-Fi and mobile phone charging stations at work.
According to Bloomberg, fewer than 100 of T-Mobile US' 4,500 employees are members of the CWA, meaning the carrier does not negotiate union contracts the same way as AT&T and Verizon Communications. The CWA and the International Brotherhood of Electrical Workers represent roughly 36,000 Verizon workers who are currently on strike, and the union is now reviewing Verizon's latest offer.
3. Former Motorola President Rick Osterloh is returning to Google to head up the company's hardware business, including the Nexus smartphones. Osterloh was running Motorola when Google sold the business to China's Lenovo in 2014. Recently, Lenovo replaced the Motorola leadership team with executives from within Lenovo, and now Osterloh is coming back to Silicon Valley to oversee the Nexus, Chromebook, Chromecast, OnHub and Google Glass businesses. One of his first jobs may be working with a new manufacturer for the Nexus smartphones, which were previously made by LG. Taiwan's HTC will reportedly be the new manufacturer of the Nexus phones.
4. Smartphone shipment growth was anemic during the first quarter, according to IDC. The research firm said 334.9 million smartphones were shipped during the first quarter, just half a million more than were shipped in the same quarter last year. Samsung remained the leading vendor, followed by Apple and Huawei. Two new Chinese names appeared on the top five list: Oppo and Vivo. China's Xiaomi did not make IDC's top five list during the first quarter.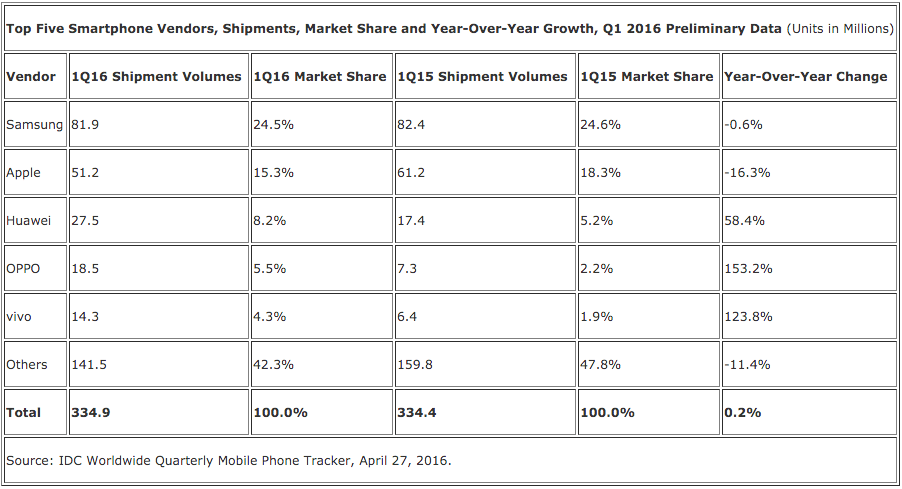 5. Apple has put its iPhone installment plan online. The company launched the payment plan last fall, but until now consumers had to visit an Apple store to get an iPhone 6s on an installment plan. Now the 6s and the 6s Plus can be purchased online and paid for monthly. The least expensive model, the 16 GB iPhone 6s, starts at just over $32 per month on a two-year payment plan. So far Apple has not extended the plan to any other models.