OpenCloud provides an avenue for carriers looking to tackle VoLTE service parity
In a world of contracting margins for core voice services, the transition to voice over LTE and all-IP networking offers a lifeline for operators. By delivering substantial increases in spectrum capacity, VoLTE promises major network cost savings.
While the commercial benefits are clear, maximizing the cost-saving potential of VoLTE depends on a smooth, cost-effective transition to the new VoLTE services and to the IP multimedia subsystem infrastructure needed to support them.
Service parity or bust
The main challenge for operators is that the IR.92 VoLTE standard (the features of which are considered essential to launch interoperable IMS-based voice services) provides only basic call-handling functions, with few of the value-added services that have been developed for traditional switched services over the past two decades. This means that basic "vanilla" VoLTE lacks support for high-value enterprise services such as virtual private networks, closed user groups and short-code extension dialing, and omits essential subscriber features such as prepaid services.
All this means VoLTE simply cannot be deployed "as is" without critical functionality being lost. This may cause widespread discontent among subscribers, increasing the risk of customer churn. Operators have no option but to ensure that their VoLTE services are at least as good as subscribers' existing services, something often referred to as "service parity." The question is how to go about delivering it?
Make it easy on yourself
With the line drawn in terms of requirements for VoLTE service parity, operators need to consider their options. Because service revenues are under extreme pressure, most operators need to minimize the upfront investment required to bring VoLTE services to market as quickly as possible.
One possible approach to achieving service parity is to systematically re-implement call-handling features for the VoLTE/IMS environment, but this is an extremely costly and time consuming way forward. It also requires operators to re-implement services all at once, requiring significant upfront investments, running counter to operators' cost reduction mandates.
Fortunately, there is another approach that makes it much easier and less expensive to deliver VoLTE service parity. Instead of rebuilding a duplicate set of service features for the IMS network, operators can reuse the call-handling intelligence that already exists in service control points across the legacy, switched intelligent network infrastructure to enrich and enhance the basic VoLTE feature set beyond the IR.92 standard.
How it works
To leverage call-handling intelligence within legacy network systems, it is necessary to re-architect the service layer. This effectively allows an adaptation engine to be placed between IMS core and the SCPs in the legacy IN. This practical evolution of the service layer, which allows SCP logic to control VoLTE/IMS calls (represented in Diagram 1).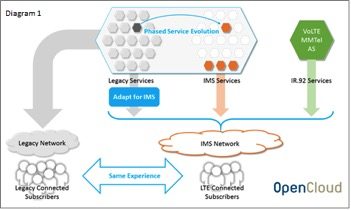 The benefits for operators
By leveraging existing call-handling intelligence from the legacy IN network, operators can achieve service parity for their VoLTE subscribers quickly and at low cost. They can also make the transition to VoLTE with no negative impact on subscribers' experience.
As an additional benefit, operators can extend returns on investment on legacy SCPs, retiring them only when economically or commercially necessary, such as when support runs out. This means that call-handling logic can be redeveloped for the IMS environment incrementally on a case-by-case basis, with associated costs absorbed gradually over time.
The introduction of an "adaption" layer between the networks' call-handling switches and the service control layer also streamlines the transition to adopt future wireless technologies (including "5G"). Any changes to switching or other requirements can be easily accommodated, and existing service-layer control logic can be reused to maximize operating efficiency and value.
Beyond service parity
For operators, VoLTE service parity is essential, but it's really only the beginning. In the third part of this series (next month), we will look at how operators can evolve their voice services to create additional value for subscribers and gain new competitive advantage.
Jonathan Bell, VP marketing at OpenCloud, has worked in VC-funded software product companies in the telecommunications industry for more than 35 years. Bell was a founder and member of the executive team at Geneva Technology, a VC-funded telecoms billing startup company from 1995 to 2002. He was responsible for the original concept and design of the company's convergent, real-time billing system. Bell continued as VP for product strategy for Convergys after Geneva Technology was acquired by the company in 2001.
Editor's Note: In an attempt to broaden our interaction with our readers we have created this Reader Forum for those with something meaningful to say to the wireless industry. We want to keep this as open as possible, but we maintain some editorial control to keep it free of commercials or attacks. Please send along submissions for this section to our editors at: [email protected]