There is a great deal of speculation about how companies can best capitalize on the increasing abundance of collected data. Newer technologies like Hadoop get all the attention when it comes to the future of data management, but no one knows for sure just how big a role these technologies will play moving forward.
To get a grasp on how companies plan to implement data management into their business strategies, Dell Software conducted a survey of 300 database administrators to see what types of systems they use, how they use them and where they expect to invest in the future.
The Dell survey yielded some surprising results
With all of the hype around big data and new analytics platforms like Hadoop and NoSQL, John Whittaker, executive director of information management at Dell Software  found it surprising that small, structured data is still the focal point for up to 75% of companies surveyed.
The survey reminds us that these technologies aren't wholly the future of data analytics. There is still room for traditional database platforms such as Microsoft SQL, Oracle and IBM DB2 LUW.

"Don't necessarily believe the hype that big data and Hadoop is the only way to go," Whittaker said. "It certainly is a terrific technology to begin to implement. You should be looking at it, but relational databases are here to stay and from our perspective the real benefit to be gleaned out of looking at this is best practices indicate we're going to continue to have both."
Many lump all data into the big data category, but the survey finds that there are important distinctions to be made.
One distinction is the difference between structured and unstructured data. While structured data has been collected and analyzed for decades, it is not often talked about with regard to the future of data management.
The survey said structured data has not yet drowned in the ever-deepening data pool. "For all the interest in how to capture and manage unstructured and semi-structured data, structured data remains the bedrock of the information infrastructure in most companies."
Nearly one-third of survey respondents said they don't actively manage unstructured data at all.
As for unstructured data, the study finds that despite all the hype and potential, "the most important driver for the growth of unstructured data is internally generated documents, followed by e-mail."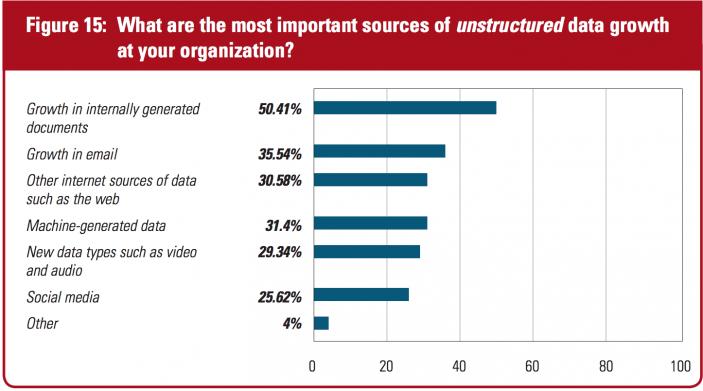 As for the much buzzed about analytics platforms like Hadoop and NoSQL, DBAs do not believe they will have the biggest impact on their organizations over the next several years. Cloud computing and virtualization are bigger priorities according to the survey.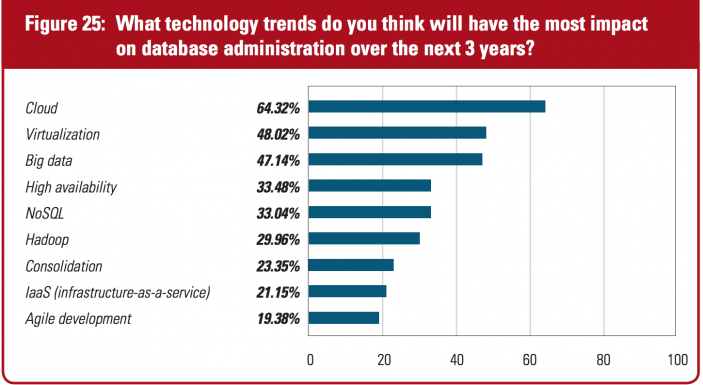 Ten percent of respondents said they currently use NoSQL, while 20% said they are current Hadoop users – 57% said they have no plans to implement Hadoop in the future.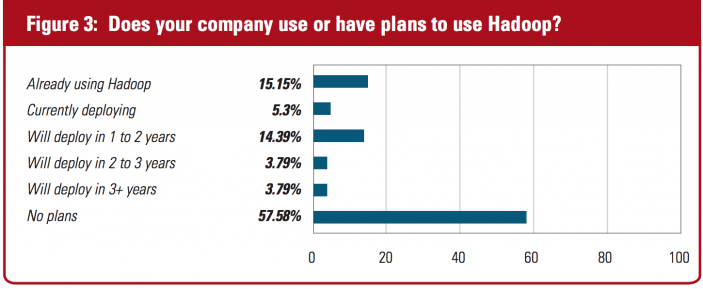 In summary, all forms of data are expected to grow. The future of data will include traditional relational databases and newer data platforms working side-by-side.
For Whittaker, the findings show that Dell Software is on the right track in their data strategy.
"One of the things that Dell has done in its strategy from a software perspective was to acquire some great technologies like Toad, like Boomi, like Statistica on the advanced analytics side," he said. "Technologies that support an all-data viewpoint."
The respondents of the survey came from a wide range of companies and industries. Nearly two-thirds of the respondents came from organizations with more than 1,000 employees and more than a dozen industries were represented.
The survey found that companies adopting the new database management systems for unstructured data have more than 1,000 employees and most are deploying the platforms to support new analytics initiatives.
Nearly half (43%) of respondents said the total amount of data under management has been increasing at a rate between 10% and 25% annually while more than a third of respondents said their total amount of unstructured data is growing at an annual rate of less than 25%.